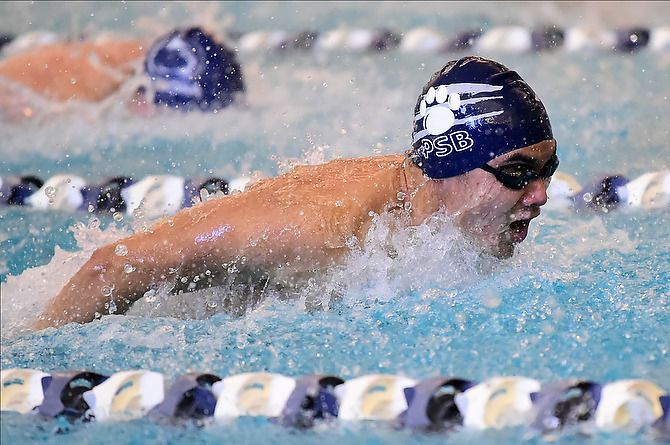 ERIE, Pa. — Penn State Behrend's athletics teams have resumed intercollegiate and exhibition play, with increased COVID-19 testing of student-athletes and restrictions on attendance at all home events.
The college's teams are abiding by all NCAA guidelines regarding the safe conduct of sports during the pandemic. Details are available at the Allegheny Mountain Collegiate Conference website.
Some highlights from the last week:
Baseball
Penn State Behrend 21, Pitt-Greensburg 5
Penn State Behrend 18, Pitt-Greensburg 3
The Lions scored nine runs in the second inning of the opening game. Josh Wagner, a senior from South Park, hit a double to start the rally.
Men's swimming and diving
Penn State Behrend 175, Penn State Altoona 65
The 200 medley relay team — Matt Karenbauer, Jacob Eshelman, Rob Thompson and Justin Heller — won with a time of 1:41.65. The 200 freestyle relay team — Jacob Schmidt, Cole Dombrosky, Liam Watterson and Alex Croll — won with a time of 1:31.30.
Women's swimming and diving
Penn State Behrend 155, Penn State Altoona 80
Marcella Puglia, a junior from Beaver Falls, won the 200 freestyle, finishing in 2:04.33, and the 500 freestyle, finishing in 5:37.33. Barbie Cessar, a junior from Slippery Rock, won the 50 breaststroke, finishing in 32.55, and the 100 breaststroke, finishing in 1:13.84.
Men's cross-country
Second (of three teams) at the Run in the Park, hosted by Mercyhurst
Phoenix Myers, a senior from Erie, finished fourth, with a time of 17:32.7. Jake Lehotsky, a senior from Erie, was fifth, with a time of 17:42.7.
Women's cross-country
Just four runners represented the Behrend women's team at the Run in the Park, hosted by Mercyhurst. Jessie Johnson, a junior from Edinboro, finished 12th, with a time of 23:39.4.
Men's volleyball
Mt. Union 3, Penn State Behrend 1
Penn State Behrend 3, Thiel 0
Penn State Behrend 3, St. Vincent 0
Logan Hering, a freshman from North East, had 12 kills with no errors against Thiel. Adrian Martinez, a sophomore from San Juan, Puerto Rico, had a team-high nine digs against Mt. Union.
Men's basketball
Pitt-Greensburg 84, Penn State Behrend 75
Penn State Behrend 80, Pitt-Greensburg 78
Women's basketball
La Roche 83, Penn State Behrend 77
Pitt-Greensburg 67, Penn State Behrend 66 (OT)
Men's water polo
Austin 17, Penn State Behrend 11
Jacob Harkins, a sophomore from Hollywood, Florida, scored four goals on six shots.
Women's water polo
Penn State Behrend 13, Utica 5
Penn State Behrend 16, Utica 5
The Lions took a 9-0 lead in the first period of the opener against Utica. Sarah Mancebo, a freshman from Tulare, California, lead the team with two goals and an assist.
Women's bowling
Mercyhurst 736, Penn State Behrend 681
Medaille 905, Penn State Behrend 649
Penn State Behrend 736, Hilbert 667
The Lions finished 1-2 at the Medaille Invitational. Hali Hartley, a senior from Seven Fields, led the team with a 173 against Mercyhurst.
Scores, updates and video links for Penn State Behrend athletics are posted at psblions.com.
Contact
Jill Yamma
Sports information director, Penn State Erie, The Behrend College