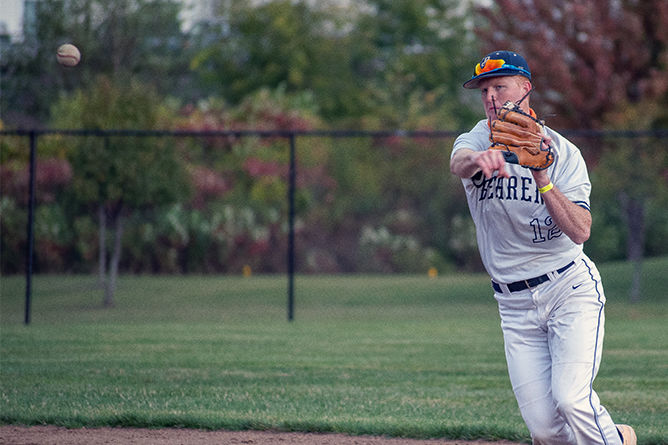 Penn State Behrend's athletics teams have resumed intercollegiate and exhibition play, with increased COVID-19 testing of student-athletes and restrictions on attendance at all home events. The college's teams are abiding by all NCAA guidelines regarding the safe conduct of sports during the pandemic.
The Behrend baseball team has won six straight games – its best start since the 2010 season. The team swept Penn State Altoona in a nonconference doubleheader on March 21, winning 3-1 and 14-5. Juston Jones, a sophomore from Moon Township, was 4-for-5 batting in the nightcap. He hit a double and a triple.
Other highlights from the week:
Men's volleyball
Hiram 3, Penn State Behrend 2
Penn State Behrend 3, Thiel 0
Colin Dedert, a senior from Pittsburgh, had 17 kills and 12 digs against Hiram. Diego Ortiz, a sophomore from San Juan, Puerto Rico, had 10 digs and 23 assists.
Men's basketball
Medaille 68, Penn State Behrend 63
Women's basketball
Penn State Behrend 79, Medaille 62
Men's tennis
Pitt-Greensburg 6, Penn State Behrend 3
Michael Brudy, a junior from Gibsonia, and Belden Tuttle, a senior from Fairview, won at No. 2 doubles by a score of 8-0. Each also won his singles match – Brudy at No. 3, and Tuttle at No. 4.
Women's tennis
Pitt-Greensburg 6, Penn State Behrend 3
Rachel Weber, a sophomore from Hampton, and Sara Howard, a freshman from Ashtabula, Ohio, won at No. 3 doubles by a score of 8-5. Howard also won at No. 6 singles, with scores of 6-1, 6-1.
Women's water polo
Wittenberg 9, Penn State Behrend 5
Penn State Behrend 10, Carthage 8
Shannon Young, a sophomore from Roseville, California, scored three goals against Wittenberg. She added three more against Carthage, with two assists.
Scores, updates and video links for Penn State Behrend athletics are posted at psblions.com.
Contact
Jill Yamma
Sports information director, Penn State Erie, The Behrend College