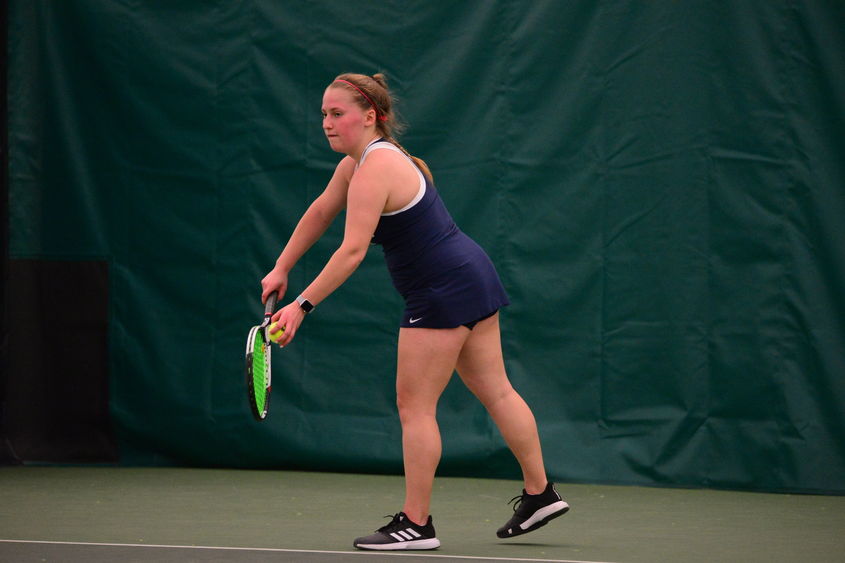 Penn State Behrend's athletics teams have resumed intercollegiate and exhibition play, with increased COVID-19 testing of student-athletes and restrictions on attendance at all home events. The college's teams are abiding by all NCAA guidelines regarding the safe conduct of sports during the pandemic.
ERIE, Pa. — The Penn State Behrend women's tennis team won the Allegheny Mountain Collegiate Conference championship, upsetting top-ranked Pitt-Greensburg by a score of 5-4 at the Westwood Racquet Club. The win gives the Lions their first conference title since 2015.
Erica Jasinski, a sophomore from Fairview, led the way at No. 1 singles, winning 7-6 (9-7), 2-6, 10-5.
Other highlights from the week:
Baseball
Penn State Behrend 7, Oberlin 0
Oberlin 6, Penn State Behrend 3
Penn State Behrend 1, Alfred State 0
Penn State Behrend 5, Alfred State 1
Braden Paulinellie, a senior from DuBois, batted 4-for-4 in the opener against Oberlin, earning three runs and an RBI. He earned two more RBIs in the nightcap.
Softball
Penn State Behrend 7, Hilbert 1
Penn State Behrend 11, Hilbert 3 (5 innings)
The Lions are 18-4 on the season and 10-2 in conference play. They have won 13 straight games.
Men's golf
Second (of five teams) at the Mt. Aloysius Spring Invitational
Jake Caldwell, a freshman from Belle Vernon, tied for first overall in a field of 31 golfers. He shot a season-low score of 77.
Men's track and field
Amory Coleman-Reeves, a sophomore from Erie, won the 100-meter dash at the Behrend Invitational, finishing in 11.10 seconds. He also won the 200-meter dash, finishing in 22.24 seconds — a career-best time.
Women's track and field
The 4x100 relay team — Haley Felton, Kira Nicholson, Maria Campbell and Madison Kappeler — won its race at the Behrend Invitational, finishing in 56.46.
Scores, updates and video links for Penn State Behrend athletics are posted at psblions.com.
Contact
Jill Yamma
Sports information director, Penn State Erie, The Behrend College