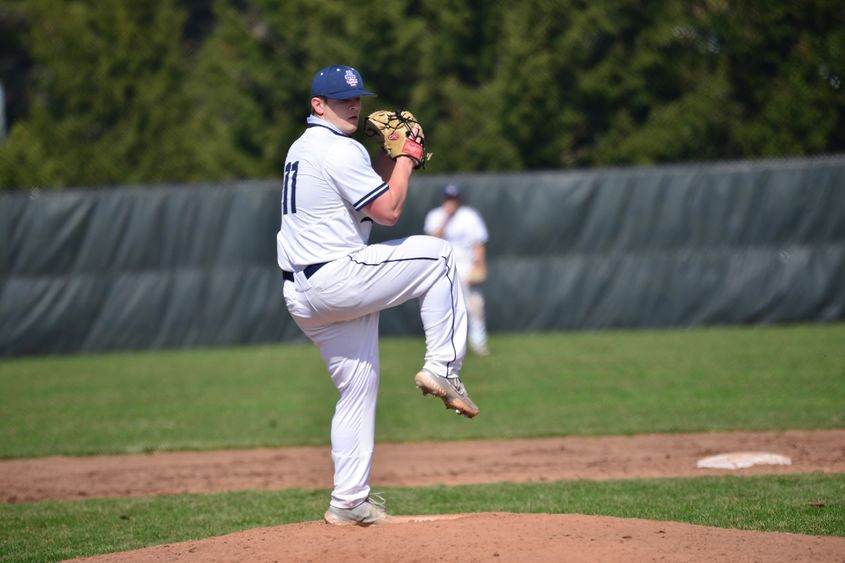 Penn State Behrend's athletics teams have resumed intercollegiate and exhibition play, with increased COVID-19 testing of student-athletes and restrictions on attendance at all home events. The college's teams are abiding by all NCAA guidelines regarding the safe conduct of sports during the pandemic.
Penn State Behrend pitcher Thomas Zbezinski, a junior from Gibsonia, threw his first collegiate no-hitter — the first at Behrend since 2013 — in the opener against Pitt-Bradford on May 8. He struck out nine batters.
Other highlights from the week:
Baseball
Penn State Behrend 23, Pitt-Bradford 4
Penn State Behrend 6, Pitt-Bradford 0
Pitt-Bradford 5, Penn State Behrend 4
The Lions advanced to the AMCC semifinals with a May 10 win over Pitt-Bradford. The team recorded a season-best 23 runs on 24 hits. Braden Paulinellie, a senior from DuBois, earned his 100th career hit; he batted 4-for-5, with six runs, three RBIs and two walks.
Softball
Penn State Behrend 9, Alfred State 1 (5 innings)
Penn State Behrend 10, Alfred State 2 (5 innings)
The Lions advanced to the semifinal round of the AMCC tournament with a sweep of Alfred State. Mackenzie McIntire, a senior from Stoneboro, batted 6-for-6 on the day, with two doubles, three singles and three RBIs.
Men's track and field
First (of three teams) at the Colonial States Athletic Conference championship
Phoenix Myers, a senior from Erie, won the 3,000-meter steeplechase (9:53.19), the 1,500-meter run (4:07.60) and the 5,000-meter run (15.47.10). He was named CSAC Track Athlete of the Year. Matt Michael, a senior from Erie, won the shot put with a 14.80-meter throw. He was named CSAC Field Athlete of the Year.
Women's track and field
Second (of five teams) at the CSAC championship
Savanna Carr, a senior from Franklin, won the 1,500-meter race (5:24.31) and the 5,000-meter race (21:06.13). She was named the CSAC Track Athlete of the Year.
Scores, updates and video links for Penn State Behrend athletics are posted at psblions.com.
Contact
Jill Yamma
Sports information director, Penn State Erie, The Behrend College