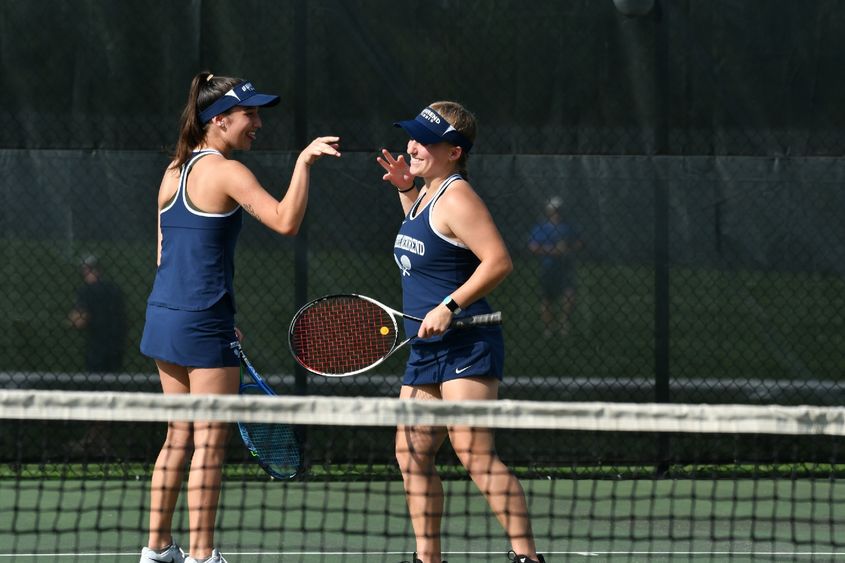 ERIE, Pa. — The Penn State Behrend women's tennis team placed second at the Allegheny Mountain Collegiate Conference championships, falling to Pitt-Greensburg by a score of 5-4. The team ends the season with an 8-3 record.
Other highlights from the week:
Men's soccer
Penn State Behrend 2, Houghton 0
Matthew Romesberg Jr., a senior from Hollsopple, scored in the 106th minute, firing a shot to the lower-left corner of the goal.
Women's soccer
Penn State Behrend 2, Fredonia 0
Brenna McGuire, a senior from McDonald, had a goal and an assist. She scored at the 7:07 mark.
Women's volleyball
Penn State Behrend 3, Allegheny 0
Kristin Reiland, a senior from Fairview, recorded a season-high 18 kills. She added six digs and two aces. Maddie Clapper, a graduate student from Hollidaysburg, had 21 digs.
Women's tennis
Pitt-Greensburg 5, Penn State Behrend 4 (AMCC championship)
Penn State Behrend 5, Medaille 1 (AMCC semifinal)
Erica Jasinski, a junior from Fairview, won at No. 1 singles with scores of 6-2, 6-1. She and Rachel Weber, a junior from Allison Park, were named to the All-Tournament Team.
Men's cross-country
20th (of 35 teams) at the Oberlin Inter-Regional Rumble
Women's cross-country
27th (of 34 teams) at the Oberlin Inter-Regional Rumble
Men's water polo
Mercyhurst 14, Penn State Behrend 11
Eli Anderson, a sophomore from Encinitas, California, scored three goals. Eugene Kruger, a freshman from Alpharetta, Georgia, added two in the second half.
Men's swimming and diving
Penn State Behrend 161, Pitt-Bradford 52
Penn State Behrend 161, Medaille 41
Women's swimming and diving
Penn State Behrend 152, Pitt-Bradford 34
Penn State Behrend 153, Medaille 35
Women's bowling
Roberts Wesleyan 910, Penn State Behrend 815
Roberts Wesleyan 738, Penn State Behrend 715
Roberts Wesleyan 925, Penn State Behrend 703
Abigail Lanker, a freshman from Sunbury, Ohio, led the Lions with a season-best 193 in the first match. Bella Pilyih, a sophomore from Pittsburgh, bowled a 172.
Scores, updates and video links for Penn State Behrend athletics are posted at psblions.com.
Contact
Jill Yamma
Sports information director, Penn State Erie, The Behrend College