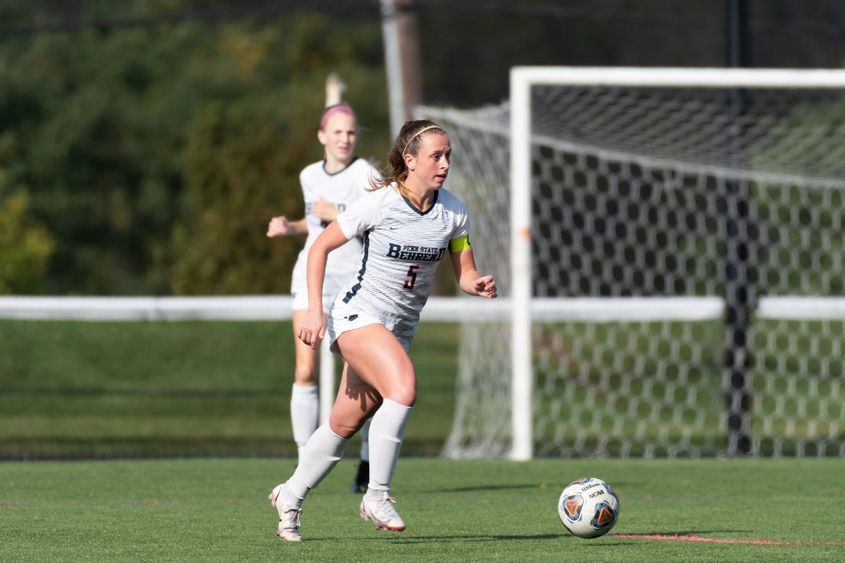 ERIE, Pa. — The Penn State Behrend women's soccer team clinched the Allegheny Mountain Collegiate Conference regular-season title with a 4-0 win over Hilbert. The team, which is 16-1, will earn a bye in the first round of the AMCC playoffs.
Other highlights from last week:
Men's soccer
Penn State Behrend 4, Hilbert 0
Penn State Behrend 1, Alfred State 0
The Lions scored on their first two shots against Hilbert. Matthew Romesberg Jr., a senior from Holsopple, scored in the fourth minute. Cameron Eckberg, a senior from Westmoreland City, scored a minute later.
Women's soccer
Penn State Behrend 4, Hilbert 0
Penn State Behrend 3, Alfred State 0
Payton Porter, a senior from State College, scored at 8:08 against Hilbert, connecting on a pass from Ava Michael. She also had an assist.
Women's volleyball
Penn State Behrend 3, Hiram 0
Wooster 3, Penn State Behrend 0
Penn State Behrend 3, Alfred State 0
Brooke Joncas, a junior from Corry, had a .647 attack percentage against Alfred State, with 11 kills on 17 attacks. She also served a match-high five aces. Dani Kosslow, a senior from Pittsburgh, had 38 assists and five aces against Hiram. She is now ranked fourth all-time for assists.
Men's swimming and diving
Penn State Behrend 150, Westminster 144
The 200 freestyle relay team — George Zalar, Dan Tanaskovic, Jake Schmidt and Justin Heller — won the event, finishing in 1:29.21. Schmidt, a graduate student from Erie, also won the 1,000 free, the 500 free and the 100 free.
Women's swimming and diving
Westminster 182, Penn State Behrend 103
Marcella Puglia, a senior from Beaver Falls, won the 200 free (2:03.94) and the 500 free (5:38.20). Barbie Cessar, a senior from Slippery Rock, won the 100 breaststroke (1:14.39) and the 200 breaststroke (2:42.32).
Men's golf
Second (of eight teams) at the AMCC championship
Alex Pol, a senior from Erie, shot a team-low 79 on the second day of the tournament. He placed second in a field of 39 golfers.
Men's water polo
Augustana 12, Penn State Behrend 10
Austin 20, Penn State Behrend 6
Connecticut College 16, Penn State Behrend 11
Jack Holl, a freshman from Greenwich, Connecticut, scored three goals against Augustana. Goalie Leyton Vrono, a freshman from Murrieta, California, made 13 saves.
Women's bowling
Mercyhurst 819, Penn State Behrend 812
Duquesne 902, Penn State Behrend 705
Duquesne 995, Penn State Behrend 801
Penn State Behrend 818, Mercyhurst 793
Roberts Wesleyan 943, Penn State Behrend 811
Medaille 813, Penn State Behrend 691
Wilmington 903, Penn State Behrend 704
D'Youville 865, Penn State Behrend 696
Roberts Wesleyan 850, Penn State Behrend 756
Reegan Malis, a freshman from Butler, recorded a total pinfall of 783 on the first day of the Mercyhurst Invitational. She averaged 156.6 pins per game.
Scores, updates and video links for Penn State Behrend athletics are posted at psblions.com.
Contact
Jill Yamma
Sports information director, Penn State Erie, The Behrend College