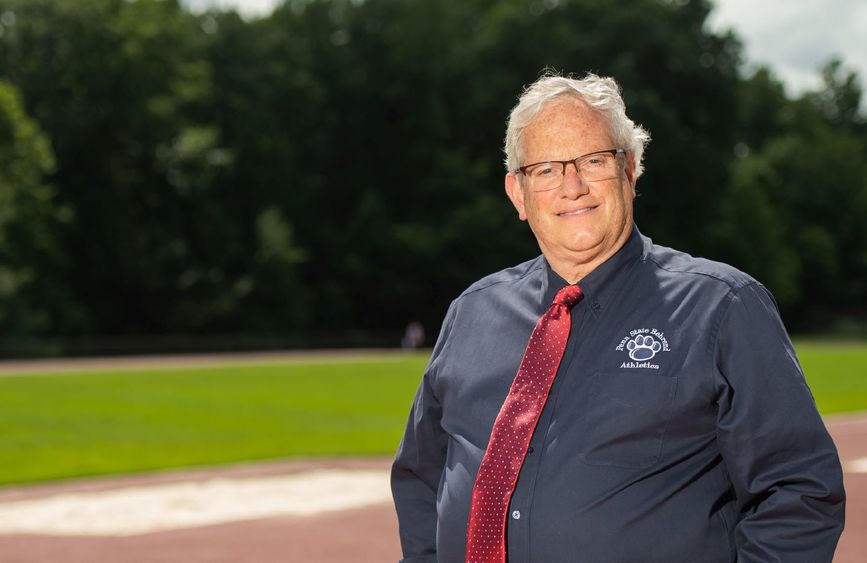 ERIE, Pa. — When Brian Streeter, senior director of athletics at Penn State Behrend, arrived at the college in 1997, the athletics program consisted of 10 teams and one facility, Erie Hall.
Today, Behrend boasts 24 teams. Erie Hall is about to be demolished, making room for a new $28.2 million fitness and recreation center. Streeter often finds himself using a golf cart to travel to the fields and facilities on campus, from Junker Center and a soccer-lacrosse stadium to an eight-lane competition track, ball fields and tennis courts. In those facilities and on those fields, he has been the driving force behind nearly a quarter-century of athletics at Behrend.
Streeter was an easy choice for the Erie Sports Hall of Fame in 2020. The honor was a long time coming, mostly because he kept declining and nominating others for the spots he was offered.
'They are students first'
Streeter, a New York native, first worked in sports as the head basketball coach at Hobart and William Smith colleges. He misses pacing the hardwood, but he never really stopped leading a team.
"I coach now," he said. "My coaches are my team."
Most head coaches move on every five years. Athletic directors rarely stay more than seven. Streeter and his coaches are rare in that regard: He can count on one hand the head coaches who have left Behrend in the past 23 years.
That consistency has proven to be an advantage for the college's student-athletes, who excel both on the field and in the classroom.
"We always refer to our players as student-athletes, because they are students first," Streeter said. "We are a Division III school, which means academics come first. We absolutely understand that."
Athletics are an important component of those students' University experience, however, and Streeter is quick to note the support from college leadership and faculty members.
"The crux of the growth here," he said, "is the strong working relationship between athletics and the rest of the college, and a mutual respect for academics and athletics."
Those relationships, Streeter says, are built on communication.
"I have 35 people in my department, with very different personalities," he said. "We have to be able to talk to and try to understand one another, even if the best we can do is agree to disagree."
That strategy extends to his department's interactions with faculty, including Chuck Brown, associate professor of accounting and the Faculty Athletics Representative at Behrend for more than 10 years.
"I'm sort of a firefighter," Streeter said. "As soon as there is any sort of problem, I want to address it. I want to do it face-to-face, so that little problems don't explode. Let's get together in a room and figure it out."
'Full support, win or lose'
Streeter can empathize with nearly anyone he works with because he wears so many hats himself.
"There is not a job here in athletics that I haven't done, so I can understand almost any problem and do my best to help with it," he said. "If a team is losing a lot, for example, I know that nobody is taking that harder than the coach. You don't give up on them. You let them know that they have your full support, win or lose."
Streeter also makes time to meet with Behrend's student-athletes. He started the Student Advisory Committee in order to hear directly from students.
"Each sport elects one person to be on the committee," he said. "It's not necessarily the captains, but someone who is a leader on the team. It's enlightening to be part of it. Student involvement really keeps me going."
That approach has encouraged a spirit of mutual support, which extends to teams rooting for one another.
"Every team has a buddy team, and they are expected to attend one another's games," Streeter said. "It's worked so well that we now have double buddies. Every team has two other teams they cheer on.
"I know we ask a lot of our student-athletes, but they love sports, and they can give time to support one another."
Volunteerism is another key piece of Streeter's approach. Every Behrend team contributes some form of service. Streeter, a 35-year board member of the American Red Cross and a longtime supporter of Special Olympics, doesn't seek attention for that work, however. He wants student-athletes to experience for themselves the benefits that come from helping others.
"We don't need or want recognition for those projects," he said. "We help others because it's the right thing to do. It's about stepping outside yourself and helping others achieve success."
Contact
Heather Cass
Publications and design coordinator
Penn State Erie, The Behrend College