Connect with Behrend MBA alumni
Trying to decide if an MBA from Penn State Behrend is right for you? Talk to one of our MBA Ambassadors. These recent MBA graduates can answer your questions about what to expect as an MBA student—the student experience, outcomes you can expect, and the most beneficial courses. Reach out to any one of these MBA Ambassadors, and read more about their Behrend experience in their testimonials below:
Steve Dill '21, Vice President of Integrated Delivery Channels, Widget Financial
Contact Information | Testimonial
Derek Hock '21, Program Manager, Supply Chain, Eaton Corp. Aerospace Division
Contact Information | Testimonial
Michael Gregory '21, Manager, HBK CPAs and Consultants
Contact Information | Testimonial
---
Behrend MBA Alumni Testimonials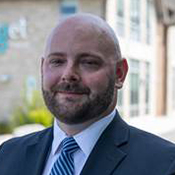 I graduated from Penn State Behrend in 2011 with degrees in Management and Business Economics. In the years thereafter, I found a rewarding career in financial services and started a family, all the while knowing that I wanted to someday continue my education.
I could not be happier with my choice to return to Behrend for the MBA program. I have a young daughter and worked full-time in a leadership role throughout my enrollment and very much appreciated that I was able to work through the course load at my own pace according to the needs of my family and demands of my job. I was pleasantly surprised that many of the other students in the program were, like myself, working professionals, many of whom were also busy with family life.
I am glad to have spent time learning alongside some very talented professionals from a diverse set of industries and backgrounds. This provided a lot of fresh perspectives and interactions with people with different ways of thinking and approaches to problem-solving. I formed personal and professional relationships that I value highly and that will serve me well in the years to come.
The program's administrators were always very responsive to my needs, and the faculty bring a lot of experience from both industry and academia, giving them the ability to ground the lessons and concepts in real-world examples of practical application. They have high standards for performance, especially in professional writing, and I was glad to be challenged in this regard as this skill has become increasingly important as I have advanced in my career. I would highly recommend this program to anyone looking to further their education and lead their organization into the future.
Steve Dill '21
Vice President of Integrated Delivery Channels
Widget Financial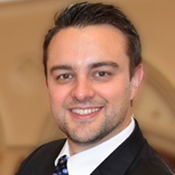 Recently, I was offered a senior role at Eaton Corporation, which is a major Fortune 500 organization. This role is "work from home," considering there is no Eaton site in Erie. However, I will be traveling to global production sites.
I think writing my work-from-home paper for the Organizational Change course while interviewing for the role gave me confidence on the idea.
The interview process was rigorous for the Eaton role. I had many panel interviews over a few weeks. The director and HR team were looking for someone who could lead and build a team. Over the years, I've put into practice many principles learned from courses in management, leadership, and organizational change.
I'm very glad that I pursued my MBA with an Organization Leadership certificate. In a tough economic environment, businesses need strong leaders that can adapt. My time spent learning and growing at Penn State helped me adapt to land this job.
Derek Hock '21
Program Manager, Supply Chain
Eaton Corp., Aerospace Division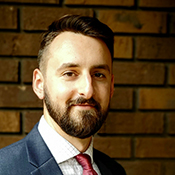 I graduated from Penn State Behrend with a Finance degree in 2014. Since graduation, I've worked for a cybersecurity startup, a private equity firm and currently work in public accounting at HBK CPAs and Consultants.
I went back to Behrend for my MBA a few years after becoming a CPA. I enrolled in the program to gain a better understanding of management theory and strategic planning to complement my technical finance and accounting experience. I hope to use my degree to add value to the work I do with clients and my colleagues, hopefully bringing more to the table from a strategic perspective than someone with a traditional tax and assurance background.
The hybrid format of Behrend's MBA program was a great balance for me. Even with the heavy workload that comes with a career in public accounting, the split between in-person and online classes allowed me to engage in the course material without compromising my performance at the office. I was still able to get the personal interaction with my instructors and peers during the online portion of the program through Zoom and phone meetings. I highly recommend this program to any working professional looking to make that next step in their career.
Michael Gregory, CPA '21
MBA Student of the Year, 2021 (Erie)
Manager
HBK CPAs and Consultants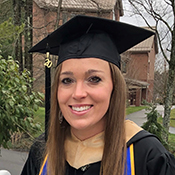 I graduated from Penn State Behrend in 2016 as a Schreyer Honors Scholar with my bachelor's degree in Project and Supply Chain Management and minor in Economics. After having a very positive and rewarding undergraduate experience at Behrend, I knew I would come back for my MBA someday. I just wanted to get a head start on my career before going back to school.
I worked full time for two years in a rotational program before coming back to Behrend to start my MBA. By pursuing my career first, I was able to gain some practical experience that really helped me to be able to excel in the MBA program and share some of my experiences with classmates. I was also thrilled to see that so many of my undergraduate professors were part of the MBA program. Having some of the same professors helped make the transition from undergraduate to graduate school very smooth for me, especially with hybrid classes that only meet in person once a month.
Overall, my experience with the Penn State Behrend MBA program was extremely positive, and I would highly recommend the program for many reasons. The Behrend faculty did a great job with laying out the curriculum and expectations to keep students on track with the MBA program requirements. I also really appreciated the hybrid class schedule since it gave me the flexibility to attend graduate school, work full time, and coach high school tennis all at the same time. This wouldn't have been possible with a traditional classroom MBA program. In addition, the professors were very personable, engaged, and easy to contact when needed. I also appreciated that the professors kept the courses fresh and relevant by incorporating current events, such as the global pandemic, to determine how it was affecting different industries and businesses. The class sizes were also relatively small. Many involved group interactions with projects and discussion boards, which enabled us to share real-life experiences and learn from one another. The course projects also enabled us to actively apply what we learned, which helped prepare us to use this knowledge in our careers.
After completing the MBA program at Behrend, I feel that I am in a stronger position to continue to advance my career. I have improved my leadership, research, writing, analytical, and time management skills. The required courses provided me with a strong business management foundation, and the elective courses enabled me to expand my knowledge in areas of interest such as business negotiations. The knowledge and skills that you will gain from completing Behrend's MBA program will not only prepare you for a successful career, but also help you to differentiate yourself in the workforce. I would highly recommend the Penn State Behrend MBA program to all individuals who are eager to prepare themselves for a successful and rewarding future.
Chelsea Czerwinski '20
MBA Student of the Year, 2020 (Erie)
Senior Procurement Specialist
Parker LORD Corporation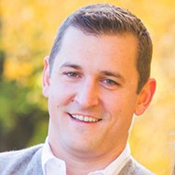 I personally enrolled in the PSB program for both the prestige of the Penn State brand and the flexibility that the program offers. As a working professional with a family, flexibility and affordability were key for me. The 75/25 delivery was key to this flexibility; the asynchronous format allowed me to plan around my work and family schedules to complete my work at a pace that worked for me. The in-class sessions allowed for deeper, focused discussions on key course topics, which I found to be efficient and effective in learning important concepts. Despite the coursework being largely online, I found my professors to be highly engaged and accessible when I needed additional support.
Students can expect to gain a solid, fundamental understanding of business management from their coursework. As an engineer by trade, I found the program to be particularly effective at providing a large breadth of business knowledge. Participation in the program allowed me to pinpoint those areas of business that I found most interesting to facilitate future study and development in these areas.
I really enjoyed the opportunity to meet peers within the local business community and to hear how their experiences translated to our course lessons. I found the course work to be engaging and relevant to my company and my current role as a manager. Of particular interest were courses on managing effective organizations, innovation management, strategy and leadership and ethics. These courses arm managers with practical skills that they can implement with their teams. I especially enjoyed my course on negotiation. The live mock negotiations were great practice for the real world; this course provided an excellent framework for planning and executing a successful negotiation.
Brent Bowman '20
MBA Student of the Year, 2020 (Cranberry Township)
Engineering Delivery Manager
Westinghouse Electric Company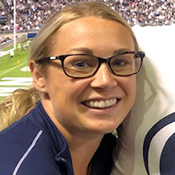 I started my career with a strong background in Industrial Engineering thanks to my degree from Penn State University's College of Engineering in 2010, along with the internshis opportunities that Penn State helped me to secure. I have since gained a significant amount of experience with my expanding project management roles. I knew I wanted to continue to expand my responsibilities, and seeking my MBA would help to increase my future opportunities.
It was important to me to find a program that was flexible and could easily be combined with my demanding job. The Penn State Behrend MBA program was a perfect fit that allowed me to perform most of the work on my own time while still providing the in-class experience that allowed for in-depth educational class discussions and networking opportunities.
Since completing the program, I can truly say that it has reinvigorated my way of thinking in the business world and has provided several tools that can be applied to my daily job. I can see my own personal growth in the way I handle situations at work, which has led to more opportunities to contribute to the company. The class discussions and online discussion boards reinforce the class concepts and help with understanding how different industries may handle certain situations.
It has also helped me strengthen my time management that has been beneficial in both my personal and professional life. I also had a unique opportunity to complete the program with my husband, which allowed us to constantly motivate and challenge each other along the way. Overall, the MBA program has made me a more well-rounded asset to my company and has given me the ability to transfer my knowledge to various industries in the future.
Ashley Merks '20
Project Engineer III
Equitrans Midstream Corporation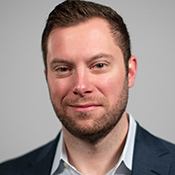 I graduated from Penn State's Smeal College of Business in 2008 with a degree in Supply Chain and Information Systems. Penn State's top-ranked program, along with the valuable internships Penn State helped me to obtain, had me prepared to make immediate contributions to the business world upon graduation. I had originally intended to pursue an MBA immediately but decided to spend as much time as possible gaining real-world experience.
After almost ten years of roles with increasing responsibility and several years of management experience, I felt the time was right to take my education to the next level, and the Penn State Behrend MBA program was exactly what I was looking for. My work life consists of long hours and regular travel, but the flexibility of the program allowed me to complete work as my schedule allowed while forcing me to properly manage my time and stay organized.
The in-class portion helped to provide an opportunity to connect with faculty and other students to further enhance the experience. I found some of most beneficial aspects of the program were applying the concepts I was learning to my work and trading those experiences with other students – many of whom had worked in different industries and had different perspectives. I was fortunate to be able to complete the program with my wife, and we made some new friends throughout the program, which provided regular opportunities for collaboration, motivation and networking.
The lessons learned throughout the MBA program have stuck with me since graduation. Not only does the program provide a refresh on concepts I had learned during my undergrad education, but the vast array of experiences and situations I was exposed to has taught me to think differently, and that has made me a better employee and a more effective leader.
Matt Merks '20
Senior Category Manager
Thermo Fisher Scientific
An MBA degree has been a lifelong personal goal to grow professionally. Earlier in my working career, family time and work schedules made it difficult to pursue an MBA degree full time.
The Penn State Behrend MBA program offered a blended in-person and online program at the RLA Learning Center in Pittsburgh. This MBA degree program offered the flexibility needed to complete the degree and the opportunity to learn and grow personally and professionally. The online portion allowed classwork to be scheduled around work demands and made learning more enjoyable. The in-classroom discussions and student study groups added so much to the overall learning experience.
The MBA reading assignments were very interesting, and I was glad I could dedicate more time reading them. The professors at Penn State Behrend have been very supportive and available for questions outside of the classroom.
The Penn State Behrend MBA program has helped me to think more strategically and develop more in-depth insights and provide data to upper management. This MBA degree has been a tremendous boost to my business career, self-esteem, and life goals. If you feel there is not have enough time in the day to pursue an MBA degree, consider the Penn State Behrend MBA program. I am so glad I did!
Harvey Eure '20
Product Manager
Electrical Equipment Co. (EECO)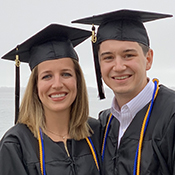 We both went to Penn State Behrend for our undergraduate degrees, so returning was an easy decision.
What really stood out about the MBA at Behrend was the concept of the hybrid program. The online aspect enabled us to fit schoolwork into our busy schedules when it was convenient for us. Being able to meet our professors and classmates face to face once a month really strengthened our network, and we believe this made all the difference in our overall experience.
The Behrend faculty brings much strength to this program. Their passion is contagious and kept us motivated during the most challenging weeks. They put in the effort to keep the courses relevant and current. Finally, their willingness to help us made it possible to put our best effort forward, and we could always tell they truly wanted us to succeed.
Aaron Ramsey '19
Sales Manager
O'Neal Manufacturing Services
Kim Ramsey '19
Logistics Procurement
Covestro LLC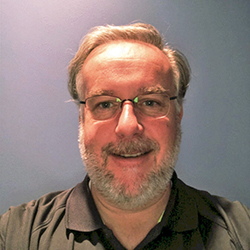 In my current role, I manage manufacturing operations at two facilities with eight direct reports and about sixty people under my span of control. Moving into this position was a big career move for me, and I could not have made the step without the benefit of my MBA from the Black School of Business.

When I started on my MBA in 2016, I was hoping that my degree would provide me with the credentials and business acumen to someday take on a role like this. I have to say that your Cranberry MBA program gave me a lot more than I expected.
The greatest benefit of the program was much more than the "piece of paper" that I received at the end. It was the confidence it gave me to pursue, win, and accept this position. Thanks to the faculty of the MBA program, I know that I have all of the tools to be a successful and ethical leader.
I truly enjoyed my time in the program and the investment I made there is changing my future for the better.
Larry Voss '18
Global Engineering Manager
Electronics Systems at MSA—The Safety Company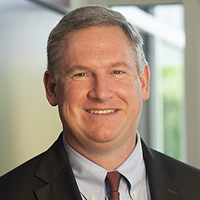 (The Behrend MBA) really gave me a good foundation for the transition from a technical background to the business world, and it prepared me well for that…things I learned in that program I apply every day as CEO of LORD. That was a great program. I am forever indebted to Penn State Behrend for that.
Ed Auslander '91, speaking to the Erie Times-News
Senior Advisor
Blackstone
Since graduating from Buffalo State College in 2005, I've gained a lot of experience and skills that are transferrable to any industry. However, I knew that I was lacking knowledge from the business side of things. This was the main factor in my decision to go back to school to obtain my MBA.
I chose to pursue my MBA degree at Behrend because the program covered a wide range of areas that I already had familiarity with and wanted to expand upon. In addition, I had heard great things from co-workers who attended and graduated from the program, especially that they worked on a personal level with their professors.
Making the choice to work full-time and go to school part-time was a hard one, but I can honestly say that I am glad I did it! As a student in the MBA program at Penn State Behrend, I felt that I contributed in two major—but very different—ways. I had real-life experience that I shared with my fellow classmates and I showed others at my company that they too could manage a work, school, and life balance.
Jessica Henry '18
Operational Excellence Learning Leader
GE Transportation, a Wabtec Company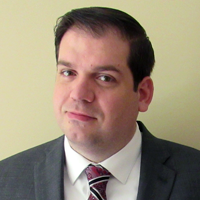 When I first signed up for the Business Analytics course for the Penn State Behrend MBA program, I was expecting to learn about analytics at a high level. However, my expectations were exceeded. What I did not expect was to gain the competency needed to leverage analytics of business processes and align data to obtain strategic organizational goals. With this new skill set, I am now able to perform underlying data analytic techniques to drive key business decisions. This results in data-driven decision making, which reduces risk that was previously unidentified.
This course expanded my perspective of the power of business analytics, both professionally and intellectually.
David Begis, PMP '17
Director of Operations
IAM Robotics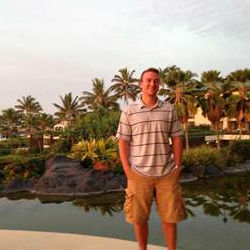 The hybrid format of Penn State's Pittsburgh MBA is ideal for me because between working and commuting, at least 50 hours of my week are tied up. Plus, I travel a lot for work. It would be difficult for me to get to a classroom multiple times per week.
The hybrid format gives me the opportunity to learn on my own time, but since we also meet at the RLA in Cranberry throughout the semester, the program is more personal than doing an MBA exclusively online. I get to connect face-to-face with my professors and my classmates.
Joshua Diez '16
Lead Financial Analyst
Armstrong Company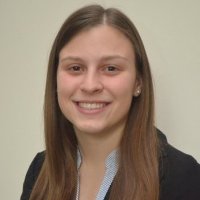 The professors in the Black School of Business are what really set the Behrend MBA apart from other programs. Faculty members urge us to discuss what we are learning and to challenge their ideas. Instead of having a three-hour lecture with the professor doing most of the talking, we are encouraged to participate and give our opinions on topics. Because I earned my undergraduate degree at Penn State Behrend, I knew I'd receive personal attention from faculty—that is one of the reasons I decided to stay for my master's degree.
The MBA at Penn State Behrend has given me invaluable experience working through real-life business problems. The professors provide us with real-world examples of how the concepts we are learning in class are being applied in the business world. These connections show us that we're learning practical skills we'll use in our careers.
I also have the unique experience of participating in an "innovating through collaboration" project with the Black School of Business and Eriez, the world authority in separation technologies. I led a team of undergraduate students in formulating a strategy for the sale of a new Eriez product. This project required me to view a problem the way a company does, and figure out a unique solution. It also gave me the chance to apply the skills I learned as I learned them. Many of the MBA students also work full-time jobs and are able to immediately practice what they learn. Behrend makes it possible for full-time students like myself, who aren't currently in a professional position, to get experiences that reinforce the skills we are learning.
Brittany Martinelli '15
Market Research Manager
Medallia
Business Intelligence and Analytics (B ADM 597A) was a great way to finish the last semester of my MBA. I highly recommend this course to other MBA students.Experience in predictive analytics and Big Data is no longer "just nice to have." It is necessary. In my work at Ariba, an SAP company, I used what I learned in the course about visual analytics to introduce SAP Lumira to my work group. When the new president of Ariba visited our office, I used Lumira to showcase Ariba's global reach by creating animated world maps using real data. I also have a predictive customer segmentation project in the works.
The professor is obviously passionate about analytics, and his dedication to student learning is evident. Because this was the first online offering of this course, there were growing pains. To the professor's great credit, he adjusted the course on the fly to provide students the greatest possible benefit.
Nate Zuzack '15
Process Improvement Manager
SAP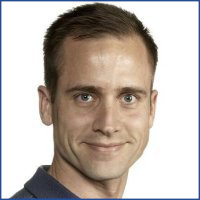 Dr. Brown,
I thought I would drop you a note to say hi, as a situation this week reminded me of you and your managerial accounting MBA class.
I am at GE's Advanced Managers Course, a week-long resident training in Crotonville, New York. We are spending two of the days doing a business simulation through six financial reporting periods, and the primary tool we're using is an analytical, Excel-based financial accounting model that bears a frighteningly similar resemblance to the one we used in your class!
Fortunately, because of what I learned in your course I am able to coach the non-MBA folks through it, helping my team to identify trends and clues and efficiently use the model to simulate the different levers and trade-offs that drive sound decision-making. So I wanted to thank you for "making us think" in your class, because if GE is teaching this methodology to its managers, it validates that what you taught us is an important practice for analyzing and making decisions in a dynamic business environment.
Cheers,
Bill Gross '12
Senior Program Management Engineer
Wabtec Corp.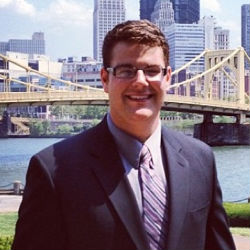 As an undergraduate and or working professional, you constantly hear how getting your MBA can help you advance faster and get better jobs. In my experience, this information is entirely true. Earning my MBA from the Black School of business provided me with numerous benefits and opportunities during my first year in the workplace.
After graduation, I got a six-month intern contract with Matthews International. I was told repeatedly that I was given the opportunity to lead projects as an intern because I had my MBA. When the contract expired, I was hired as a financial analyst, and three months after that I was promoted to plant controller. This is a job that typically goes to someone more experienced than me, but I was told that I was promoted because of my MBA.
My promotions didn't happen just because I have a graduate degree. Showcasing the skills that I acquired from my MBA classes and the knowledge I learned in the program were what gave me an edge over the competition and ultimately landed me a very good job.
Dan Henry '12
Manager, Business Line Controller
U.S. Saueressig Group at Matthews International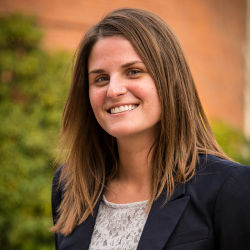 The flexibility of Penn State Behrend's master's programs allowed me to concentrate my MBA in project management. Using my elective credits, I concurrently earned a Project Management Certificate without any additional coursework!
In taking online MPM courses for my certificate, I got unique perspectives on managing projects from the other project managers in the classes. I was able to utilize the principles and techniques that I was learning in my coursework immediately at my job, bring topics from course discussions into my workplace, and expand my professional network.
Lauren Schau Montgomery '12
Program Manager
Erie Insurance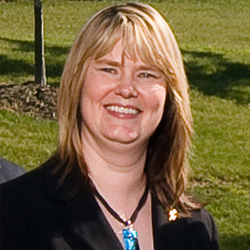 I would definitely recommend the MBA program at Penn State Behrend because it's a good value for anyone who wants to succeed in management and organizational leadership. My MBA literally paid for itself within a few years, as I was able to land the higher paying job I wanted.
Behrend's professors push you to learn the concepts for life, not for a test. It was a hard road because the expectations are high, but the rewards at the end are higher. My MBA has enabled me to progress in my career and be the type of employee who pushes an organization to greater heights.
Angela Hadzega-Shelton '10
Chief Revenue Cycle Officer
Jack Hughston Memorial Hospital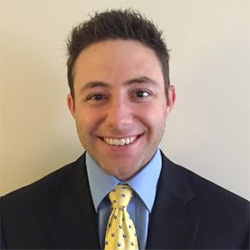 The MBA at Penn State Behrend is a top-notch option for any student seeking individual attention, knowledgeable and experienced professors, and a more personal MBA experience than a larger program could offer. Most of the classes are between 20-40 students and have a mixed composition of adult learners with vast job experience and college-aged students who bring recent educational trends to the table.
In the program, I gained tremendous knowledge of many facets of business. Course offerings are diverse and cover subject areas that include accounting, business strategy, business analysis, human resources, negotiation, MIS/software, and supply chain. The class meetings are challenging, promote critical thinking, and give students every chance to build a robust skill set applicable to many business career paths.
Professors taught me the critical skills of being precise and concise. I transformed from an individual who spoke and wrote a great deal but said very little to a job prospect and employee who communicates powerfully with fewer words. This skill is critical when communicating with C-level or VP-level executives, whether internally at my employer or when speaking to a current or potential client. I had adequate skills to impress an employer before completing my MBA, but Behrend gave me a great deal of confidence and a refined set of skills that make me a proactive decision-maker and valued employee.
I utilize many of the skills I learned from in the MBA in my profession as a Solutions Consultant. I am well-respected by my customers and employer and I am considered an employee who adds value by director, VP-level, and C-level decision makers. I simply couldn't ask for more than what I gained from the Behrend MBA program, and I can't say enough about the ongoing support I still receive from my former professors when I reach out for advice or an opinion five years after graduating from the program.

Mike Grisnik '09
Director, Account Management
Dalkia Energy Solutions