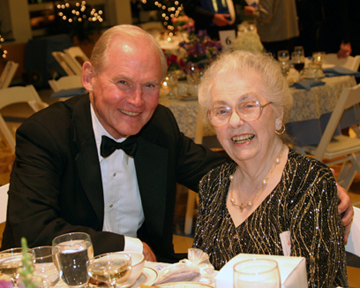 For decades, Penn State has recognized our most generous supporters by inviting them to become members of giving societies.These organizations were created to honor the important role that donors play in our success and to inspire new levels of philanthropy.
Glenhill Society
Created in 2005 to recognize Penn State Behrend individuals whose personal cumulative gifts reach the $50,000 to $99,999 level.
Mount Nittany Society
Recognizes those individuals whose cumulative lifetime giving to Penn State has reached or exceeded $250,000 in irrevocable commitments. The Mount Nittany Society honors its members at two recognition levels. Elm Circle members are recognized for cumulative giving that has reached or exceeded $5 million. Members whose lifetime giving total has reached or exceeded $1 million qualify for the Laurel Circle.
President's Club
Become a member with a gift of, or cumulative gifts totaling, $2,500 or more per year to any Penn State college, campus, or program. While all types of gifts are greatly appreciated and valued, only current-use funds count towards membership. Examples of these funds include: cash, securities, gifts from a foundation, or gifts from an individual's wholly-owned company. Matching gifts count towards membership as well. The President's Club honors its members at four recognition levels. Members at all giving levels enjoy numerous benefits in honor of their dedication to Penn State. Alumni and friends can qualify for membership in the President's Circle—our highest level of recognition, new as of 2011-2012—with cumulative annual gifts of $10,000 or more. With cumulative annual gifts of $5,000 or more, alumni and friends are able to qualify for membership in the Sparks Circle. Annual cumulative giving of $2,500 or more will qualify alumni and friends for membership in the Hetzel Circle. The Eisenhower Circle is reserved for our young alumni and friends age 35 and under. These members can qualify with cumulative annual support of $1,500 or more.
Atherton Society
The seventh president of Penn State, George W. Atherton's leadership came at a critical time in the University's history—when the foundation for land-grant education was established. His efforts laid the groundwork for today's achievements. Membership is offered to all individuals who let us know, via written documentation, that they have included Penn State in their estate plans or as a beneficiary of another type of planned gift, regardless of the amount.
Golden Lion Society
Penn State donors are a distinguished group of people, but perhaps the most extraordinary are those in The Golden Lion Society. This represents a group of the University's most loyal supporters—alumni who have given to Penn State for at least four years in a row or every year since graduation. It sounds pretty exclusive, but here's the cool part: it doesn't matter how much you give—what matters is that you've shown your dedication.