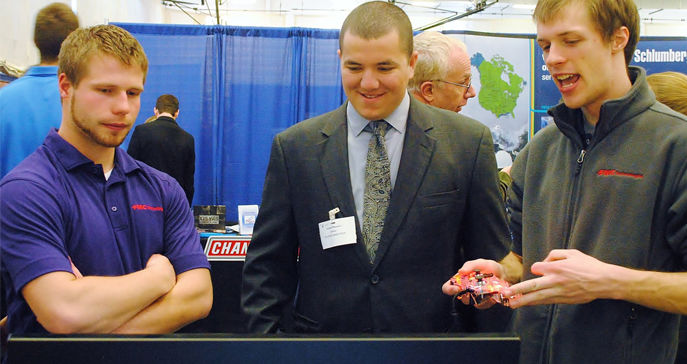 Bill Staniszewski had the right idea Thursday when he entered the spring Career and Internship Fair at Penn State Erie, The Behrend College.
The junior mechanical engineering major was ineligible to apply for a full-time position. But he hoped to land an internship, which, in the best-case scenario, could lead to something more.
"It would be nice to get that extra experience on my resume, and who knows what could come of it," the New Kensington native said. "It would be nice to have the security of having a job set up before I graduate."
Staniszewski had good reason to be optimistic. Of the 160 companies that attended the fair, which was organized by the Academic and Career Planning Center and held in the college's Junker Center, 102 were in search of interns.
Many of those companies were thinking long-term in regard to potential hires.
"Internships are such a benefit for us because we get to take someone who is still moldable and then mold them into someone who will be a valuable contributor down the road, either for us or for another organization," said Laura Stippich, a talent acquisition specialist for FMC Technologies. "Students can't just think of this as an internship. It's really an ongoing job interview for the intern. I would say our internship-to-hire ratio is probably 60 to 70 percent."
Erie Insurance was another company thinking forward when it came to meeting students.
"If you make a strong impression, even as a freshman, that could later help you secure an internship," said Ryan Masolotte, a corporate recruiter for the company. "A large portion of our entry-level hires come through our internships."
Thursday was the first career fair for Rachel Bradley, a sophomore business administration major. The Harborcreek native has never had an internship, but she was optimistic.
"I think it's important to do this now, so that I am prepared later on," Bradley said. "There's a lot of real-life experience that you can get at an internship, and there's a lot of value to that."
At the very least, Bradley hoped to leave a lasting impression on some of the companies in attendance.
The recruiters look for that, too. "We have students we meet as freshmen, and then they come back the next year, and we remember them," said Alyson Davis, a university relations specialist for LORD Corporation. "That's a valuable thing, and it helps them even more when we consider interns."