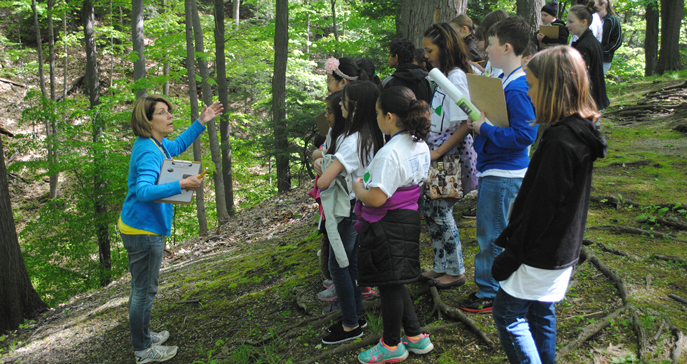 The layers of chopped ice, sprinkles, ice cream and Sierra Mist might have been a stretch as replacements for porous rock, sand, gravel and groundwater, but they sure tasted good.
Just ask John Quigley. The acting secretary for Pennsylvania's Department of Environmental Protection could not help but smile as he sipped from his edible aquifer.
Quigley joined more than 1,700 fifth-grade students at the 2015 Great Lakes Children's Water Festival, held May 14 on the campus of Penn State Erie, The Behrend College. The students came from school districts in Pennsylvania, New York and Ohio to attend the festival, which the Water Systems Council, a national nonprofit organization focused on household wells and small water well systems, holds every year in a different city to teach students about the importance of water resources.
"This is a really creative way to deliver a powerful message to kids," said Quigley, who was one of several public officials in attendance at the festival. "Everyone has a role in conserving water and protecting the environment, so the earlier we can instill that in children, the better."
Throughout the day, students participated in hands-on activities led by water and natural resource experts from local, state and national organizations, including Penn State Behrend, the Western Pennsylvania Conservancy, Erie County Conservation District, Great Lakes Surf Rescue Project, Erie Maritime Museum, Flagship Niagara League, DCNR Bureau of Forestry, Pennsylvania Fish & Boat Commission and others. The activities focused on a variety of topics, including drinking water, groundwater, watersheds, surface water, water quality and conservation.
The festival had no shortage of fun, educational exercises. In the Wild World of Animals, students got to meet a beaver and a two-foot-long alligator. In Bubbleology, they were encased inside a giant bubble.
Regardless of the activity, the central goal was the same: educate children about the importance of water. For Jemma Bryan, a student at Harding Elementary School, the goal seemed to be achieved.
"This is so fascinating to me," Bryan said. "I learned that some people don't have a lot of water and could have a drought, so we need to conserve as much water as possible to help them. I can't wait to go home to tell my mom and dad because I bet they'll be shocked because they didn't even know that."