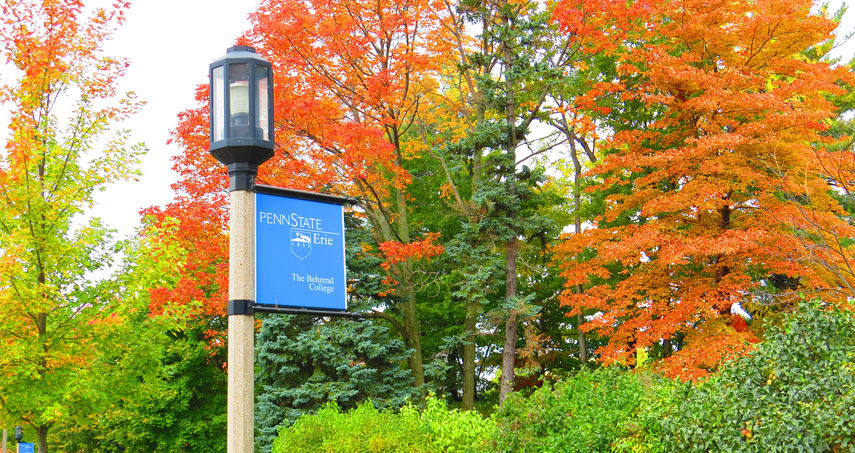 For the second consecutive year, Penn State Erie, The Behrend College, has earned Tree Campus USA® recognition. Penn State Behrend is one of just nine colleges or universities in Pennsylvania to be recognized and the only school in northwestern Pennsylvania to earn the distinction.
"Penn State Behrend is a beautiful wooded campus, and I am very proud of the Tree Campus USA designation," said Ann Quinn, director of Greener Behrend, an outreach effort of the college's School of Science. "Over the past three years, we have added approximately 150 trees to our campus and 100 more in Harborcreek Township, and this designation will allow us to apply for grant funds to plant even more trees."
Tree Campus USA, a national program launched in 2008 by the Arbor Day Foundation and Toyota, is designed to honor colleges, universities and their leaders for promoting healthy trees and engaging students and staff in the spirit of conservation.
To obtain Tree Campus recognition, the college met the five core standards for sustainable campus forestry required by Tree Campus USA, including establishment of a tree advisory committee, evidence of a campus tree-care plan, dedicated annual expenditures for its campus tree program, an Arbor Day observance and the sponsorship of student service-learning projects.
Greener Behrend is devoted to developing and implementing strategies and related programs for campus practices and policies that further ecological sustainability within the college community.
"There has been a large group of people involved in the planting, identifying and care of the trees on our campus, and without their combined effort, the Tree Campus designation would not be possible," Quinn said.