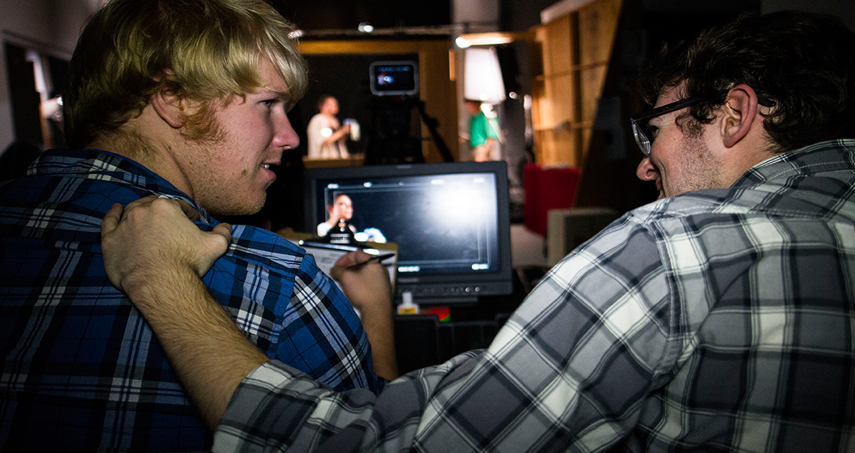 The doodles on Google's home page – animated tributes to Ronald Dahl, Les Paul and Ida Bell Wells, among others – show the value the tech company's leaders see in the arts and humanities. Google's HR department sees it as well: In 2010, then-Vice President Marissa Mayer said 80 percent of that year's hires would have a liberal arts background.
Apple co-founder Steve Jobs looked for similar graduates. "Technology alone is not enough," he once said. "It's technology married with liberal arts, married with the humanities, that yields the results that make our hearts sing."
To prepare students for work on digital platforms, Penn State Behrend has developed a new major in digital media, arts and technology. The program is Penn State's only undergraduate degree in these subjects.
The program, abbreviated as DIGIT, combines the broad perspective and critical analysis of traditional liberal arts study with the technical skills required to work in digital media. Students can choose to study in any two of four concentrations: digital humanities, including library and archive work; storytelling through film, video and gaming; simulation and human-computer interaction; and data visualization and assessment.
"The best thing about DIGIT is its flexibility: Students combine digital skills such as animation, music production, text-encoding, object-based programming and GIS mapping with virtually any subject that interests them, including history, communication, psychology and game development," said Sharon Dale, associate professor of art history and chair of the DIGIT program. "DIGIT students will have advanced technical skills and know how to think, write and collaborate creatively."
The program is designed to allow students to pair their degree with a second major within Penn State Behrend's School of Humanities and Social Sciences. Students who want to work in interactive entertainment can add the college's minor in game development.
DIGIT students will complete either a capstone project or a digital media internship. That experience, added to coursework in key digital programs, including JavaScript, Transit, Maya, Ruby, Python, Pro Tools and Final Cut Pro, will prepare them for work in a variety of digital specialties, including web content and design, social media, digital marketing strategy, digital art, advertising and graphic design.
To learn more, visit behrend.psu.edu/digit or call 814-898-6108.