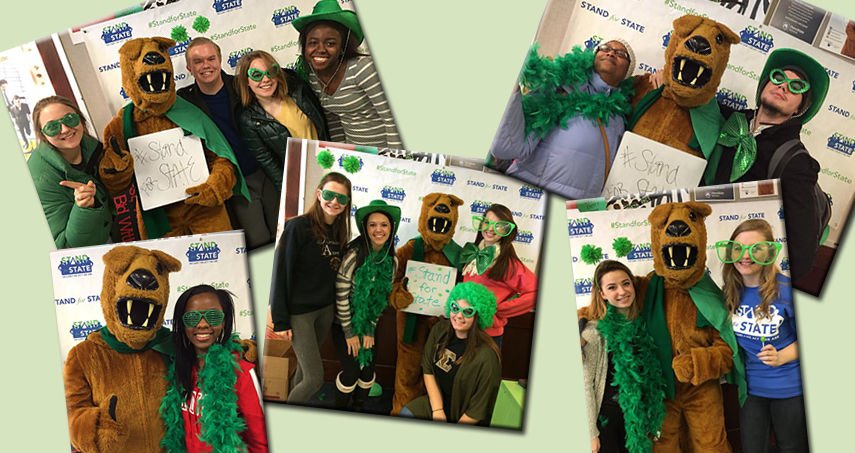 With a selfie station, free swag and one-on-one conversations, Penn State Erie, The Behrend College, recently introduced the Stand for State campaign at launch events on Jan. 27. The initiative, launched University-wide the week of Jan. 25, uses a bystander intervention curriculum developed by Green Dot, a national violence prevention program.
Green Dot is built on the premise that in order to measurably reduce harm in a community, a cultural shift is necessary. As people engage in new behaviors to reduce violence and harm (which are labeled as red dots), the new prevention behaviors are called green dots. The key tactics for intervening and removing someone from harm's way are Green Dot's Three D's: direct, delegate and distract.

Launch Events
Launch events at Bruno's Café and Dobbins Dining Hall reflected a green theme.
"More than 300 students, faculty and staff put on their green and learned about the program by stopping by a table during lunch and dinner," said Kelly Shrout, associate director of Student Affairs.
Students, faculty and staff also had the opportunity to have a photo taken with the Behrend Lion. Participants earned promotional items by posting their photos to social media with the hashtags #StandforState and #Behrend to raise awareness about the program.

Reaction
"It's important that Penn State promotes bystander intervention through the Stand for State initiative because students often want to raise awareness and voice concerns but do not have the necessary tools or resources to successfully accomplish these goals," said Aly Pollo, a junior psychology major from Aliquippa and the president of Behrend S.A.V.E. (Students Against Violence Everywhere).
Grace Waldfogle, a junior psychology major from Pittsburgh and Behrend S.A.V.E. member, agrees.
"With faculty and staff working alongside students, we are able to reach more people than a student-run group. This also brings the campus community together to raise awareness of violence prevention strategies," said Waldfogle.
Pollo and Waldfogle are both members of the campus Green Dot Committee and assisted at the event, talking to attendees one-on-one about bystander intervention.
"Being able to communicate with other students about bystander intervention was a great opportunity to see what they thought and how they would intervene," said Waldfogle.

Training
Green Dot provided four-day training sessions in June and November at the University Park campus, educating a total of about 200 faculty, staff and administrators, including a team of six from Penn State Behrend. The workshops focused on providing participants with the skills to recognize potentially problematic situations, step in and diffuse the situations when appropriate and seek help when needed.
Throughout the year, those trained individuals will implement bystander intervention workshops for student leaders, new students and other members of the Penn State Behrend community. The workshops will teach attendees how to safely intervene in potentially harmful situations.
"Stand for State highlights the caring nature of the Behrend community. Students, faculty or staff who become aware of potential incidents of violence are encouraged to look out for one another by intervening using one of the Three D's: Direct, Delegate or Distract," said Kris Motta Torok, director of Student Activities and chair of Penn State Behrend's Stand for State committee. "Behrend community members will be trained to directly intervene if they feel comfortable doing so, delegate for help by getting assistance from others or distract those involved in a potentially harmful behavior by creating a diversion."
Free magnets further explained Green Dot's Three D's with specific examples of the three ways to intervene. An individual might direct an intervention by helping someone in a difficult situation to find their friends; delegate by having the host of a party check on someone; or distract by asking to borrow the phone of a friend who could be in trouble.
The culmination of two years of planning, Stand for State promotes bystander intervention and its place in preventing sexual and relationship violence. Bystander intervention is based on the fact that people make decisions and continue behaviors based on the reactions they receive from others. Bystander intervention encourages others to intervene and promotes a sense of responsibility, which gives the bystander motivation to step in and take action to prevent misconduct.
For more information, visit behrend.psu.edu/StandforState or follow #StandforState on social media.