In December of 1948 – just two months after the dedication of what was then called the Behrend Center – T. Reed Ferguson, the administrator of the new campus, placed a wreath on the doors of a small chapel in Wintergreen Gorge Cemetery.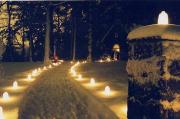 That was a favor to Mary Behrend, who had donated her family's Erie farm property to Penn State. She had moved to Connecticut and was unable to visit the chapel, as she had in years past. She asked Ferguson to hang the wreath in honor of her husband and son, who were interred inside.
Every year since, a small group of students, faculty members, staff and alumni has returned to the chapel. Holding candles, they welcome the holiday season by singing Christmas carols and giving thanks to the family that made Penn State Erie, The Behrend College, possible.
This year's program will begin at 7 p.m. on Friday, Dec. 6. Shuttle service will be offered from the Reed Union Building.
"It's a very different feeling, when you gather in there," said Ken Miller, senior director for campus planning and student affairs. "You're singing Christmas carols. Everybody's holding a candle. It's special."
The program honors Ernst and Mary Behrend, whose 400-acre farm property is now a four-year college with 4,350 students. It also pays tribute to their son Warren, who died on Dec. 19, 1929, while driving to South Carolina for a family holiday. He had swerved to avoid a school bus, which a 16-year-old student was driving.
No one on the bus was hurt.
Warren's death devastated the Behrends. "They say Ernst never got over it," Miller said.
Mary Behrend spent less time at the farm, choosing instead to live at the family's home in Connecticut. In the spring of 1948, while returning from a cross-country trip, she stopped at the property. From a window, she noticed two men walking. She went out to talk and learned they were scouting land for a new Penn State campus. Within six months, they would have it.