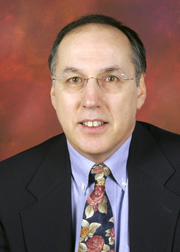 Richard Aquila, professor of history and American studies at Penn State Erie, The Behrend College, has been invited to serve a three-year term as Distinguished Lecturer for the Organization of American Historians, the premier professional organization in his field.
The honor is based on Aquila's publication record and scholarly reputation. As an OAH Distinguished Lecturer, he will give up to three presentations at public institutions across the country.
Aquila's research interests are U.S. social and cultural history, the American West, American Indian history and popular culture. He is the author of the books "Home Front Soldier: The Story of a G.I. and His Italian American Family During World War II"; "Wanted Dead or Alive: The American West in Popular Culture"; "That Old Time Rock and Roll: A Chronicle of An Era, 1954-63"; and "The Iroquois Restoration: Iroquois Diplomacy on the Colonial Frontier, 1701-1754."
Aquila also has written, produced and hosted numerous documentaries for NPR. From 1998 to 2000, his weekly public history series, "Rock & Roll America," was syndicated on NPR and NPR Worldwide.