John Gamble Jr., distinguished professor of political science and international law, has received the 2014 Milton S. Eisenhower Award for Distinguished Teaching.
The award recognizes excellence in teaching and student support among tenured faculty who dedicate a major portion of their duties to undergraduate teaching. Milton S. Eisenhower was the brother of U.S. President Dwight D. Eisenhower; he served as president of Penn State from 1950 to 1956.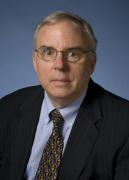 Gamble has taught political science at Penn State Erie, The Behrend College, since 1976. He also directs the college's honors program, which includes 400 honors students and 36 Schreyer Scholars.
Gamble's teaching style is a direct response to his own experience as a student, including a 1963 exchange with a college chemistry professor. Gamble, who stuttered, faltered when the professor asked him a question.
"I knew the answer, but, due to my stuttering, could not answer," he said. He dropped the course.
"To this day," he said, "in my interactions with students, I try to understand the person beyond the occupant of a classroom seat for 150 minutes a week."