There's a bit of Gidget in "Psycho Beach Party," the beach-blanket B-movie satire at the Studio Theatre at Penn State Erie, The Behrend College, beginning April 4.
Charles Busch's cult classic is quick to kick sand on that 1950s innocence, however. His teen surfer girl, Cricket, has split personalities: Her golly-gee beach dreams are of no interest to the other voices in her head, which include a male model, a Safeway checker, an aspiring dominatrix and the accounting firm Edelman and Edelman.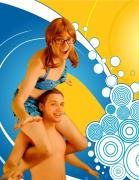 A series of bizarre attacks – the victims are shaved from head to toe – and an appearance by Cricket's mother, a domineering Joan Crawford type, poke fun at other midnight drive-in genres. That adds to the play's subversive tone, which, due to sexual innuendo and some graphic language, is recommended for mature audiences.
"This is definitely a departure from anything we've done here before," said David M. Vegh, a lecturer in theatre at Penn State Behrend and the show's director. "It's 100-percent removed from what our cast has experienced so far in theatre."
Busch, a drag performer, appeared as Chicklet in the play's original off-Broadway production. A film version released in 2000 featured a then-unknown Amy Adams; word-of-mouth reviews made it a midnight camp favorite.
The Penn State Behrend production of "Psycho Beach Party" opens April 4 at the college's Studio Theatre. Performances begin at 8 p.m. on April 4, 5, 10, 11 and 12 and at 2 p.m. on April 6.
Tickets are on sale now at the Student Activities Desk in the Reed Union Building. They cost $7, or $5 for Penn State Behrend students, faculty and staff. Tickets also may be reserved by calling 814-898-6242.
The production's student cast includes Emily Bailey, Taylor Kightlinger and Joshua Lapping, of Erie; Orion Anderson and Andrew Roseman, of Mercer; Ian Dunton, of Springboro; Kari Mild, of Seneca; Dominic Papalia and Paige Woiner, of Monroeville; Dylan Rossi, of Leechburg; and Bianca Sumter, of Sarasota, Fla. Scott Rispin, lecturer in art, is providing set design.
For more information, or to reserve tickets, call 814-898-6242.