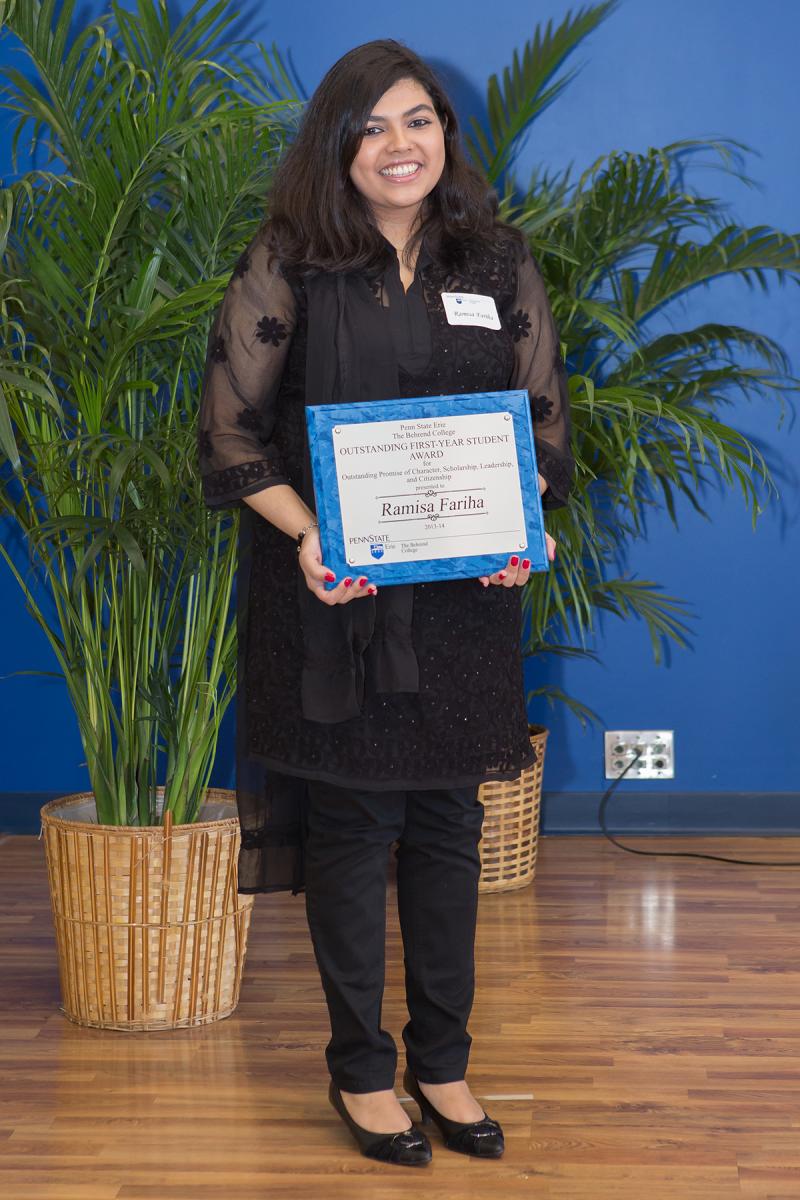 Bangladeshi women do not typically come to America to pursue a college education, but there's nothing typical about Ramisa Fariha, this year's recipient of the Outstanding First-Year Student Award.
For starters, the Narayanganj, Bangladesh, native, who recently completed her first year as a Biomedical Engineering student at Penn State Erie, The Behrend College, is a diehard professional wrestling fan. She draws inspiration from her favorite World Wrestling Entertainment wrestler, Batista.
As a child, Fariha would watch wrestling with her brother, Sajjadul Karim Chowdhury. They both had their share of favorite wrestlers, but there was something about Batista that resonated with Fariha.
"Batista's favorite quote is, 'Work hard and the sky is the limit,'" Fariha says. "That's become my favorite quote."
But it's more than just an inspirational catchphrase for Fariha. It's a guiding philosophy that she has taken to heart.
Fariha has a lofty goal.
"In my country, a woman is always blamed when she cannot give birth, even when it's not her fault," Fariha says. "I want to one day create an artificial ovary, and I want it to be non-mechanical, so it can work inside the human body."
While she knows her aim is high, she's confident that hard work will get her there, and she's wasted no time at Penn State Behrend, swinging for the fences in her very first year.
Not only does she have a 3.82 GPA, but she is a member of the Lion Entertainment Board, event correspondent for The Behrend Beacon, Residence Life Service Leader for Center of Service, a member of the Lambda Sigma national honor society and the 2014-2015 elected president for the Muslim Student Association.
Fariha says she thought of Batista often during her studies and even rewarded herself with a silver Batista pendant after winning the Outstanding First-Year Student Award at the sixty-fifth annual Honors and Awards Convocation on April 27.
She says she also attributes some of her success at Penn State Behrend to the warm welcome she has received. She describes Dr. Mary-Ellen Madigan, director of enrollment management, as a "second mother," and says her professors and friends have also made her feel at home.
Fariha says winning the award, which recognizes a first-year student who demonstrates outstanding promise of character, scholarship, leadership, and citizenship through achievements in his or her first year of study, was a moment she will never forget.
"For me, when I heard Kelly Shrout, (presenter and associate director of Student Affairs), say 'Bangladesh,' that was the proudest moment of my life," she says. "A lot of people think of Bangladesh and only think about the negative things."
Fariha says the award made her family very proud. Her father, Ahsanul Karim Chowdhury, is one of the top lawyers in Bangladesh and has always emphasized education. Fariha's mother, Laila Nahar Chowdury, taught her to work hard and to not take anything for granted. Her brother has also encouraged her at every step along the way.
"This award shows that I'm here to do something special," Fariha says.
Fariha says she is excited to return to Narayanganj this summer, so she can watch wrestling with her nieces and start a new generation of fans. She knows some people say professional wrestling is fake, but she doesn't care.
"If you start to rationalize everything, you lose the fun in life," Fariha said.
Fariha hopes that more students from Bangladesh will consider coming to Penn State Behrend in the future. From the moment she started to look at colleges, Fariha said Behrend just felt like home, and she believes other Bangladesh natives could have a similar experience.
Her best advice to new students?
"Don't be afraid to be yourself. There will always be people who will like who you are and some who don't," Fariha says. "I would change nothing about my first year at Penn State Behrend because I've been myself."