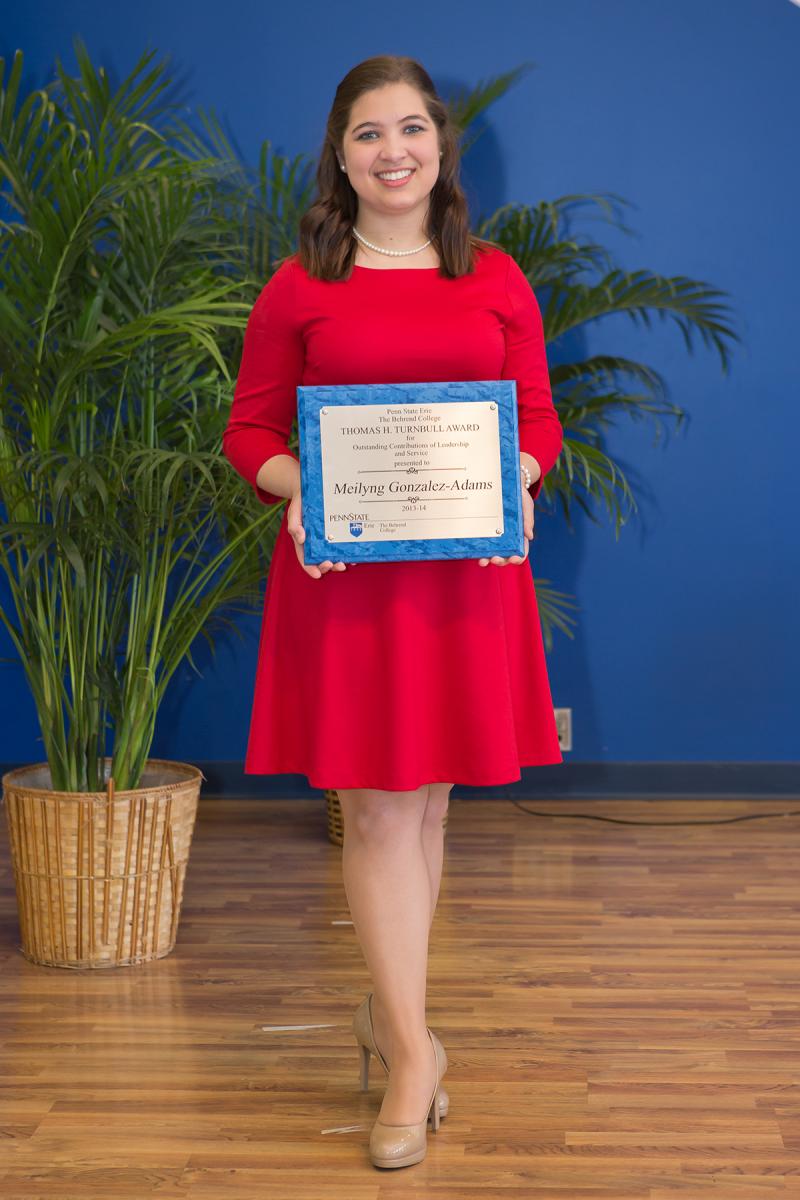 Meilyng Gonzalez-Adams had been planning for days, and her personal sales pitch was ready.
The senior International Business and Accounting major knew nearly 150 companies would be in attendance at the spring Career and Internship Fair at Penn State Erie, The Behrend College, and she was ready to make an impression.
But life is full of surprises.
On March 19, just one day before the career fair, Gonzalez-Adams was invited to an impromptu interview with representatives from the Cleveland office of PricewaterhouseCoopers. It didn't take long for the Guaynabo, Puerto Rico, native to cancel her plans for the next day.
"PricewaterhouseCoopers called me that evening, and I called my mom and said, 'I got a job offer, and I am not going to the career fair tomorrow,'" recalls Gonzalez-Adams, who will start her job as a tax associate in September.
The job offer from PricewaterhouseCoopers, one of the world's Big Four audit firms, was the culmination of four successful years for Gonzalez-Adams, this year's recipient of the Thomas H. Turnbull Award. The award, which recognizes a Penn State Behrend student who has contributed to the college community through outstanding qualities of character, scholarship, leadership, and citizenship, was presented to Gonzalez-Adams at the sixty-fifth annual Honors and Awards Convocation on April 27.
The award's description fits Gonzalez-Adams. She graduated with a 3.79 GPA and during her time at Behrend, she served as a resident assistant and treasurer for the Alpha Sigma Tau sorority. She was a member of Penn State Behrend's Lion Scouts, Omicron Delta Kappa, the national leadership honor society, the Honor Society of Phi Kappa Phi, and Beta Gamma Sigma, the national honor society in business.
Gonzalez-Adams credits her parents, Evan Gonzalez and Olga Adams, for much of her success. The two were young when Gonzalez-Adams was born, but both attained college degrees.
The drive displayed by her parents resonated with Gonzalez-Adams and motivated her to get involved from the moment she arrived at Behrend. She says she had some helpful guidance along the way, though.
"From the moment I contacted Mary-Ellen Madigan (director of enrollment services) in Admissions until today, everyone has been amazing at Penn State Behrend," Gonzalez-Adams says. "I know I wouldn't be who I am or going where I'm going without the faculty and staff here."
The feeling seems to be mutual.
"Meilyng is an extraordinary individual and has made a lasting impression on me, the admissions staff, our visitors, and the campus," says Andrea Konkol, associate director of admissions.
According to Konkol, the college has extended its recruiting efforts to Puerto Rico, and Gonzalez-Adams has been vital in making students feel welcome.
"In September of 2012, I held a reception in San Juan for the parents of our current students. Every one of those families knew who Meilyng was because she had taken the time to seek out and befriend their son or daughter as soon as they arrived on campus," Konkol says. "For students arriving to a college so far from home, it is comforting to have a friend who understands what it's like and to serve as 'big sister.'"
Gonzalez-Adams says she enjoys helping. She recognizes the growth she's experienced at Penn State Behrend, and she hopes others can have a similar experience.
"I go home and people say, 'You're completely different from the person you were in high school,' and I like hearing that," Gonzalez-Adams says. "I like that Penn State Behrend was able to help me with that."