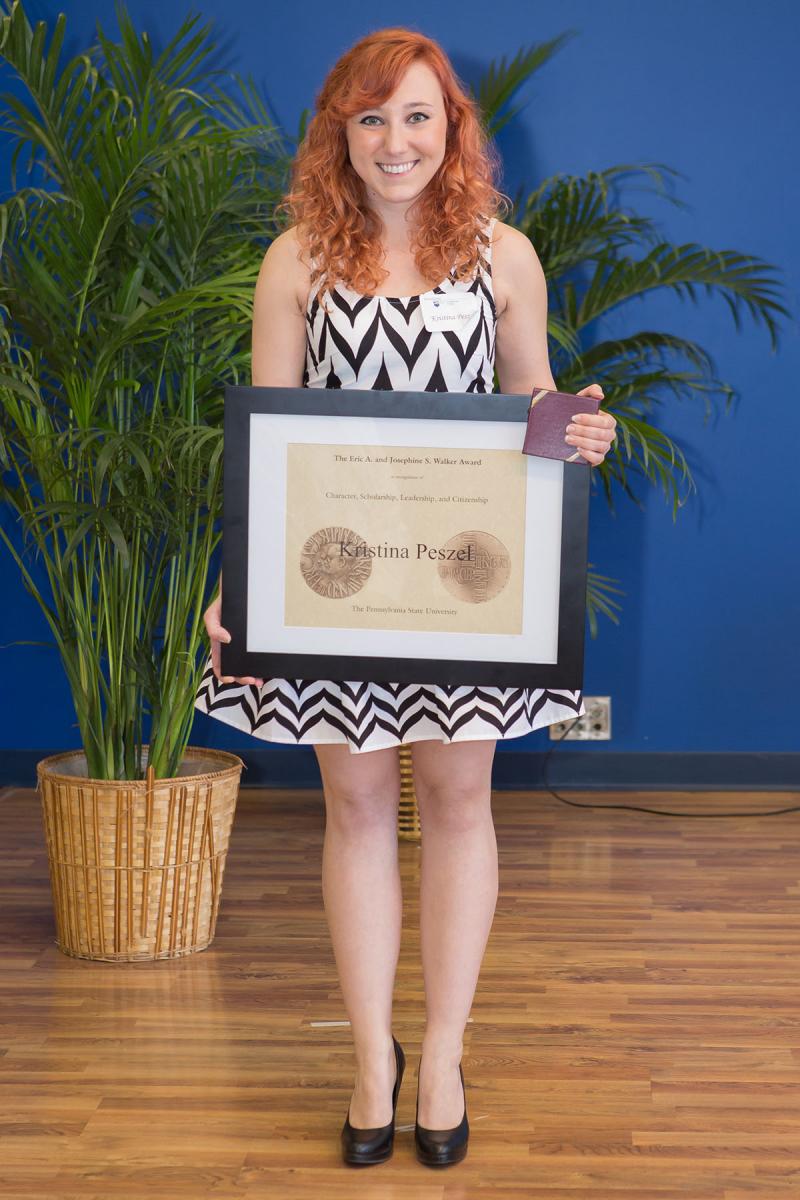 Call it extra motivation. Call it an added incentive. Call it a chip on her shoulder.
However you label it, it's clear there's something that drives Kristina Peszel.
"When I first went to grade school, I was one of the youngest kids in my class. Because of that, I felt as if people questioned me and my ability," says the 21-year-old Peszel, a senior English major with the professional writing option at Penn State Erie, The Behrend College. "Since then, it's driven me. I have always had this need to stand out and prove myself."
Mission accomplished.
In her time at the college, Peszel has excelled as a student, as evidenced by the Eric A. and Josephine S. Walker Award she won at this year's Honors and Awards Convocation on April 27. The award recognizes a student whose outstanding qualities of character, scholarship, leadership, and citizenship have been directed into student programs and services.
Peszel was thrilled to have been chosen for the award.
"It was really exciting, and it felt like recognition of everything that I've done on campus," Peszel says.
The Erie native has a 3.96 GPA and is the lead writing tutor at the Learning Resource Center. She's served as the vice president and secretary for both the Alpha Sigma Tau sorority and Omicron Delta Kappa, the national leadership honor society. She's also been a member of the Lion Entertainment Board, Reality Check, Studio Theatre, and a contributing writer for the Behrend Beacon.
Through her campus involvement, Peszel learned that she prefers to be busy. She thrives on activity, one reason she believes she has been successful.
"If I have enough time to watch television, I feel as if I've forgotten something," says Peszel, who will graduate in December.
Things have not slowed down this summer for Peszel, who is interning at Erie Insurance in the company's IT department. The work she is doing relates directly to her experiences as lead writing tutor in the Learning Resource Center.
As a tutor, Peszel often edited various engineering papers, which provided her with skills and experience in technical writing. It has led her to think of her future in a different light.
"I realized that I'm not just a humanities student, but I can do the technology thing too," Peszel says.
Ruth Pflueger, director of the Learning Resource Center, has worked with Peszel for the past three years at Penn State Behrend.
"Kristina is remarkable in the number of students she has impacted during her time at Behrend. She has tutored literally hundreds of students and also has a leadership role in the Learning Resource Center, organizing the Composition Support Program and mentoring new writing tutors," Pflueger says. "Her professionalism, energy, and sincere desire to help others succeed will serve her well in all her future endeavors."
With one semester left until graduation, Peszel plans to make some great memories and leave a legacy.
"I like surrounding myself with genuine, good people who like to help others," Peszel says. "We can be remembered for all kinds of things, but how we affect other people's lives is most important."