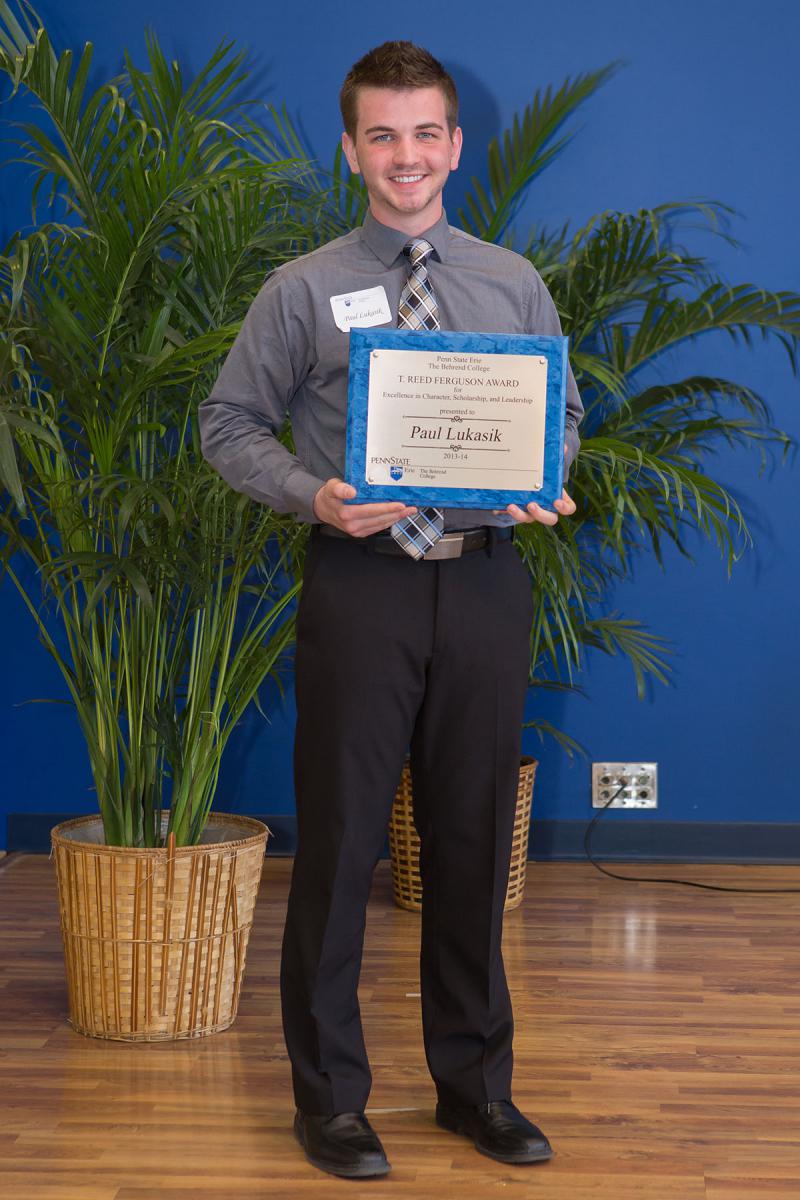 As a Buffalo, N.Y., native and avid Bills and Sabres fan, Paul Lukasik seemed destined to attend college in his home state. In fact, he didn't even plan to look at colleges outside of New York.
He's glad he did, though.
"Penn State Behrend was the only out-of-state school I applied to," Lukasik says. "Once I came here, I knew this was the place for me."
Lukasik, who recently finished his junior year as a Project and Supply Chain Management major at Penn State Erie, The Behrend College, says he found college daunting when he first arrived. He knew no one, and the entire area was unfamiliar to him.
So, he devised a plan.
"My strategy was to get as involved as I possibly could," Lukasik says.
In his three-plus years at the college, Lukasik has been a member of Kappa Delta Rho, Reality Check, and Omicron Delta Kappa, the national leadership honor society. He's also served as a resident assistant and on the budget committee for the Student Government Association.
Lukasik's contributions to the college were recognized April 27 at Penn State Behrend's sixty-fifth annual Honors and Awards Convocation when he was named the recipient of the T. Reed Ferguson Award. The award recognizes a junior who has demonstrated scholarship, leadership, and citizenship through his or her academic and out-of-class involvement and gives promise of further achievement in the senior year.
Lukasik's success has carried over outside of the classroom. This past year, he began working as a sourcing intern at GE Transportation. He continues to work in that position over the summer
Lukasik says he learned the need to be active and involved as a young child. His grandparents founded the Fair Haven's Church in North Tonawanda, N.Y., and he was always helping out.
"It's been instilled in me," Lukasik says. "I really just try to make the most of my time, and I just like to help people."
Lukasik will have the opportunity to help more people this fall when he takes over as president of Reality Check, a community service organization on campus. Every year, the group goes on an Alternative Spring Break, a week-long service trip. The group went to New Orleans this past year and worked on rebuilding houses damaged by Hurricane Katrina.
Lukasik says he has enjoyed the opportunities to help others that Penn State Behrend has given him. He also recognizes how the college has helped him.
"Behrend is the perfect size, has a great group of students, and I can't say enough good things about the Sam and Irene Black School of Business. Looking back, to when I was a freshman, I've just really evolved," Lukasik says. "I had every intention of eventually transferring to University Park, but after my freshman year, I just knew that wouldn't be possible."