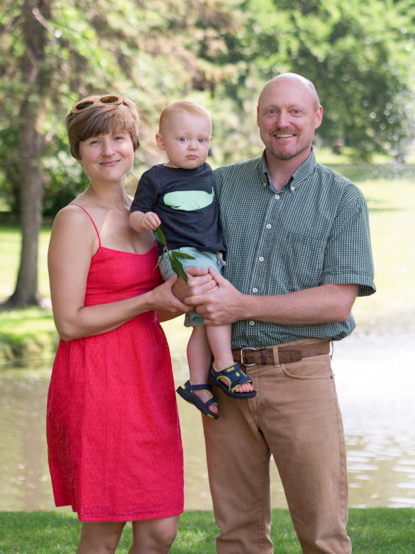 Author Heather A. Slomski '03, a Penn State Erie, The Behrend College, alumna, always knew that she wanted to write.
She's been drawn to stories—both reading and writing them—ever since she was a child, and so it makes sense that her son, 19-month-old Oscar, is turning out to be a voracious reader himself.
Slomski, who earned her B.A. in English with an emphasis in Creative Writing in 2003, and her husband, Vincent Reusch, spend most of Oscar's waking hours engrossed in children's books.
"It's one of the best parts about being a parent," Slomski says.
Publishing a book herself was a goal that was always driving Slomski, who has had stories published in TriQuarterly, American Letters & Commentary, Columbia: A Journal of Literature & Art, The Normal School, and other journals.
Mission accomplished.
Her crowning achievement comes this fall. That's when her first book, The Lovers Set Down Their Spoons, will be released from the University of Iowa Press. The book, is a collection of fifteen short stories, was a labor of love for Slomski.
She worked on it while pursuing her M.F.A. at Western Michigan University and then afterward when she held the Axton Fellowship in Fiction at the University of Louisville.
"Not everything I wrote fit together," says Slomski, who also is an adjunct professor at Concordia College. "It actually took me a long time to feel as if I had a finished manuscript."
Yet, when it was finished, Slomski says she had a strong sense of accomplishment. The book has already made waves, receiving the 2014 Iowa Short Fiction Award, a national award given to a first collection of fiction in English and administered through the Iowa Writers' Workshop.
"It's really rewarding because I feel good about the individual stories and the collection, but I feel validated for it to be recognized and win this award," Slomski says.
Slomski says her two favorite stories are the title story and the last story in the collection, "Before the Story Ends."
"I like the title story a lot because it takes the structure of a play and kind of exists on the border of drama and fiction," Slomski says. "The last story has some magic to it, and it's also an exploration of loss, and I felt I achieved something with that story. The two stories almost don't fit in the same book, but they do. They have totally different tones but both deal with loss in a very different way. The title story actually ends up being about gaining something, which is, of course, the opposite of loss."
Slomski has already begun work on her next project, The Starlight Ballroom, a novel that tells the fictional story of the lives and deaths of her paternal grandparents.
The Lovers Set Their Spoons is currently available for preorder at Amazon.com and can be purchased at this link.
About Heather A. Slomski
High School: McDowell High School, Erie
Education: Earned B.A. in English with an emphasis in Creative Writing from Penn State Behrend; earned M.F.A. in Creative Writing from Western Michigan University.
Fellowships and Awards: From 2008-2010, Slomski held the Axton Fellowship in Fiction at the University of Louisville, where she taught fiction and organized a two-day literary festival titled "The Story of Form." She was awarded a 2013 Minnesota State Artist Initiative Grant, which afforded her travel money to spend six weeks in Krakow and take a course release from teaching. While there, she conducted research for her novel-in-progress, The Starlight Ballroom. She also was awarded the 2013 Minnesota Emerging Writers' Grant, which allowed her to take a course release, so she could continue working on the novel.
Influences: Steven Millhauser, Lydia Davis, Charles Simic, Anne Carson, Angela Carter, Bruno Schulz
Favorite book as a child: "I would say the book I kept turning to was The Lion, The Witch and the Wardrobe because it has that mix of reality and the fantastic. As a child, and even as an adult, you just don't question it and say 'This could never happen,' or 'This is not how the world works.'"
Advice for aspiring writers: "Find a writing schedule—a time and a place where you can write, every day, if possible—and stick to it. Also read a lot. Continually seek out new authors to read, and take care not to overlook literature in translation, literary journals, or writers who publish with small presses."
For more information, visit Slomski's website at heatheraslomski.com.