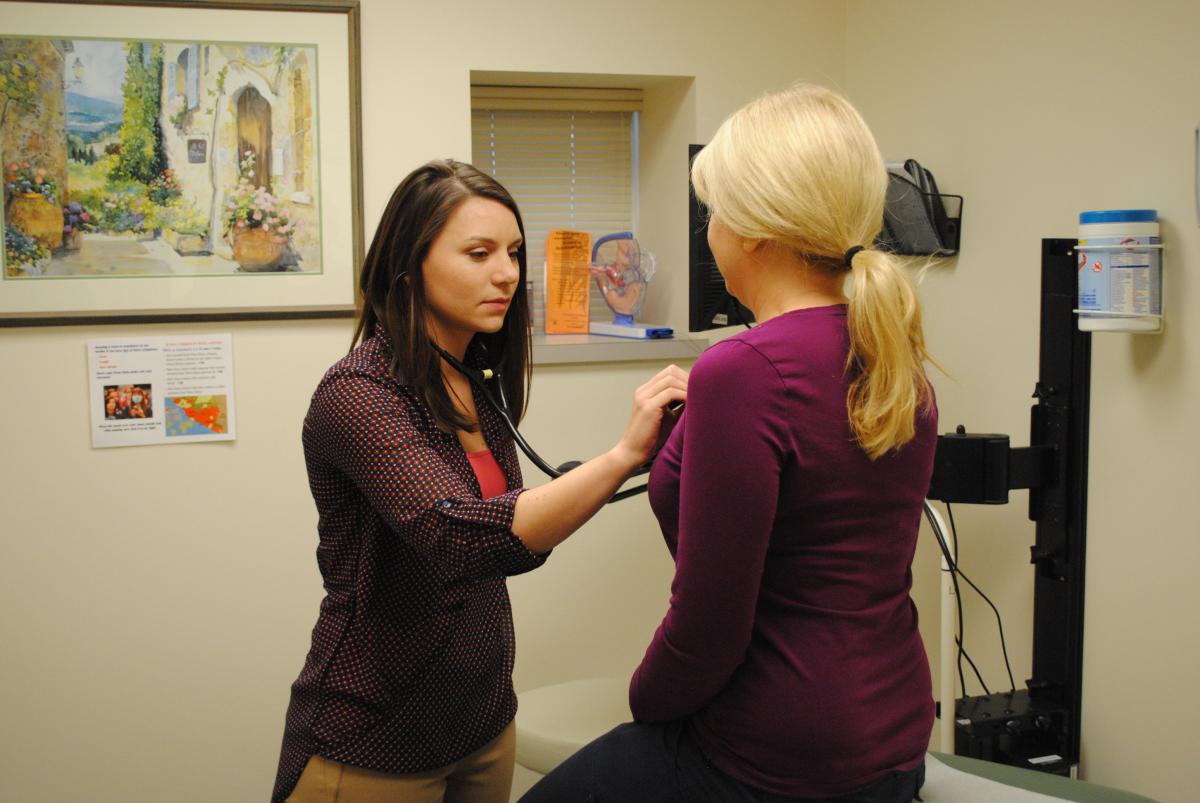 Dr. Meaghan Johnson remembers college as a time for change and growth. It's one of the reasons she says she enjoys working with people of that age group so much.
Johnson, who is in her second year of residency at Saint Vincent Hospital in Erie, chose to use one of her residency electives to work at the Health and Wellness Center at Penn State Erie, The Behrend College. For the past month, the Erie native has worked alongside Patty Pasky McMahon, director of the center, meeting with students to help diagnose and treat their illnesses.
"In my practice at Saint Vincent, I'm either working with really young patients or older patients. I don't get to see a lot of college-age patients, which is difficult because I really like that age group," Johnson says. "You get to do a lot of education with this age group. They're on that cusp where they're just getting out from under their parents' guidance. There's such a preventative aspect to health care at this point. We can say, 'OK. Diabetes runs in your family, and I don't want that to happen to you, so let's start now.'"
Penn State Behrend is a familiar place for Johnson. As a child, she attended Math Options Career Day and College for Kids, two youth outreach programs sponsored by Penn State Behrend. She later received her undergraduate degree in Business Management from the college in 2005.
She then worked as a project manager in Pittsburgh for two years before returning to Behrend to complete her science prerequisites, so she could enroll in medical school at Drexel University in Philadelphia. She graduated with her doctor of medicine degree (M.D.) in 2013.
It's been an unconventional journey for Johnson, who has had to juggle college, a career change and medical school all while raising two daughters: 12-year-old Valarie and 10-year-old Peyton. But she also believes that's one of the reasons she could have a successful career working in college health.
"Knowing what that struggle can be around that age is kind of why I think this is the perfect role for me," she says.
So far, McMahon says she has made a favorable impression.
"Dr. Johnson has been a great pleasure to work with these past few weeks," McMahon says. "She is an ideal physician for college health due to her commitment to treating the whole patient — mind, body and spirit."
The feeling is mutual for Johnson.
"This has been such a nice elective as I'm getting to experience a whole other side of outpatient medicine," she says.
Johnson's elective at the Health and Wellness Center will end later this month, and she will complete her residency in July 2016.
"I'd love to do college health," she says, "but I'm open to wherever life takes me."