Jordan Lyon will have just two options when he dresses for his first job after college: a $140 jacket-and-slacks combo with shiny brass buttons or a zip-front, Mandarin-collared, desert-camouflage blouse. That one has lots of pockets.
Lyon, a junior from Washington, Pa., is a U.S. Army ROTC cadet. He'll spend at least six years as a commissioned officer, following strict rules about job-appropriate attire.
He looks good in a suit, though. He modeled one at a Feb. 24 fashion show at Penn State Erie, The Behrend College: slim-cut grey flannel with a blue rep tie.
"I like this," he said, adjusting the knot. "It's good to dress up every once in a while."
Lyon was one of six models in the "Dress for the Road Ahead" program, which was coordinated by the college's Academic and Career Planning Center. Their before-and-after ensembles showed students how to best dress for job interviews, and for the work that follows.
"That first minute in an interview is make-or-break," said Amy Brotz, a sales manager for Macy's, which provided the suits. "And your clothes are a big part of that."
She advised students to stick with conservative colors: black, grey and navy. Men should wear a tie that complements the suit's color, she said. Their belts should match the color of their shoes.
Women have more options – and more ways to get it wrong, Brotz said. For them, she recommends pantsuits or knee-length skirts with low-heeled, closed-toe shoes. Makeup and jewelry should be minimal, she said.
"You want to stay basic during your interview," she said. "Once you get the job, you can dress it up a bit and have a little more fun with color."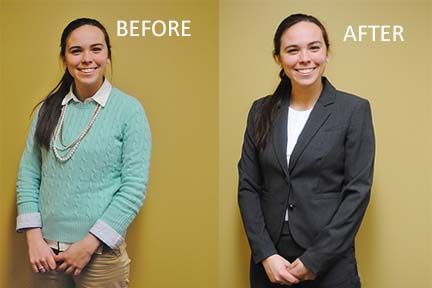 That depends on the job, of course. Robin Siegenthaler, a senior from Spring Mills, has an internship at Lord Corp. She works in an engineering unit.
"I work in a test lab," she said. "I wear steel-toed boots every day. That makes dressing up kind of difficult."
Brotz steered her back to that simple, classic pantsuit. With a different blouse – ivory, instead of white, or even a soft pastel – she could repurpose the look.
"Suits are not inexpensive," Brotz said. "But if you have that one nice staple suit, you can do a lot with it."