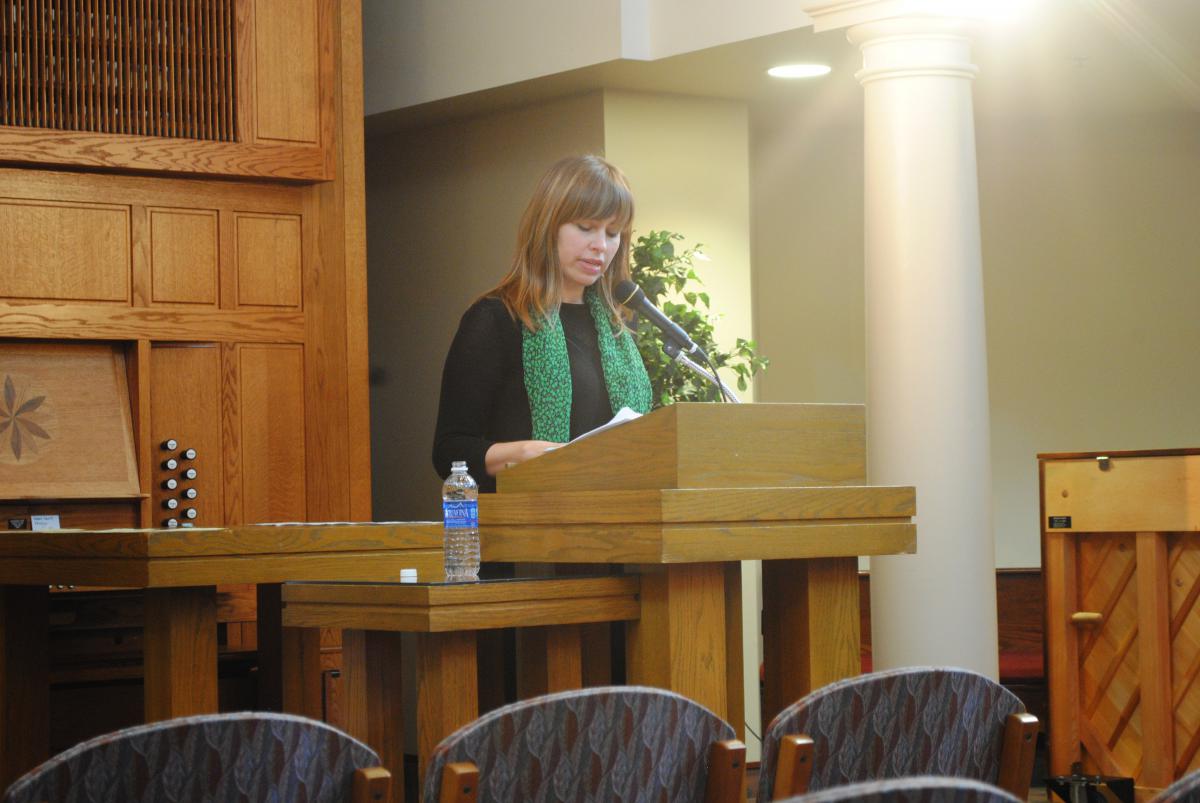 Creative writing majors at Penn State Behrend are exposed to works from some of the most accomplished writers in the world.
It's part of the process for the students, who work diligently to find their voices as contemporary poets and writers of fiction.
However, for a young writer who is honing his or her craft, seeing — and hearing — is often believing. That's where the Smith Creative Writers Reading Series comes into play.
"The students get a sense of, 'Okay, this is a real-live thing,'" says George Looney, professor of English and creative writing. "They see that poetry's not dead. They see that literature's not dead. That's such a valuable thing."
Over the last 20-plus years, the series has become a staple of the creative writing program at Penn State Behrend. Three times each semester, the program brings a poet or writer of national stature to campus to read their work and talk with students about the literary world. Creative writing students are familiar with the author prior to the reading as his or her works are assigned as part of their coursework.
The series began as a result of the Clarence A. Smith and Eugenie Baumann Smith Endowment Fund, which was established in 1989 to help enrich the creative writing program at the college. Since then, more than 100 well-established writers, including names like Stephen Dunn and Charles Baxter, have visited campus, and the students have the opportunity to meet them at reception that precedes each reading.
"The interaction with the authors over the years was so helpful," says Katie O'Neill, a 2015 creative writing graduate who is now pursuing an MFA in Creative Writing at Bowling Green State University. "That was one of my favorite things about the program."
There's another level of interaction that takes place between the students and authors. Those who participate in the series also agree to help judge the college's undergraduate writing awards.
"Our students have the opportunity to say they've won a contest judged by a great writer, and that also gives them a greater sense of what the writing world is like," says Tom Noyes, associate professor of English and creative writing and program chair for the college's creative writing program. "This really helps our students who go ahead in the MFA programs because they're very well prepared."
For evidence, look no further than Heather Slomski. An Erie native, Slomski earned her B.A. in English with an emphasis in creative writing from Behrend in 2003. She went on to receive her M.F.A. from Western Michigan University. Her first book, "The Lovers Set Down Their Spoons," was the recipient of the 2014 Iowa Short Fiction Award, a national award given to a first collection of fiction in English and administered through the Iowa Writers' Workshop.
Slomski will return to campus on Thursday, Oct. 15, as one of the readers for the Creative Writers Reading Series.
While students may be the primary audience of the series, it is as much about outreach as it is education. Every reading is free and open to the public.
"We'd love to see high school students, especially students who might be interested in writing, attending these events," Noyes says. "We'd also love to see more community members at these readings. One thing that I think keeps people away is the notion that art is elitist, but that's just not true. Art enlarges your worldview, but it also helps you focus."
A full schedule of this year's Creative Writers Reading Series is available at behrend.psu.edu/readings. For more information, contact Noyes at 814-898-6209 or email [email protected].