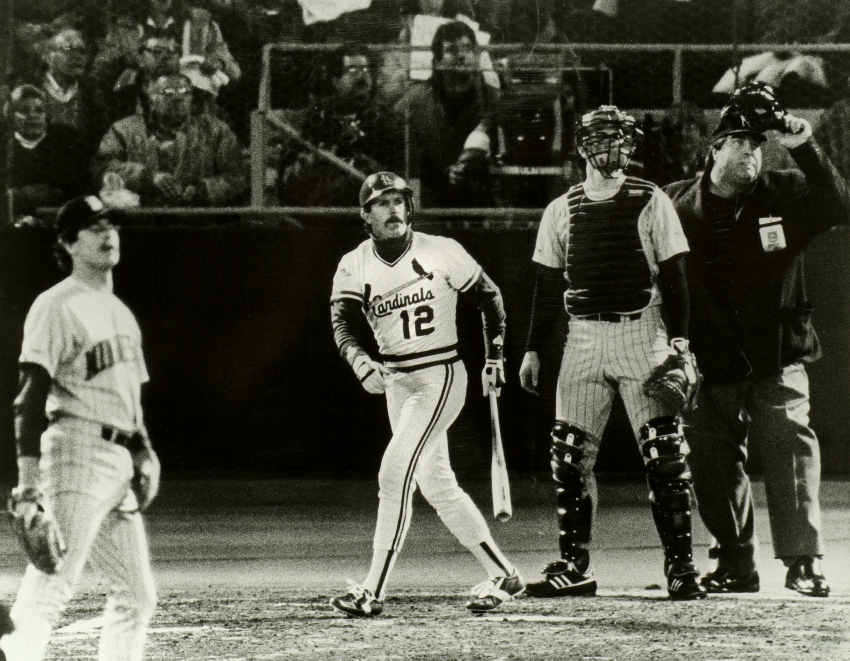 It's been 28 years since game four of the 1987 World Series, but Tom Lawless remembers it like yesterday.
With his St. Louis Cardinals tied at 1-1 with the Minnesota Twins, the Penn State Behrend alumnus and Erie native stepped to the plate with no outs and two Cardinals on base. The infielder had gone just 2-for-25 over 19 games that season, and here he stood, with the opportunity to create some October magic.
"It was just a 2-0 fastball that I got a good swing on, but it was 45 degrees that night and you really don't know how the ball is going to carry. I knew I hit it well, and I knew it had a chance," said Lawless, who played parts of eight Major League Baseball seasons with the Cardinals, Montreal Expos, Cincinnati Reds and Toronto Blue Jays. "You don't go up there and say you're going to hit a home run and throw the bat, but when you know games are crucial, your emotions are running high, everything takes over and your body does things it wouldn't normally do."
When the bat hit the ball, Lawless took 11 steps forward and watched to see if it would clear the fence. When it did, he seamlessly flipped the bat over his back, inadvertently cementing himself as part of MLB postseason lore.
Hyperbole? Not according to St. Louis Cardinals' director of communications Brian Bartow.
"Tom Lawless' 1987 World Series homer set off a spontaneous and somewhat rare show of emotion, but for whatever reason, it seemed fitting having come from a player who was not known for his hitting prowess," said Bartow, who had only worked for the team nine months at the time of Lawless' historic flip. "To this day, it remains an iconic image in both Cardinals and World Series history."
Lawless' marquee moment once again became a topic of discussion this postseason after Toronto Blue Jays' outfielder Jose Bautista enjoyed a similar moment. On Oct. 15, in game five of the American League Divisional Series, Bautista hit the game-winning, series-clinching three-run home run to lead the Jays over the Texas Rangers. After the blast, he methodically flipped his bat forward.
It was a historic moment for a Jays team that had not reached the American League Championship Series in more than 20 years, but Lawless is not ready to relinquish his "King of the Bat Flip" title just yet.
"I think it was just a touch below mine," Lawless said with a chuckle. "I don't think he got enough air with his bat. Mine got a little more height on it while his was more of a line drive bat flip."
It should come as no surprise that Lawless takes great pride in his bat flip. Since 1992, he has been coaching at both the minor league and major league levels, and he incorporates the bat flip story into his teaching.
"It happened in the World Series, and that's what you play for and that's what I try to get my players to understand," said Lawless, who managed the Houston Astros on an interim basis during the final month of the 2014 season. "You play to get toward the end of the year. You want to be in those situations."
The fact that Lawless ever found himself in such a situation remains an anomaly. Division III baseball players rarely transition to the pros. It's even more surprising considering that Penn State Behrend's baseball program was still in its infancy when he played for the Lions from 1975-78.
However, Lawless said he never lost sight of the prize, and that's also the advice he offers to today's players.
"I really enjoyed playing my four years there, and I give a lot of credit to (former Behrend Coach Clarence) 'Shorty' Stoner because he taught me a lot of things," Lawless said. "My big thing was perseverance. You'd have a lot of people say you can't do this and you can't do that, and I never believed that. I had one thing on my mind. I wanted to play baseball, and I wanted to make a career out of it. When you play that way, always looking over your shoulder, you're probably going to do your best, and that's what it takes."
This past season, Lawless spent time as a developmental specialist with the Astros, his seventh season in the organization. He has since left the Astros and is currently a free agent, but he is already exploring opportunities to join another MLB organization for the 2016 season.
"I'm going to look around Major League Baseball and see if something fits for me. I feel like I still have a lot to offer, especially from the teaching perspective. I don't feel like my adventure is over yet," Lawless said.