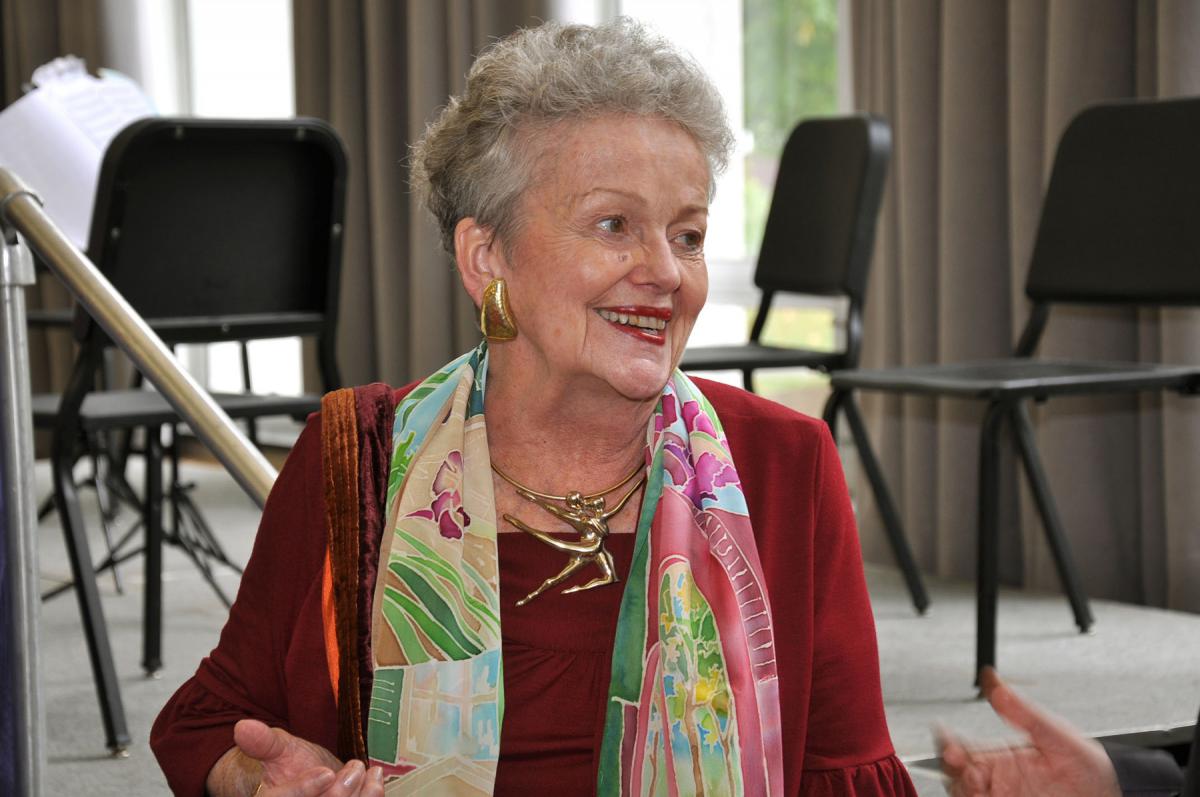 When musicians sign on to play in Music at Noon: The Logan Series, they commit to more than a concert.
"We tried to design a program that was user friendly while exposing different sectors of the population to the music and making them happy about it," says Mrs. Kay Logan, founder of Music at Noon: The Logan Series. "For children and even for some adults, 'chamber music' is an intimidating set of words."
Founded in 1989, Music at Noon: The Logan Series recently finished its 25th season at Penn State Erie, The Behrend College. Three times each semester, students, faculty and staff members and community members are invited to campus to experience free chamber music in an informal, welcoming environment.
Unlike most chamber music series, an unusual level of interaction takes place between the performers and the audience, and a strong emphasis is placed on education. This is by design, says Mrs. Logan, who was the principal flutist with the Columbus Symphony for 20 years and is a past trustee of the Chautauqua Institution.
"It's an incredible teaching tool," says Mrs. Logan, who founded the series to honor her late husband, Harry, the former chairman of the board and CEO of Warren's United Refining Company and an arts advocate. "We started hiring only groups who had proven their educational track record. We bring in groups who in their daily lives do a lot of education work and education work of a high quality."
The reason for that is two-fold. When performers agree to come to campus for a Logan Series concert, they agree to serve as guest lecturers in at least one undergraduate general arts course.
They also commit to presenting two in-school mini-residency performances at Erie's Diehl Elementary School. Penn State Behrend provides this outreach service to Diehl as part of the Adopt-A-School program.
"It gives kids self-discipline more than anything else, and you can tie it into many other areas," says Mrs. Logan.
For the past seven years, the Logan Series has been under the direction of Gary Viebranz, director of instrumental ensembles at Penn State Behrend. Together with Mrs. Logan, Viebranz plans and coordinates the series' programming each year.
"Mrs. Logan's tremendous vision in creating the series has been surpassed only by her commitment and generosity that has allowed us to flourish for the past 25 years," Viebranz says. "She has provided the cornerstone to building a community treasure that has reached tens of thousands of listeners of all ages."
Today, an average concert is attended by between 300 and 400 people, consisting of Behrend students, staff and faculty members; Diehl Elementary School students; and the general public. In January, the series received the 2015 Chamber Music America and American Society of Composers, Authors, and Publishers Award for Adventurous Programming. The national award recognizes ensembles and presenters for outstanding and innovative approaches to the programming of contemporary, classical, jazz and world chamber music. Music at Noon is one of only three two-time honorees as the series also received the award in 2006.
"I funded the program and kept watching, but I had no long-term projections," Mrs. Logan says. "But it's turned out to be a good thing for the campus, a good thing for students and a good thing for the community, so that makes me very happy."