Event is considered the 'investment Olympics' for university students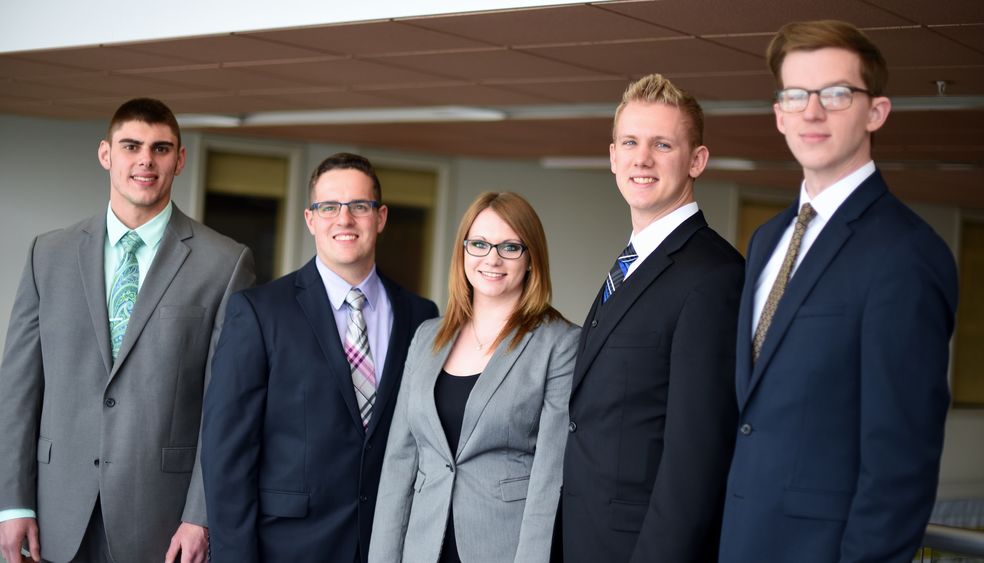 ERIE, Pa. — Analysts at F.N.B. Corp., a $30 billion Pittsburgh-based banking company, saw opportunity in the purchase of Yadkin Financial: The $1.4 billion deal, which was completed on March 11, gives F.N.B. significant market share in high-growth metropolitan areas, including Charlotte, Raleigh and Winston-Salem, North Carolina.
A thorough financial valuation of F.N.B. — including the Yadkin acquisition, which added nearly 100 new banking locations — also indicates some transactional risk, said Richard Kelly, a senior in the Black School of Business at Penn State Erie, The Behrend College. That was just one factor that led Kelly and other members of the Black School's student investment team to recommend a "hold" strategy for F.N.B. stock at the CFA Institute Research Challenge, held in Pittsburgh on March 1.
The judges agreed. The Behrend team — Kelly, of Hermitage; Andrew Buzzelli, of Cranberry Township; Jason Pettner, of Beaver Falls; and Ariana Gloeckner and Austin Montevecchio, both of Erie — won the first round of the competition, outperforming teams from Duquesne University, the University of Pittsburgh and Penn State's University Park campus. Seven other teams entered but did not complete the challenge.
A Penn State Behrend team also won the regional challenge and an initial round at the national level in 2016, putting them in competition among the top 21 teams in the world.
The CFA Institute started the global research challenge, which is considered the "investment Olympics" for university students, in 2006. Teams are paired with an industry mentor, who can provide up to six hours of advice, and meet with top executives of the company during a due-diligence session for financial analysts.
This year, students met with Vincent Delie Jr., F.N.B.'s president and CEO, and Vincent Calabrese, the company's chief financial officer.
More than 1,000 universities in 50 countries compete in the CFA challenge. The Black School team now advances to the Americas Regional final, set for April 6-7 in Seattle.
"The Research Challenge brings global awareness to our program," said Greg Filbeck, interim director of the Black School of Business and the team's adviser. "Our success over the past two years is a testimony to our strong curriculum, outstanding faculty, and motivated and driven students."
Each team member spent more than 100 hours studying F.N.B.'s financial data and preparing their valuation, which was detailed in a written report and a 10-minute oral presentation, during which the students answered questions from seasoned financial analysts.
"Banks are complex business entities," Kelly said. "They feature irregular cash flows and use debt instruments to generate revenue, making valuations increasingly more difficult. The acquisition of Yadkin Financial, which had not been finalized when we studied the company, further increased the difficulty of this valuation."
That should give the team members an advantage as they enter the job market.
"I'm very pleased with the knowledge we have developed as a team over these past few months," Kelly said. "Being able to show that and bring our valuation report to a job interview demonstrates an advanced skill set and dedication to our careers."