More than 800 students attend Penn State Behrend's spring Career and Internship Fair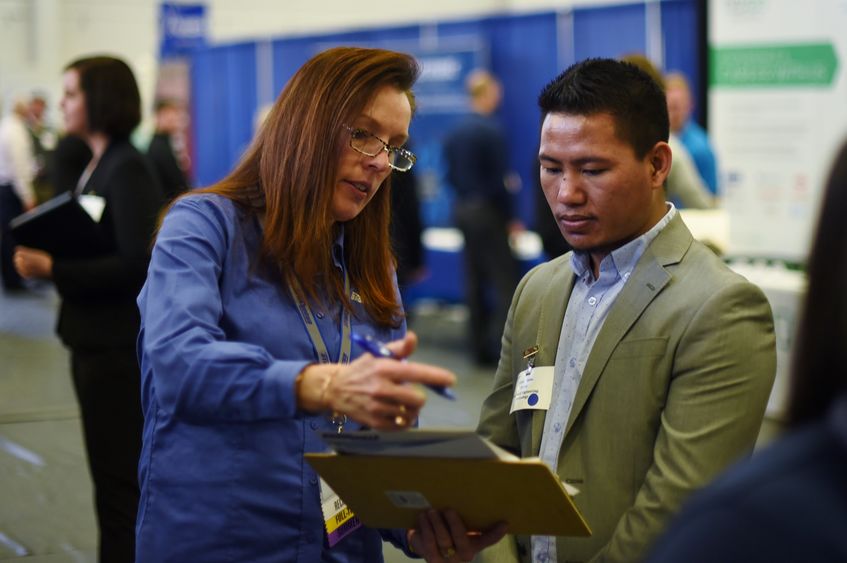 ERIE, Pa. — "One… two… three!" Krystal Elliott smiled for the camera.
"I'm about to enter the career world, so I need to look professional," said Elliott, who took advantage of a free professional photo booth at Penn State Behrend's spring Career and Internship Fair.
For the more than 800 students in attendance at the March 16 fair, the photo booth was a reminder of a larger theme: Attending career fairs is just one piece of the puzzle when securing a job or internship. A professional LinkedIn or social media photo also can help.
"If you just throw a selfie on LinkedIn, that sends a message to an employer," said Aizat Fadhil, a senior mechanical engineering major and president of the student organization DOPE (Diverse Organization of Photo & Video Enthusiasts), which coordinated the photoshoot. "It's almost just as important as having a good résumé. If you have a professional photo, it shows employers that you took the initiative to go that extra step."
No need to remind Elliott of that. The senior software engineering major has her own online portfolio, but she knew it could be greatly enhanced with a professional photo.
"You're marketing yourself," said Elliott, a New York City native. "Career fairs like this are great because there are employers here to meet you, but you don't always get the opportunity to do that. It's important to have the whole package."
Catalina Stevenson knows that firsthand. Stevenson graduated from Penn State Behrend in 2016. She attended this year's fair in a different capacity: as a representative of LORD Corporation, one of the 140-plus companies in attendance.
"After attending this as a student and now as an employer, I have so much insight that I did not have before," said Stevenson, who works as an engineer in LORD's Career Foundations Program.
Stevenson now enjoys sharing her career-fair experiences with students in attendance. She's also quick to point out that just showing up at a career fair is not enough. Crafting the perfect résumé, honing interview skills and getting the professional headshot all help.
There's also networking. Even if a student does not land a job or internship at a career fair, it can still be a success.
"The spring Career and Internship Fair gave students from all majors the chance to network with employers, which is a key part in the process of securing a job or internship," said Courtney Steding, director of Career Services in Penn State Behrend's Academic and Career Planning Center. "Students have an opportunity to showcase their soft skills and interest in specific organizations, which are qualities that are important to employers, but sometimes tough for students to prove in a one-page résumé."
Mike Papale, a 42-year-old General Business major, has been out of the workforce for less than a year but was eager to start building relationships with some of the employers in attendance.
"Networking is a huge part of it," Papale said. "I enjoy talking with people, so I'm interested in asking companies what they're looking for and what classes I might be able to take that would help me at their company."
Contact
Steve Orbanek
Marketing Communications Coordinator, Penn State Erie, The Behrend College