A record 175 companies and 1,300-plus students attend fair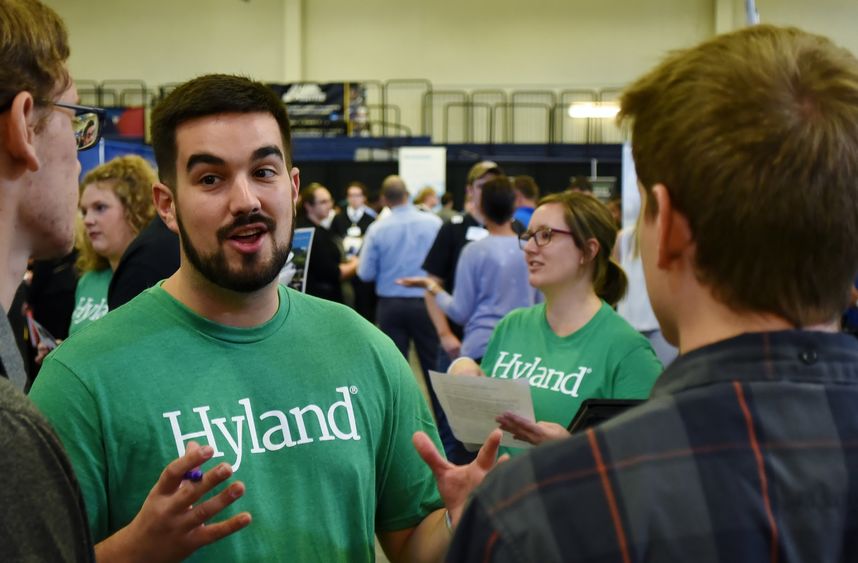 ERIE, Pa. — "Tech talent wanted." "Never stop moving." "Bring your skills." "Your career path points our way."
Those messages lay inside colorful paper bubbles spread across the floor below Hyland's booth at the Fall Career and Internship Fair at Penn State Erie, The Behrend College.
"It's a way for us to be unique," said Courtney Byham, a recruiting program manager for Hyland, a Westlake, Ohio-based company that develops content management and process management software. "As students are walking by, we've thought, 'Okay, how can we grab their attention with the floor?'"
Finding a way to stand out from the crowd is a key strategy for employers, especially when competing for top-notch students. This year's career fair, which was sponsored by the Academic and Career Planning Center and held Sept. 20 in the college's Junker Center, was the largest yet, with 175 companies and more than 1,300 students attending.
While students work to craft and perfect their pitches, the same can be said for companies. Hyland, for instance, focused on promoting work-life balance to potential employees. It's a key selling point for the company, which attended the fair looking to hire positions in the areas of software development, quality assurance and software consulting.
On its campus, Hyland has slides that can be used in place of stairs or elevators. They also offer volleyball courts, a spacious outdoor walking trail and an arcade complete with old-school machines and an Xbox. Each day, employees receive two 20-minute breaks, as well as a half-hour lunch break.
"We want our employees to not only pursue their professional goals but also their personal goals as well," said Byham, who noted Hyland expects to hire more than 300 positions this year. "Yes, we want you to succeed here, but we also want you to make sure that your main focus is your life and family."
For students, especially those seeking a flexible work environment, this can be a major selling point.
"Oh, absolutely, I love the companies who have cool stuff like that," said Courtney Ironside, a senior marketing major from State College who attended the fair in search of a full-time position. "I have to be at work for so long each day, so I want to enjoy my time while I'm there. Anything out of the ordinary is what I'm looking for today."
Megan Stetz, a senior interdisciplinary business with engineering studies major from Mars, agreed.
"At the end of the day, (a company) should be about its workers and their happiness because that's what is going to ultimately help their performance," said Stetz, who also hoped to find a full-time position at the fair.
According to Courtney Steding, director of career services at the college, the approach used by Hyland is the start of a larger trend.
"Job seekers today are looking for more than just a paycheck," Steding said. "Students are seeking out companies that provide growth and mobility, engaging teamwork and opportunities to give back to society, all while having fun. Employers are responding by creating branding strategies and out-of-the-box ideas in order to recruit a diverse and talented pool of candidates."
Like Hyland, Truck-Lite, a Falconer, New York, company that produces LED safety lighting, found a way to be unique and appeal to students. The company parked its Jeep Wrangler outside the fair, as booming pop tunes blared as students walked by.
"It's not just us choosing them," said Paige Ryder, marketing coordinator for Truck-Lite, "(students) have to choose us, too. I remember how I felt at these types of things, and it's nerve-wracking. But we're all just people, and this (Jeep) is kind of a way for us to grab students' attention and say, 'Hey, we're a fun company.'"
Contact
Steve Orbanek
Marketing Communications Coordinator, Penn State Erie, The Behrend College