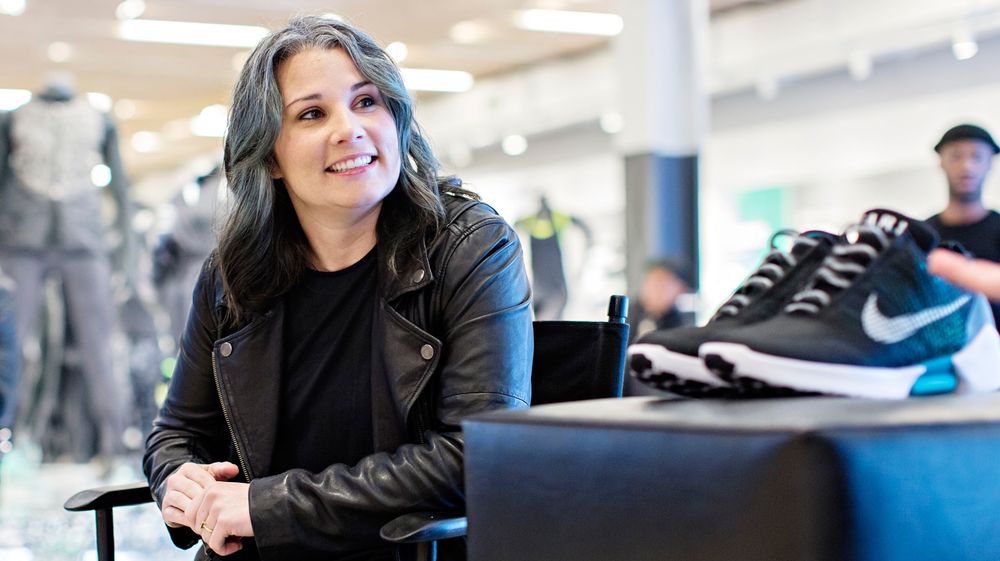 ERIE, Pa. — Remember those "Back to the Future II" shoes? With the light-up soles and the self-tying laces?
They were totally fake.
The lights were wired to a battery pack beneath the jacket of the actor, Michael J. Fox. The laces were cabled to tiny guide wires, which four members of the film's crew, flat on their backs, pulled through a platform that hid them from the camera.
It would take 11 years of intense R&D — stitching, molding, breadboarding, thermoforming; a design marathon on mannequin feet — to create an actual "adaptive fit" sneaker, which Nike calls the HyperAdapt 1.0. Much of that work was led by Tiffany Beers, a senior innovator at Nike, and a 2002 graduate of Penn State Behrend's plastics engineering technology program. She discussed the project — and showed off the shoes — at the college's Fasenmyer Engineering Design Conference, a showcase for yearlong student research projects, on April 29.
"I like being on the cutting edge of things," said Beers, who holds 40 utility patents and three design patents. "I was like that in college, too. There's always so much to do, you know? It's like, 'How do I do this, but faster?'"
So your boss tells you to build these from-the-future shoes that we all saw in a movie. Where do you start?
It started with, "Do you think we can build this?" Kind of like a concept car. You prototype some things, and you see what works. Then, as you test it and you begin to get some athlete feedback, you frame up what it would take to actually complete it.
We built hundreds of these, right at our desks. At one point, I had a sample pair on, and I was running in them, and it was pretty clear: "Yeah, this is doable. There is no way this isn't possible."
You had to find room for a motor, and a battery, and sensors that read the wearer's foot. And keep the shoes to just 14 ounces.
We just kept tinkering with them. Usually, you can see the path: This lace won't go through that hole. There's too much friction. The problem is well-defined; it's right there, in front of you. It's the answers that are hard to get to.
How do you work through that, especially when you're 11 years into a project?
It's just a matter of taking all the problems and breaking them down one at a time. It helps, too, to have more than one project. You make sure you have short-term, mid-term and long-term stuff, so you're still bringing your work to market on a regular basis.
It is different when you launch a really long one like this, though. You know it was worth it.
People lined up to buy these, even with a $720 price tag. Why are we so obsessed with sneakers?
I played volleyball, soccer and basketball, and I was always particular about my shoes. I liked outdoor running shoes, which had a little more chunk in them, and I always liked them dark. When my team was wearing white, or other light colors, I went the other way. I always had black shoes.
When I got to Nike, I saw how deep sneaker culture went. It amazes me how passionate people are about sneakers, and how they collect them. When you work here, you meet people who have 400 or 500 pairs of Air Force Ones — 400 pairs of the same shoe! It's crazy.
At some point, this stopped being a pure "concept" project. How much of the shoe influenced other Nike products?
Quite a bit of it, actually. Our products influence each other all the time. Some of the foam we used in the Mag (a self-lacing prototype) and the construction we used in that shoe was adapted for one of the Air Jordans. The battery work was used in the heated boots we gave to athletes at the Winter Olympics in 2014.
Would you do it again? Are you already designing shoes for 2028?
I'm still wearing and making changes to these ones. I don't know if they'll ever be done, at least not for me. My standards tend to be higher than are achievable. And maybe that's the point: Nothing amazing ever happens without a challenge. If you don't have that frustration, and that doubt, and that failure, maybe you aren't thinking big enough. Maybe it isn't the right challenge.
Contact
Robb Frederick
Assistant director, news and information, Penn State Behrend