Campus Arts Initiative project 'Color Walk' to be installed in November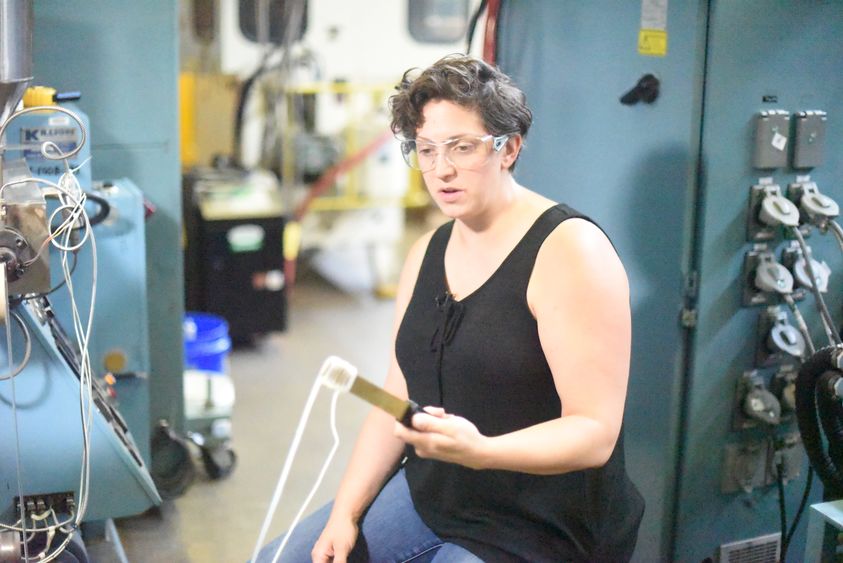 ERIE, Pa. — Penn State Behrend's plastics engineering technology program has the largest academic plastics-processing lab in the country, and the 10,300-square-foot facility has produced its share of impressive projects. The latest work, undertaken in collaboration with the college's arts administration program, might take the cake: a public art project.
As part of Penn State's Campus Arts Initiative project, Cleveland-based sculptor Lauren Herzak-Bauman has been using the lab to create, mold and fabricate the materials needed for "Color Walk," the site-specific art project to be installed on Penn State Behrend's campus in November. The project features thousands of plastic discs arranged in colorful pink vertical bars, which will soon be placed throughout a tree line near the Reed Union Building.
"The location really inspired the project, and I knew I wanted to work with multiples, and I knew I wanted to create some kind of color gradient," Herzak-Bauman said. "During my very first visit to campus, I noticed that tree line, and I found it kind of striking how those tall trees moved through the ground. It just continued to grow on me, and then I sort of realized that pink would be a stunning and striking color on campus."
Funded by Penn State's Strategic Plan Seed Grant program, the Campus Arts Initiative is a cross-disciplinary project that aims to create site-specific visual art to engage communities in the spaces where they live and work every day. Eight University locations across the commonwealth, including Penn State Behrend, were identified in January. Artist collaborators were selected from among 158 applicants.
The Behrend project is unique in how it is achieving the cross-disciplinary mission of the Campus Arts Initiative. Arts administration students Olivia Coghe, Jacob Jobczynski, and Dalton Dougherty assisted with the artist selection process. Dougherty has also helped document and promote the project via social media.
"Part of the project is about elevating the visibility of arts on campus. I see this piece as doing that, but it's also about making art very accessible to people."

— Lauren Herzak-Bauman, sculptor, "Color Walk"
Plastics engineering technology faculty members and students John Lutz, Nate Bailey, Rebecca Olanrewaju and Martina Mandella, in turn, have been working alongside Herzak-Bauman.
"It's been so cool to be a part of a project this size," Dalton said. "It's been interesting to hear the feedback from the plastics folks and see how you can use their materials to make artwork."
For Herzak-Bauman, a ceramic-based artist by trade, the project has been a bit out of her comfort zone, but she's adapted.
"I've been a stranger in a strange land," Herzak-Bauman said.
"The plastics lab is very clean while my studio is extremely dusty and dirty. I've worked a lot with Josh (Lutz), who has been wonderful. I'm not exactly sure how he felt about spending the week with an artist, but he has been so patient and helpful in this process."
The process has not been without its bumps. Initially, Herzak-Bauman planned to use an existing mold and the lab's plastics extrusion machine to create the materials for "Color Walk."
That proved to not be possible, so Jason Williams, assistant teaching professor of engineering, created a new part, that is being used to fabricate the discs. When completed, the installation will feature more than 8,000 of the discs arranged in about 200 vertical bars.
It's a time-consuming process since the discs are being produced with polylactic acid (PLA). The plant-based polymer is more environmentally friendly than other plastics, but it also takes more time to cool. Fabricating the discs has taken more than 80 hours of time. Bailey, Olanrewaju and Mandella spent several evenings and weekends in the plastics lab molding the discs.
"One thing about my work is that there's always a bit of tedium involved, but it's just kind of par for the course," Herzak-Bauman said.
The home stretch is in sight though. Herzak-Bauman is now beginning to assemble the discs into bars. With the help of students, she plans to install "Color Walk" in early November. Arts administration students are planning events to promote the installation.
"The installation will take about a day, and then it's just over. That's when it becomes really magical for me," she said. "Part of the project is about elevating the visibility of arts on campus. I see this piece as doing that, but it's also about making art very accessible to people. There are people who are going to see this piece who would never think of stepping into a gallery. I just love that it will be available to a more diverse audience."
Contact
Steve Orbanek
Marketing Communications Coordinator, Penn State Erie, The Behrend College