Collection supports the campus' game development minor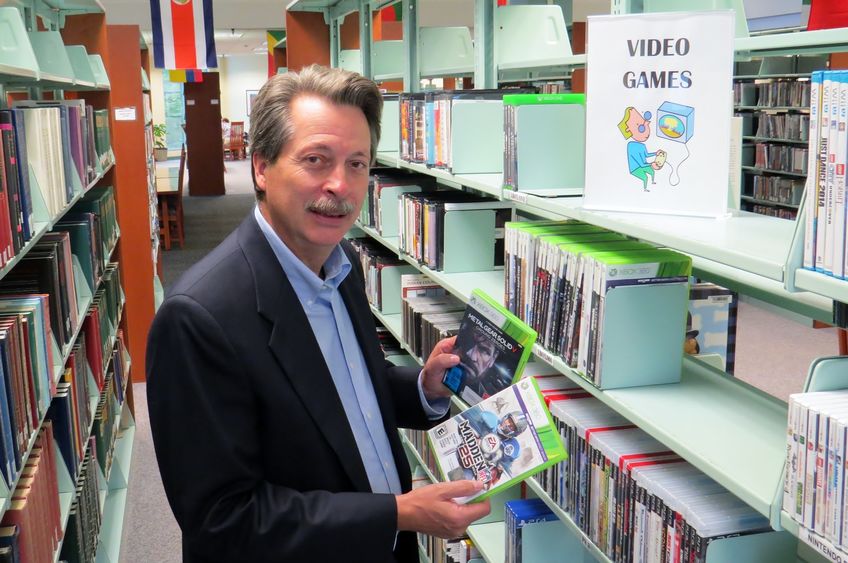 On a shelf at the John M. Lilley Library, across from the Oxford Encyclopedia of the Reformation, is the unlikeliest of literary icons: Emperor Piglatine, an evil cartoon pig who can blow lightning out of his nose.
Piglatine is the chief villain in "Angry Birds Star Wars," a 2012 game developed for Sony's PlayStation 3 system. The game is one of about 150 in the library's video game collection – the first of its kind in the University. It's shelved with titles for the Xbox One, Wii U and Nintendo 3DS platforms.
The collection supports the college's game development minor, an 18-credit program track that includes courses in game design and gaming psychology. Matthew White, assistant professor of game development, selects the titles, highlighting games that have had particular influence in the $3 billion gaming industry.
"These are must-plays, in terms of game design," he said. "These are titles that revolutionized the types of games we play. They set the trends."
"Mass Effect," for example, was one of the first games to create an interactive narrative.
"The Legend of Zelda," released in 1986, pushed the story to novel length, requiring multiple sessions of play. "Halo 2" launched the era of online gaming, linking players who would never meet outside the game.
"Angry Birds" had influence, too, particularly on mobile platforms. The game, created by three university students, has been downloaded more than 500 million times.
To truly understand the games, White said, students have to play them. "Trying to learn game design without playing the game is like learning surgery without a body," he said. "It doesn't work."
The library games also serve their original purpose: They're entertainment. Titles can be borrowed for one week at no charge.
Library director Rick Hart considers the games an extension of the library's 5,000-title DVD collection, which also began with faculty recommendations – Hitchcock films that were shown in class – before expanding to more popular popcorn fare.
"Fifteen or 20 years ago, the idea of buying a popular movie on DVD was foreign to us," Hart said. "But when representatives of the Student Government Association came to me, saying it would be nice to have some movies in the library, we decided to try it. We were kind of a remote campus back then. If you didn't have a car, it could be hard to find things to do."
The movies are now among the library's most-requested items: They are checked out more than 11,000 times every year.
The game collection, though far smaller -- at least for now -- is just as popular. At any point in the last academic year, Hart said, a third of the titles were checked out.
Contact
Robb Frederick
Assistant director, news and information, Penn State Behrend