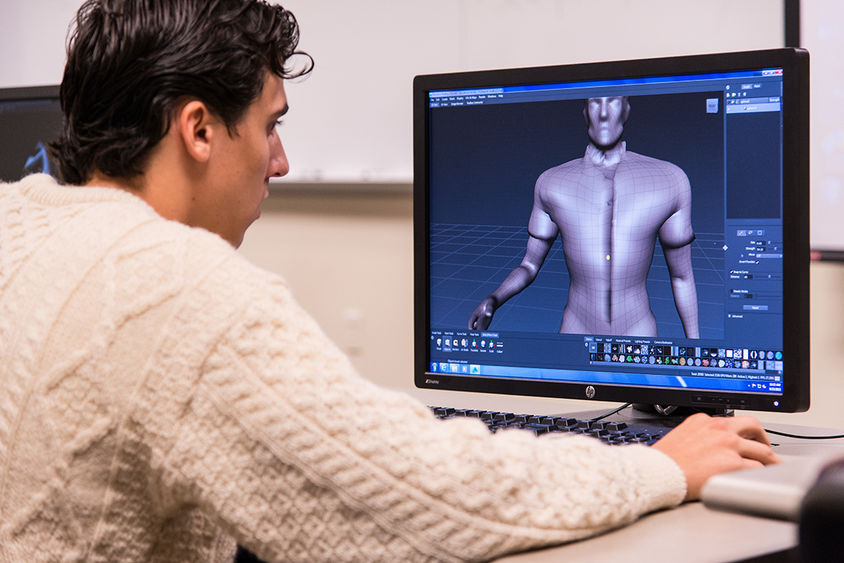 ERIE, Pa. — Presentations on 3D animation, virtual reality and augmented reality, as well as musical performances and a slow-motion video booth, will all be offered during the fourth-annual Digital Media Festival at Penn State Behrend.
DIGITFest, the two-day festival and conference, will be held Monday, March 25, and Tuesday, March 26, in the college's Reed Union Building. All sessions are free and open to the public, and reserved parking for attendees will be available in the Reed lot.
"Usually we have many sessions focused on technology within the arts, psychology, gaming, and other liberal arts," said Heather Cole, an assistant teaching professor of digital arts who coordinates the festival alongside the student planning committee. "This year, we also tried to coordinate a 'fun zone' in McGarvey Commons, so there's a bit more for all ages. There will be a student arcade both days and the portable planetarium will be there on Tuesday."
One of the highlights of the 'fun zone' will be a demo of "Where the Bees Make Honey," a new Playstation 4 and Xbox One game designed by Behrend student Brian Wilson. The game will be on display for the duration of DIGITFest.
DIGITFest's complete schedule, including a list of speakers and room locations, can be viewed at https://sites.psu.edu/behrendarts/digital-media-fest/. Some highlights include:
March 25
4 p.m., Q&A with Girls Make Beats founder Tiffany Miranda, 112 Reed
4:30 p.m., Slow-Motion Video Booth, McGarvey Commons
5 p.m., Flipgrid presentation, Janelle Newman, 113 Reed
7:30 p.m., Uses and Applications for Virtual Reality, Heather Lum, 117 Reed
March 26
5:15 p.m., Creative Storytelling with Creative Cloud, Heather Cole, 112 Reed
6 p.m., GenJam presentation, Joel Hunt and Al Biles, 117 Reed
7:30 p.m., Augmented Reality: Constellations, Ethan Sailor, 112 Reed
8 p.m., Music Technology and Nonprofit Work, Corey Cook, 117 Reed
Penn State Behrend's Digital Media Festival is sponsored by the college's School of Humanities and Social Sciences Endowment and the Digital Media, Arts, and Technology bachelor's degree program. Abbreviated DIGIT, the program is Penn State's only undergraduate degree in digital humanities and meets the growing employer demand for professionals capable of both critical analysis and creative production of digital media.
For more information on the Digital Media Festival or DIGIT, contact Cole at [email protected] or the Student Planning Committee at [email protected] or call 814-898-6420.
Contact
Steve Orbanek
Marketing Communications Coordinator, Penn State Erie, The Behrend College