48-hour Extra Life gaming marathon benefits children's hospitals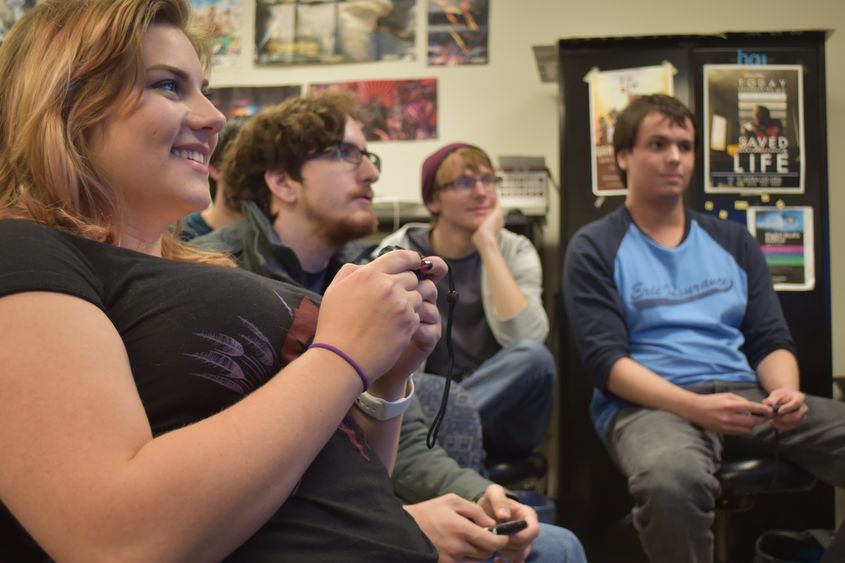 Screen time can get pretty exhausting after a couple hours. Try staring at a screen for 48 hours straight as part of a gaming marathon.
Even the most devoted video gamers need a break. That's where an old-fashioned "whodunit" can go a long way.
On Nov. 3-5, members of the Game Developers Club at Penn State Erie, The Behrend College, as well as other students participated in Extra Life 2017, an international one-day gaming marathon that has raised more than $30 million for the Children's Miracle Network since 2008. In an effort to maximize fundraising, the Behrend club extended its marathon to 48 hours, beginning at 5 p.m. on Friday, Nov. 3, and continuing through Sunday. Overall, the club raised $851, which will support the Erie-based Saint Vincent Health System and its pediatric intensive care unit.
While much of the marathon consists of the gamers playing video games or board games, a murder mystery can go a long way toward helping participants power through some of the most trying hours.
"A long game like that, which usually has multiple rounds, is really helpful. Honestly, anything that's more physical and gets us moving around is great," said Matt Benkart, a senior computer science major and president of the Game Developers Club.
The other major aid for participants: caffeine.
"I brought my whole Keurig machine," said Tiffany Eichler, a senior psychology major from Zelienople, Pa. "On Friday night, we're all excited, and it's like we're children again. But then 2 a.m. hits, and it's like, 'Oh my gosh.'"
Extra Life participants are required to livestream part of the marathon. For the Behrend club, this offered an opportunity to both have fun and make an extra push for donations.
"We try to be as entertaining as possible because that's what will lead to more donations," Benkart said. "There's a lot of interaction between us and a lot of jokes told as well. We want it to be engaging, and we want there to usually be at least one person talking."
Extra Life started in Texas, where a small group of gamers sent games and gifts to Victoria Enmon, a 15-year-old who was being treated for leukemia. When she died in 2008, the group staged a 24-hour game marathon, asking friends to sponsor them, paying $1 for every hour they played. More than 12,000 people donated.
"Behrend has always valued its commitment to outreach programs and services. Our students are always engaged and doing what they can to help out in the local community," said Richard Zhao, assistant professor of computer science and software engineering and adviser of the Game Developers Club. "Also, playing video games is not just for fun. Why not have fun and make a meaningful contribution to our community at the same time?"
While the marathon has ended, donations are still being accepted. To donate, visit www.extra-life.org and search "Penn State Behrend."
Contact
Steve Orbanek
Marketing Communications Coordinator, Penn State Erie, The Behrend College