Matt Stanton delivers keynote address at ABET accreditation ceremony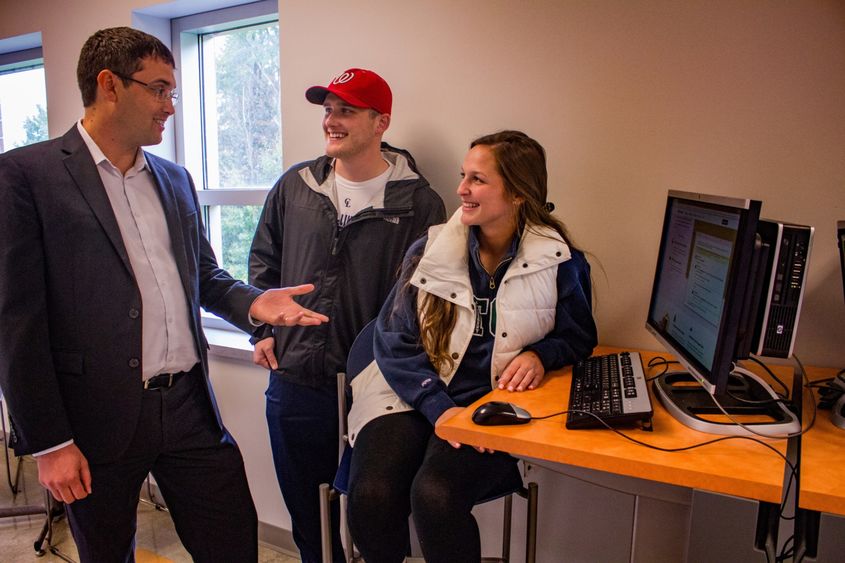 ERIE, Pa. — In 2004, during Matt Stanton's junior year at Penn State Erie, The Behrend College, the then-computer science major was writing source code in one of the college's computer labs.
He remembers typing away, and then, one misplaced semicolon later… boom.
Good luck signing onto a computer over the next four hours. It could not be done.
"Everybody who was trying to use Linux (operating system) on campus couldn't do so. I didn't even know how I had done it. That was just dumb luck," said Stanton, whose coding error brought down the entire server across campus. "Thankfully, I didn't get in trouble because it really was an accident. They also later fixed the issue, so a student would not be able to do this again."
While the memory provides a good laugh, Stanton is thankful that his legacy at Penn State Behrend extends beyond a semicolon. The Russell, Pennsylvania, native was among the college's first computer science graduates, earning his degree in 2005.
Stanton now works as the senior vice president for client relations and program excellence at Libera Inc., a software development company based in Jamestown, New York. He returned to campus earlier this month to serve as the keynote speaker for a ceremony recognizing that the college's computer science program has been accredited by the Computing Accreditation Commission of ABET, the recognized accreditor of university programs in applied science, computing, engineering and engineering technology. The Behrend program is the only accredited computer science program at Penn State, and the designation is retroactive to 2015.
ABET accreditation demonstrates a program's commitment to providing its students with a quality education. Accreditation is a voluntary, peer-review process that evaluates program curricula, faculty expertise, facilities, institutional support and other factors.
"I'm excited to see that accreditation, and just excited for the program overall," Stanton said. "The ability of the degree to allow someone to excel, even outside of writing code, is impressive. It's really about solving problems, and I think it's a big reason why I have done well in my career."
The theme for Stanton's presentation was "Building Your Road-map," and one of the points he emphasized was how the industry has changed as technology has expanded. After his talk, a panel of nine students discussed internships, their course study and the evolution of the computer science program. Several of the panelists have already received job offers, so the discussion offered them an opportunity to pick Stanton's brain, as he has been able to watch the industry grow from a front-row seat.
"Everything has changed. The programming languages have changed. The processes we're following have changed. There's no way we could succeed today with what we did in 2005," Stanton said.
Yet, in some ways, the more things change, the more they stay the same.
According to Stanton, one of the top benefits of the computer science program is that students are taught to keep learning new technologies and adapt to the market.
"The power of the languages and the ability to develop web-based solutions has exploded, but the structures and patterns we learned back then are still very relevant," Stanton said.
In the future, Stanton said he expects all software development to be done on a mobile platform. As people become more and more mobile, he expects that they will be using their phones for work and will want all of their information there.
When he first started coding, Stanton was using a single-processor computer, which likely had less RAM than every smartphone currently on the market. When he first started at Libera, the company had eight employees. Now, it's close to 50.
He knows more change will come, but that's a good thing.
"They've continued to improve the hardware at the pace of the software that runs on it," Stanton said. "Today, everything has to be cross-platform and in general, the consumer is a lot more computer savvy, so they're going to continue to push us to make a better product."
Contact
Steve Orbanek
Marketing Communications Coordinator, Penn State Erie, The Behrend College