Craig Miranda relishes memories made at Penn State Behrend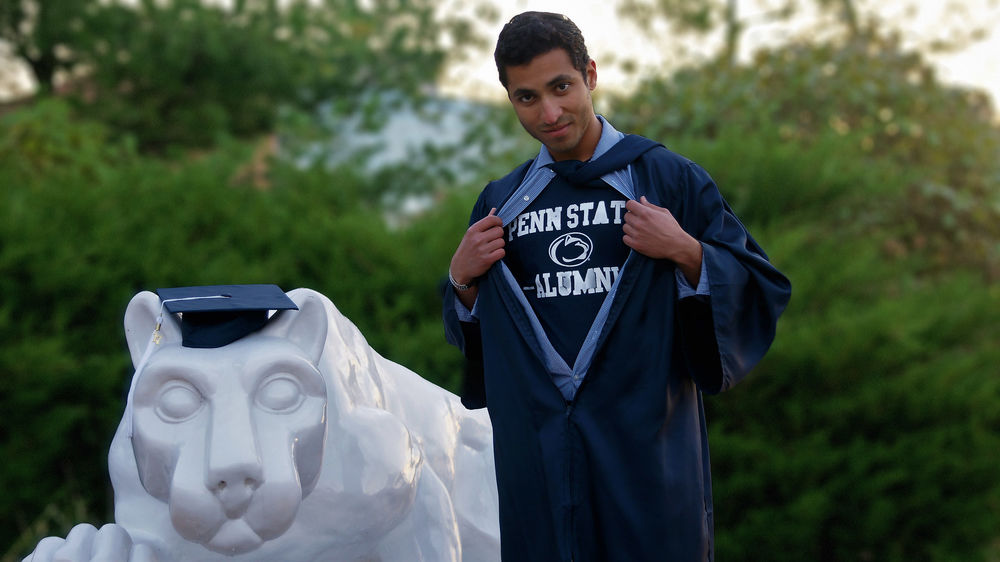 ERIE, Pa. — Craig Miranda reads a headline from a Penn State News story published in November 2014: "Erie's first snowfall leaves lasting impression on Kuwait native."
He smiles, struggling to suppress a laugh.
"I can't believe how hyped I was for that," Miranda said.
As a first-year student during the 2014-15 academic year, Miranda was profiled by Penn State Erie, The Behrend College, as part of its "Far From Home" series, which documented a year in the life of international students at the college. This week, he will graduate from Penn State with a degree in management information systems.
As he looks back on the "Far From Home" stories, which covered everything from his first all-night study session to creating the Behrend Performance Band, he sees one constant: growth.
"Mentally, physically and emotionally, I have definitely grown since then," he said. "It's been nice to look back on everything I did. I remember I was so nervous about coming to the United States, but that quickly changed once I got to Behrend. I'm just so appreciative of everything."
For as much as he has changed, many of the traits that defined Miranda at the start of his college years remain the same. He may no longer be a wide-eyed, first-year international student, but his drive to be the best version of himself is ever-present.
Miranda also still recognizes a need to get involved and serve causes bigger than he is. That was consistent in his three-plus years at the college as a senator in the Student Government Association, a member of the Lion Entertainment Board, a resident assistant for three semesters, a three-year member of the tennis team, a Student-Athlete Advisory Committee representative, a Lion Scout and the sweetheart of the Theta Phi Alpha sorority. He also helped create the Behrend Performance Band club and People of Penn State Behrend, a Facebook page inspired by the Humans of New York photoblog.
Here's the kicker: Miranda did all of this while taking at least 20 credits every semester, maxing out at 27 at one point during his sophomore year. That's the reason he will be graduating a semester early.
"During my sophomore year, I definitely lost a bit of my social life, but the return on investment makes it worth it," he said. "Also, over these final weeks, I have been focusing on my friends and the people with whom I will have lifelong relationships."
One of those people is Mary-Ellen Madigan, director of enrollment management at the college, who first met Miranda during a recruiting visit to Kuwait in 2014.
"It meant so much to me that she would come and meet me at my home," Miranda said. "I knew then that I wanted to go to Penn State Behrend, and Mary-Ellen has been a big part of my success. I am so thankful for her."
The feeling is mutual.
"The best part of my job is watching students grow and find their niche at Behrend," Madigan said. "Craig has certainly made his mark on the college, and I expect we will see him accomplish wonderful things as a Penn State Behrend alumnus."
Miranda has already begun charting his post-Behrend course. He recently accepted a technical consultant position with a digital enterprise and security solutions company in Austin, Texas. He also is already thinking of ways in which he can stay involved with Penn State Behrend as an alumnus. He hopes to make recurring visits to the college's Career and Internship Fair, recruiting students for potential internships or careers.
Miranda has never been to Texas and acknowledges that he is nervous to take this next step. However, his record of success offers every indication that he will do well as he embarks on his professional life.
"I am scared, but it was the exact same way for me four years ago when I came to Behrend. I was able to take an unknown and make it into a known," he said. "It's always the first step that's the hardest. But you have to take that first step to do something great."
Far From Home series:
Contact
Steve Orbanek
Marketing Communications Coordinator, Penn State Erie, The Behrend College