Office name change reflects commitment to student engagement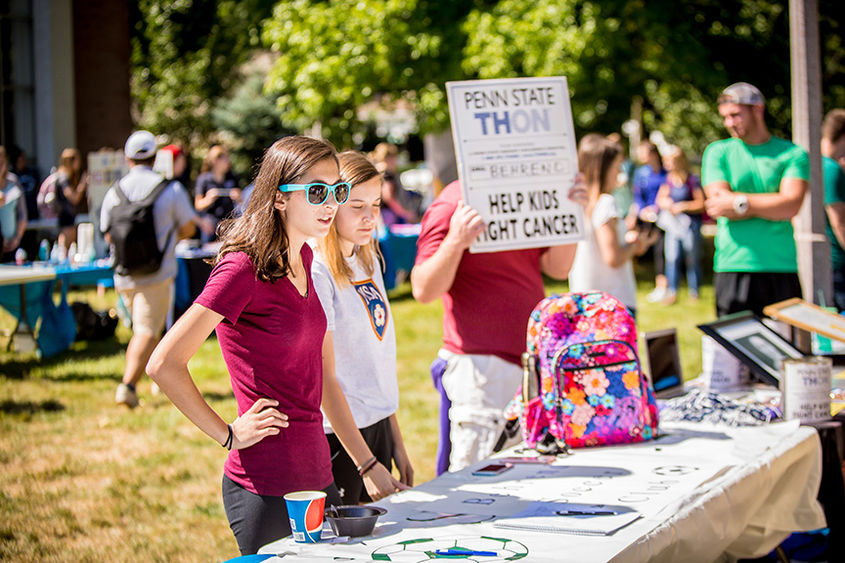 ERIE, Pa. — Of all the things that Craig Miranda enjoyed at Penn State Behrend, he is most thankful for the leadership opportunities he received.
"It just helped me grow so much," said Miranda, a 2017 management information systems graduate who now works as a technical consultant at CyberMAK Information Systems. "I have a network of people who I can look to for assistance and guidance, even now after I've graduated."
For the Kuwait native, getting involved at Penn State Behrend was about more than just keeping himself busy. In his time at the college, Miranda was a senator in the Student Government Association, a member of the Lion Entertainment Board, a resident assistant, a member of the tennis team, a Student-Athlete Advisory Committee representative, a Lion Scout and the sweetheart of the Theta Phi Alpha sorority. He even created his own club, the Behrend Performance Band.
Miranda's student-life experience is representative of the mission of the Office of Student Leadership and Involvement, which recently changed its name from the Office of Student Activities. The name change reflects the emphasis that the office places on the personal growth and leadership development of students outside of the classroom.
"We really focus on the idea of lifelong learning and the social change model," said Kris Motta Torok, director of Student Leadership and Involvement. "While joining student clubs and organizations is intended to be enjoyable, everything that students do here can also be looked at as a learning opportunity with corresponding learning outcomes."
Students can pursue these learning opportunities through the office's 130-plus student clubs and organizations, leadership programs, civic and community engagement programs and major events. In delivering its programs and services, the office works within a framework for how student involvement should impact students, with six learning outcomes:
Building interpersonal relationships.
Connecting with the college through social, professional and personal experiences.
Recognizing and valuing diversity across beliefs, ideas and communities.
Gaining skills and abilities through leadership, personal development and professional opportunities.
Exploring the concepts of community, social responsibility and citizenship.
Evaluating and identifying personal values.
The Office of Student Leadership and Involvement works with students to help them gain an understanding of what student engagement looks like and how it fits into their academic plan.
"So maybe we have a student who wants to get involved but does not know where to start. We might steer him toward an academic club associated with his major," Torok said. "Or if we have someone interested in giving back, we might have her look at the service opportunities offered through civic and community engagement programs."
One student who recently took advantage of a service opportunity through the office was Kelly Miller, who along with 23 other students spent her 2018 spring break in Beaumont, Texas, as part of Alternative Spring Break, a week-long service trip during which students do volunteer work outside of the Erie area. In Beaumont, the students helped residents affected by Hurricane Harvey.
"My biggest takeaway from Alternative Spring Break is that there is no act too small when it comes to helping someone," Miller said. "Whether you're ripping out a sink, taking down drywall or simply taking the time to talk to someone, you are making a difference in their life. And as much as we give to the people we help, we truly get so much more from them."
Contact
Steve Orbanek
Marketing Communications Coordinator, Penn State Erie, The Behrend College