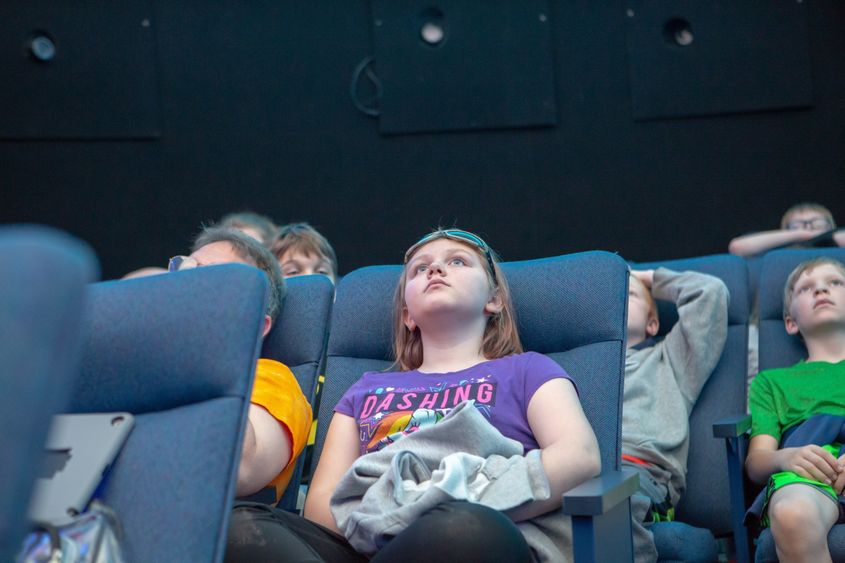 ERIE, Pa. — Wyatt Eckberg had never been to a planetarium before, but once he entered the 30-foot dome at Penn State Behrend, all he had to do was look up. He knew he was in for a good time.
"I just love space," the Maplewood Elementary School second-grader said. "I like all the planets. It's just really cool to realize that all of the planets are floating around in the Solar System."
The Solar System would become a topic of discussion as Eckberg and 40 of his classmates watched "The Secret of the Cardboard Rocket" inside the dome of the Yahn Planetarium at Penn State Behrend. The show follows two young people as they ride their cardboard rocket through the Solar System, visiting every planet and the sun along the way.
"Wow, the sun is so hot!" Eckberg said. "But that's what makes it cool. It's almost as hot as lava." (Actually, it's much hotter.)
The Maplewood second-grade students visited the planetarium as part of a school field trip. The planetarium, which operated as the Erie Planetarium since 1959, relocated to Penn State Behrend in 2014 and has become a staple of the college's School of Science. More than 11,000 visitors enjoyed a show at the Yahn Planetarium in 2017.
Public shows are offered at 1 p.m. on Thursdays and 1 and 2:30 p.m. on Saturdays, except during holidays or special event closings. Admission is $5 for adults or $3 for children, 12 and under.
The Yahn Planetarium also regularly hosts school and group outings, like the Maplewood Elementary School visit. K-12 school groups can visit the planetarium free of charge. All other groups can receive the group rate of $2.50 per child and $3.50 per adult.
After viewing "The Secret of the Cardboard Rocket," Yahn Planetarium director Jim Gavio projected the current night sky on the planetarium's dome. A chorus of "Ohs!" and "Wows!" could be heard among the students.
"I like how those stars make up all the different shapes," said Rylan Duke, also a second-grader at Maplewood. "The constellations, that's what they're called!"
Later, the students spent time in the planetarium lobby where they enjoyed a number of hands-on activities. Several students took turns driving a miniature lunar rover. Others clenched a plasma lamp, which reacted to the electrons in their fingers.
"This has been really fun," Duke said. "I really like space, and I like science and learning. This is different from what we do in school but in a good way."
For more information on the Yahn Planetarium or to schedule a group or school visit, go to the planetarium's website or call 814-898-7268.
Contact
Steve Orbanek
Marketing Communications Coordinator, Penn State Erie, The Behrend College