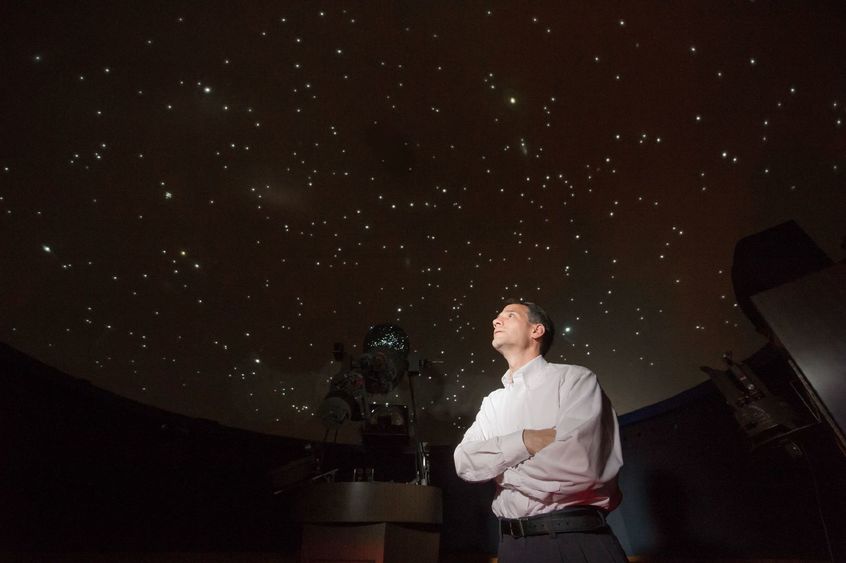 ERIE, Pa. — Jim Gavio knows a bit about safe distancing: As director of Yahn Planetarium at Penn State Behrend, he studies planets and stars that are tens of thousands of light-years away.
Still, his work routine has been upended by the COVID-19 pandemic.
"Normally we thrive on school groups and the public coming in to experience the immersive planetarium," he said. "But, like many educational facilities, we have adapted to remotely teaching astronomy and space science."
Gavio has been recording presentations and posting them online at behrend.psu.edu/yahnplanetarium. He also is doing monthly star talks, in which he guides viewers around the current night sky in the Erie area. He has added special presentations about SpaceX's recent Demo-2 launch and the basics of using a telescope.
The planetarium also is offering virtual field trips, with interactive group presentations that Gavio leads through Zoom.
"I try to simulate what they would see in the planetarium," he said. "I use an astronomy program that simulates the night sky here in Erie, so I can point out specific constellations and stars and planets that they would see in the sky that night."
His largest virtual group so far was 130 middle-school students.
"The teacher sent me questions from the students in advance, which made for a smooth presentation," Gavio said. "I could focus on some things they were learning at that time."
He also has been using the downtime at the planetarium to develop new programs and do minor maintenance on the facility.
"The planetarium has been going nonstop for six years, and we've had more than 46,000 visitors in that time, so the space is showing some wear," he said. "While we'd much rather have Yahn Planetarium open, closing it to visitors has given us time to do some repairs and make improvements."
Two upcoming events are worth a look toward the stars, Gavio said. One will begin at NASA, which will launch another rover to Mars sometime between July 20 and Aug. 11. The craft will carry a small helicopter drone that will fly around on Mars.
"This is a first," Gavio said. "It will be very exciting to watch."
Also in July, and into August, the comet NEOWISE will be visible over much of the eastern United States.
"Comet NEOWISE won't be as noticeable as Hale-Bopp was back in the late 1990s," Gavio said, "but you should be able to see it with the naked eye, or, better yet, with a simple pair of binoculars. If you've never seen a comet, this is one of the best chances we've had in a long time."
Contact
Heather Cass
Publications and design coordinator
Penn State Erie, The Behrend College