Mary Connerty and Kathy Noce recognized with awards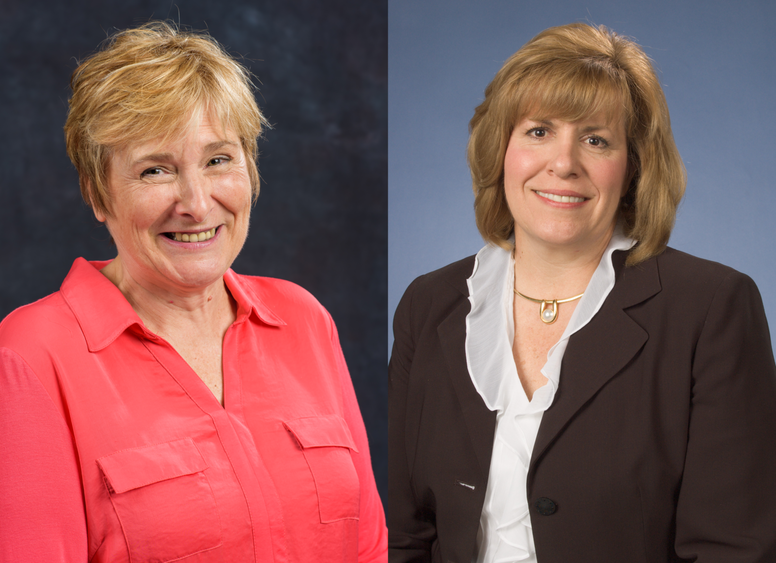 The work of two Penn State Behrend faculty members has been recognized with University-wide awards.
Mary Connerty, senior lecturer in English and director of the English Language Learning program, has received a 2018 George W. Atherton Award for Excellence in Teaching. Kathy Noce, associate teaching professor of MIS and director of the college's Partnership Erie outreach program, has been selected as one of Penn State's 2018 Achieving Women by the University's Commission for Women.
Named for the University's seventh president, the Atherton Award is presented annually to four faculty members who have devoted substantial effort to and developed a record of excellence in undergraduate teaching. To be considered, nominees must have undergraduate teaching as a major portion of their duties, have been full-time faculty members for a minimum of three years and have the rank of assistant professor, associate professor or professor.
"Dr. Connerty is an internationally recognized expert on English language learners and an exceptional teacher who is adored by her students," said Eric Corty, director of the School of Humanities and Social Sciences who nominated Connerty for the award. "She was persistent, always in a positive and collaborative way, in her efforts to establish an English Language Center at Behrend, and now that it has become a reality, she is focused on developing a summer bridge program to give ESL students greater opportunities to succeed."
The Achieving Women Award recognizes Penn State women who have shown leadership and accomplishment in their fields, and have gone beyond the realm of their defined duties and responsibilities to support the University's diversity efforts, promote equal opportunity or contribute to human causes and public service activities.
"It's gratifying to see Kathy Noce recognized for making a difference here at the college, in the Erie community and in our region," said Greg Filbeck, director of the Black School of Business who nominated Noce for the award. "Her leadership of Partnership Erie and her work in support of a number of area nonprofit organizations are indicative of her giving nature and her commitment to making meaningful contributions in every effort she undertakes."
Information on the Atherton Award and a past list of winners can be found here. For more information on the Achieving Women Award and to see a list of past recipients, visit this site.
Contact
Steve Orbanek
Marketing Communications Coordinator, Penn State Erie, The Behrend College