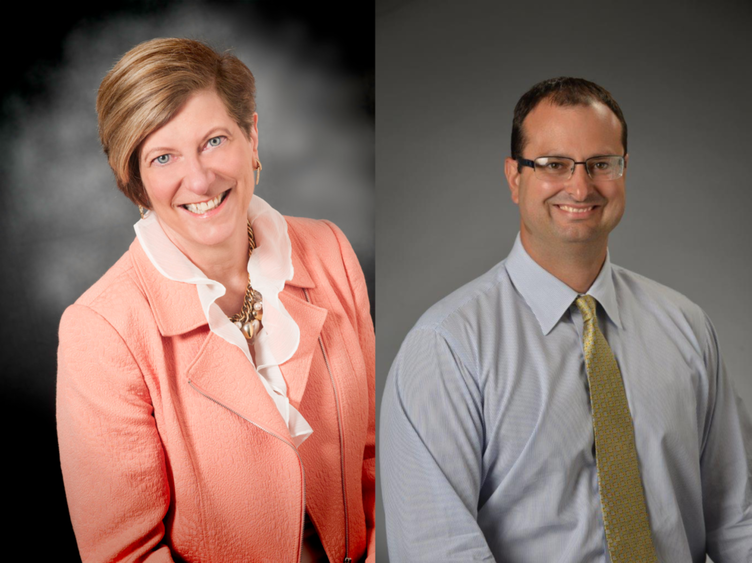 Ann Scott, community outreach manager for Erie Insurance Group, and George Emanuele, senior director at BNY Mellon Wealth Management and president of the Pittsburgh chapter of the Chartered Financial Analyst Society, have been named Executives in Residence (EIR) in the Black School of Business at Penn State Behrend.
Appointed by Greg Filbeck, director of the Black School of Business, to renewable one-year terms, executives in residence bring enthusiasm and industry perspective to the classroom environment, research projects and learning-by-doing opportunities. Activities that EIRs may be involved in include speaking engagements, guest lecturing, leading workshops, serving on advisory boards, judging business competition entries, sponsoring class projects and mentoring students.
Scott and Emanuele join Justin Bloyd, president of RB Sigma, and Mark Nachman, Sprint's region president for the states of Pennsylvania, Ohio, and West Virginia, as current EIRs in the Black School of Business.
In addition to her role as EIR, Scott was recently named vice chair of the board of directors of the Penn State Behrend Council of Fellows. She also serves on the advisory boards for the School of Humanities and Social Sciences and the Black School of Business.
Emanuele has more than 20 years of investment experience in the wealth management field. He previously worked at PNC Wealth Management as a senior investment adviser working in a similar capacity.
Contact
Steve Orbanek
Marketing Communications Coordinator, Penn State Erie, The Behrend College