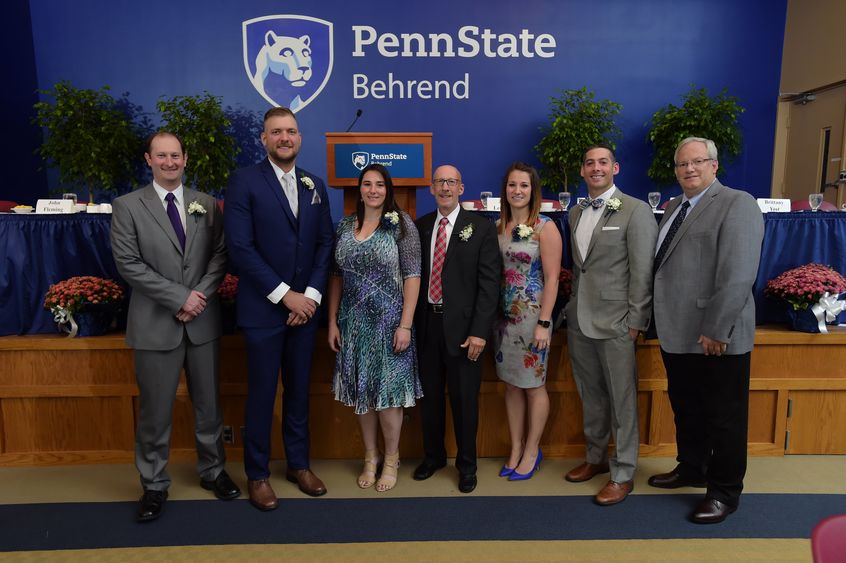 ERIE, Pa. — Six former student-athletes — one of whom still holds multiple school records — were inducted into the Athletics Hall of Fame at Penn State Erie, The Behrend College, on Sept. 29. The college's 1993 softball and women's basketball teams also were honored for their seasons.
"It's always exciting to bring back deserving alumni to be recognized for their successes in the past," Director of Athletics Brian Streeter said. "We have a rich history with many wonderful stories to be shared about former student-athlete alumni."
This year's Athletics Hall of Fame class included:
— Kevin Buczynski, a 2008 graduate and two-time Allegheny Mountain Collegiate Conference Player of the Year. Buczynski averaged double-digit points in each of his last three seasons with the Behrend men's basketball team, ending his career with 1,689 points. He ranks second in program history in field-goal percentage (0.592) and field goals made (641) and is seventh in rebounds (689) and 10th in games played (110).
— Dustin Fairchild, a 2008 graduate and two-time AMCC Swimmer of the Year. Fairchild set records in eight different events, including the 200 breaststroke — a record he held for nine years. In his senior year, he won the AMCC titles for the 500 free, 200 free and 200 breaststroke; he also swam on the gold-medal 800 free and 400 free relays.
— John Fleming, a 1976 graduate and a three-year captain of the men's soccer team. Fleming, a midfielder, scored eight goals and recorded 12 assists while leading the Lions to a combined 22-13-2 record. He was a two-time All-Conference selection and, as a senior, was named Co-Athlete of the Year.
— Kristin Macha, a 2007 graduate who, as a junior, led the AMCC with a 0.470 batting average. Macha, an infielder, was an All-AMCC first-team selection in her sophomore and junior seasons. When she graduated, she was ranked second in singles (147), third in hits (188), fourth in batting average (0.429), fifth in doubles (37), and ninth in RBIs (101).
— Anthony Spoto, a 2008 graduate and four-time Division III Eastern Championship Team selection for water polo. Spoto was the college's first All-American in water polo. He still holds the records for career goals (247), shooting percentage (47 percent), and drawn kick-outs (194).
— Brittany Yost, a 2007 graduate and three-time team MVP for the women's water polo team. As a freshman, Yost recorded a season-best 83 steals. She had five or more steals in 11 of the 21 games she played that season. The following year, she had 52 steals. As a member of the swimming and diving team, she held records in the 50 backstroke, the 400 and 800 free relays, and the 400 medley relay.
In addition to this year's individual honorees, the Athletics Hall of Fame banquet, which was held in McGarvey Commons, recognized the 1993 women's basketball team, which was the first to play in the NCAA postseason tournament, and the 1993 softball team, which played in the ECAC tournament.
Contact
Robb Frederick
Assistant director, news and information, Penn State Behrend
Jill Yamma
Sports information director, Penn State Erie, The Behrend College