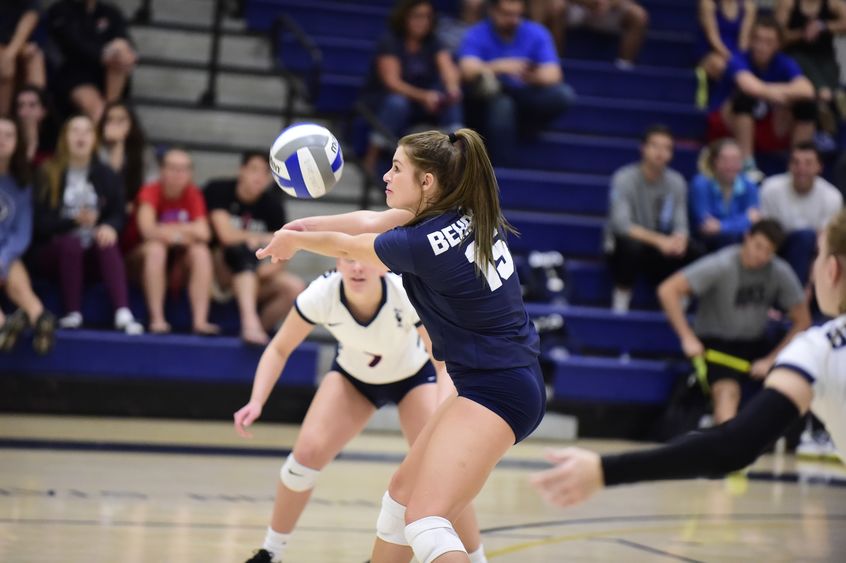 ERIE, Pa. — The Penn State Behrend women's volleyball team lost to McDaniel in the quarterfinals of the Eastern College Athletic Conference championships. The team swept Wilkes in the tournament's first round.
The college's soccer, cross-country, wrestling, bowling, and swimming and diving teams also were in action last week. Here are the highlights:
Men's soccer
Penn State Behrend 1, John Carroll 0 (2 OT)
Penn State Behrend 1, Lycoming 0
Dakota Lange, a senior from Apollo, scored on a bicycle kick in the 102nd minute to carry the Lions past John Carroll in the second round of the NCAA Division III tournament. The Lions will face Calvin College in the "Sweet Sixteen" round on Nov. 16.
Women's soccer
Tufts 2, Penn State Behrend 0
Two early goals knocked the Lions out of the NCAA Division III tournament. The team finished its season with a 13-7 record.
Women's volleyball
McDaniel 3, Penn State Behrend 1
Penn State Behrend 3, Wilkes 0
Setter Lexi Irwin, a senior from Greensburg, and libero Madison Clapper, a freshman from Fairview, combined for eight kills on 10 attempts in the first set against Wilkes.
Men's cross-country
Twenty-third (of 52 teams) at the NCAA Mideast Regionals
Zachary Wortman, a sophomore from St. Mary's, finished 97th in a field of 350 runners. He completed the 8K race in 28:10.
Women's cross-country
Twenty-third (of 47 teams) at the NCAA Mideast Regionals
Riley Crissman, a junior from Bradford, finished 62nd in a field of 341 runners. She completed the 6K race in 24:38.
Wrestling
Eleventh (of 14 teams) at the Washington & Jefferson Invitational
Jake Paulson, a sophomore from Erie, placed third overall. He won a 9-1 decision and then posted an 18-1 technical fall. He won a third match by forfeit. Levko Higgins, a sophomore from Palmyra, placed fourth. He won by technical fall and then by pin.
Men's swimming and diving
Penn State Behrend 130, Baldwin Wallace 86
Mark Patterson, a senior from North Huntingdon, set a pool record in the 200-meter backstroke, finishing in 2:01.44. Chase Bietz, a freshman from Clearfield, set a pool record in the 200-meter breaststroke, finishing in 2:09.74.
Women's swimming and diving
Baldwin Wallace 126, Penn State Behrend 102
The Lions dominated the freestyle events: Marcella Puglia, a freshman from Beaver Falls, won the 1,000-meter race. Jessica Wyckoff, a senior from Elma, New York, won the 200, and Remy De Guzman, a sophomore from San Juan, Puerto Rico, won the 50.
Women's bowling
Pitt-Bradford 822, Penn State Behrend 704
Penn State Behrend 807, Pitt-Bradford 759
Pitt-Bradford 748, Penn State Behrend 677
Brianna Lundy, a junior from North Huntingdon, was the top scorer in the first two matches. She scored four consecutive strikes in the first game and stacked five in the second.
Scores, results and updates for Penn State Behrend athletics are posted at psblions.com.
Contact
Robb Frederick
Assistant director, news and information, Penn State Behrend
Jill Yamma
Sports information director, Penn State Erie, The Behrend College