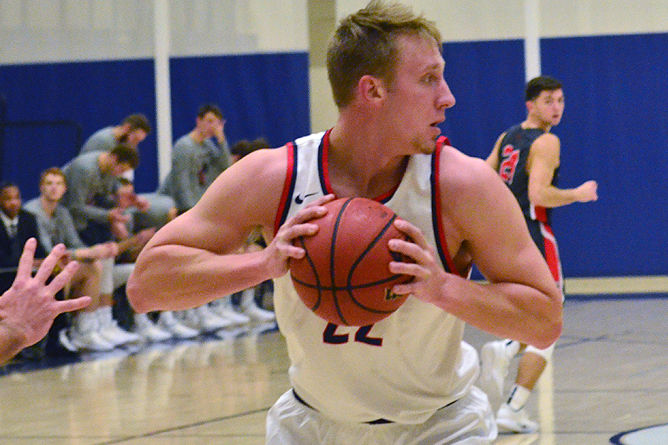 ERIE, Pa. — Penn State Behrend basketball player Justin Gorny scored his 1,000th career point in a win over Penn State Altoona. Gorny, a senior from South Park, is the second member of the team to reach that mark this season, and the 20th in program history.
The college's wrestling, bowling and swimming and diving teams also were in action last week. Here are the highlights:
Men's basketball
Penn State Behrend 84, Penn State Altoona 76
Penn State Behrend 96, Hilbert 54
Five Behrend players scored double-digit points against Penn State Altoona. Against Hilbert, the team made 60 percent of its shots from beyond the 3-point line.
Women's basketball
Penn State Behrend 77, Penn State Altoona 75
Hilbert 48, Penn State Behrend 37
Behrend trailed Penn State Altoona in the fourth quarter but built a 9-0 run to win the game. Kara Haslett, a freshman from Baden, led the team with 17 points.
Men's swimming and diving
First (of five teams) at the Fredonia Blue Devil Invite
Three Behrend swimmers recorded NCAA qualifying times at the Blue Devil Invite. James Connolly, a freshman from Allentown, set AMCC, school and Fredonia pool records in the 1650-meter freestyle. Chase Bietz, a freshman from Clearfield, set an AMCC and school record in the 200-meter breaststroke. Mark Patterson, a senior from North Huntingdon, won the 200-meter backstroke.
Women's swimming and diving
Second (of five teams) at the Fredonia Blue Devil Invite
Allegheny College won the three-day Blue Devil event. The Lions edged Fredonia to place second. Marcella Puglia, a freshman from Beaver Falls, had the best finish on the final day of competition, placing second in the 1650-meter freestyle.
Wrestling
Brockport 41, Penn State Behrend 9
Lycoming 42, Penn State Behrend 8
Thiel 39, Penn State Behrend 14
Jake Paulson, a sophomore from Erie, won his sixth-straight match with a pin in the 184-pound weight class against Brockport. It was his third pin of the season.
Women's bowling
Penn State Behrend 2, Hilbert 0
The Lions won a five-game match in the Baker format for their first win against Hilbert. They swept the second match, 4-0.
Scores, results and updates for Penn State Behrend athletics are posted at psblions.com.
Contact
Robb Frederick
Assistant director, news and information, Penn State Behrend
Jill Yamma
Sports information director, Penn State Erie, The Behrend College