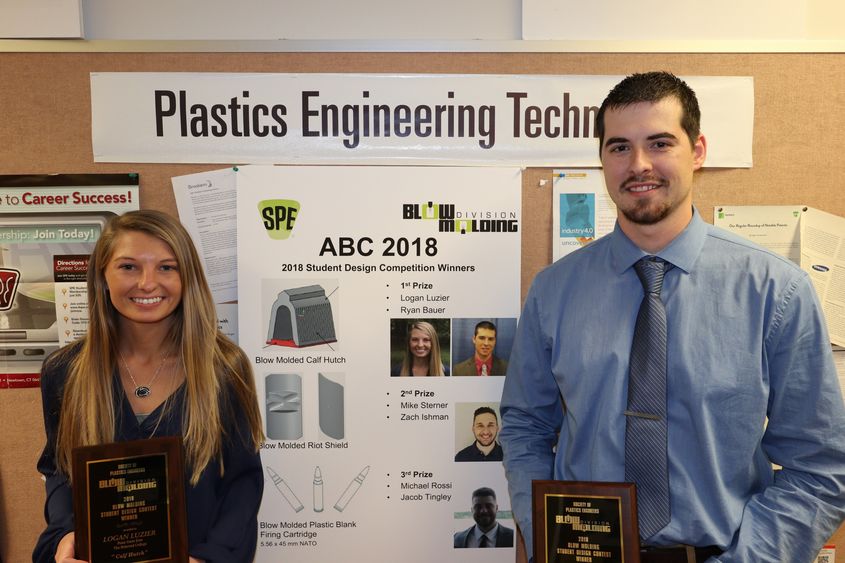 Penn State Behrend senior Ryan Bauer grew up on a farm in Tionesta. If he ever takes up farming again, he has an idea that could really improve the profession.
That's because Bauer, along with his partner Logan Luzier, recently took first place in the Blow Molded Parts Competition at the 34th annual Blow Molding Conference, held earlier this semester in Pittsburgh. For the project, the two re-designed how a calf hutch could be molded and manufactured through blow molding. A calf hutch is a protective structure for a baby cow, which usually houses the animal for the first eight to 12 weeks of its life in an effort to fight off disease.
"We wanted to design our calf hutch with a better structure than what you currently see. So we made it with better insulation, and we also designed it so it can easily be taken apart," said Bauer, a plastics engineering technology major.
For the competition, students were tasked with designing a new product, not currently made through blow molding, or, if the product is currently blow molded, improving the current design.
The process was extensive. The students used ANSYS Simulation Software and Creo Parametric 3D Modeling Software to build the design and then test the mold. All in all, their final report for the project filled more than 70 pages.
"Our mold design was really complex, and as we started to work on it more and more, we realized, 'This might actually work,'" said Luzier, a plastics engineering technology major and Gibsonia native.
For their conference presentation, the two took their findings and compiled them into a step-by-step poster, which outlined the process.
The project was so well-received that conference attendees approached Bauer and Luzier afterward to discuss their mold.
"There were two men there who actually make calf hutches in Germany. They came up to us and wanted to know about our project and said, 'We've never even considered doing it this way,'" Luzier said.
Despite the strong reception to the project, chances are that it will not be manufactured in the near future. Mold costs are likely too prohibitive.
"We estimated it out, and our mold cost was almost $400,000," Bauer said.
The experience still resonated with both students, who received $1,000 for taking first place in the competition.
"It was very exciting for us to be able to learn something new," Luzier said. "Plus, it was a project we were passionate about, which made it even better."
Bauer and Luzier were just two Behrend students who performed well at the conference. Overall, the college swept the Blow Molded Parts Competition: Zachery Ishman and Michael Sterner finished in second with their Riot Shield project while Jacob Tingley and Michael Rossi took third place with their Plastic Blank Firing Cartridge project.
Contact
Steve Orbanek
Marketing Communications Coordinator, Penn State Erie, The Behrend College