Software among industry-leading plastics flow simulation programs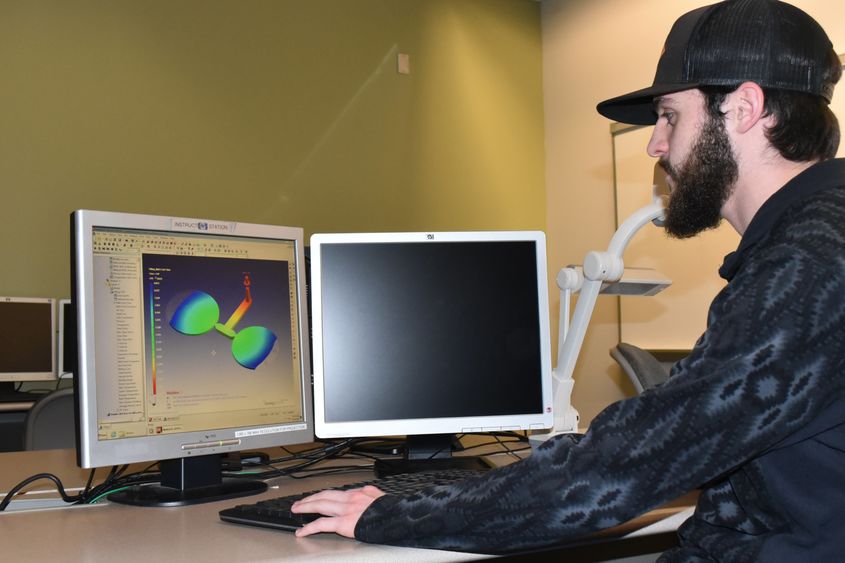 Students at Penn State Erie, The Behrend College, now have access to Moldex3D, an industry-leading plastics flow simulation program, thanks to a new software gift valued at $1.2 million.
The software was donated to the college by Moldex3D, in part because of the reputation of Penn State Behrend's plastics engineering technology program, one of only six accredited programs in the United States. The plastics processing laboratory in the college's Jack Burke Research and Economic Development Center is the largest undergraduate educational facility of its type in the country.
"Moldex3D sought us out because our plastics engineering technology program is so actively involved in the industry," said Jason Williams, an assistant teaching professor in engineering who helped procure the gift. "As a program, we really do have a global presence, and I think this gift confirms that."
Moldex3D, founded in 1995, offers a suite of computer-aided engineering products for the plastics injection molding industry. The software is an industry standard for plastics flow simulation and can simulate the vast majority of injection molding processes, helping to ensure a part's design and manufacturability is optimized prior to production.
Students are already using the software as part of the PLET 350: Design of Plastic Parts and PLET 481: Plastic Product Development courses at Penn State Behrend.
"From a teaching standpoint, use of the software allows them to explore what not to do when building a mold," Williams said. "They can explore so many different scenarios and also avoid any potential pitfalls. It really is a great illustrative tool."
Penn State Behrend students now have access to all three major plastics flow simulation software packages: Autodesk Moldflow, SIGMASOFT Virtual Molding and now Moldex3D.
"Students will be taught in three flow simulation packages," Williams said. "As students gain this experience, they will be more competitive upon graduation because they'll be well-versed in these different software platforms."
Moldex3D Northern America, Inc. (Moldex3D) is an independently-owned software company that develops and markets "Moldex3D," a true 3D simulation package that provides professional plastic injection molding simulation solutions for the industry. With strong technical expertise and team of engineers at strategic locations in the United States, Moldex3D helps customers troubleshoot product design, optimize part and mold design, shorten time-to-market and maximize a product's return on investment.
Gifts from Penn State's alumni and friends have been essential to the success of the University's historic land-grant mission to serve the public good. To fulfill that mission for a new era of rapid change and global connections, the University has begun "A Greater Penn State for 21st Century Excellence," a fast-paced campaign focused on the three key imperatives of a public university: Private support will keep the doors to higher education open to hard-working students regardless of financial well-being; create transformative experiences that go beyond the classroom; and impact the world by fueling discovery, innovation and entrepreneurship. To learn more, visit greaterpennstate.psu.edu.
Contact
Steve Orbanek
Marketing Communications Coordinator, Penn State Erie, The Behrend College