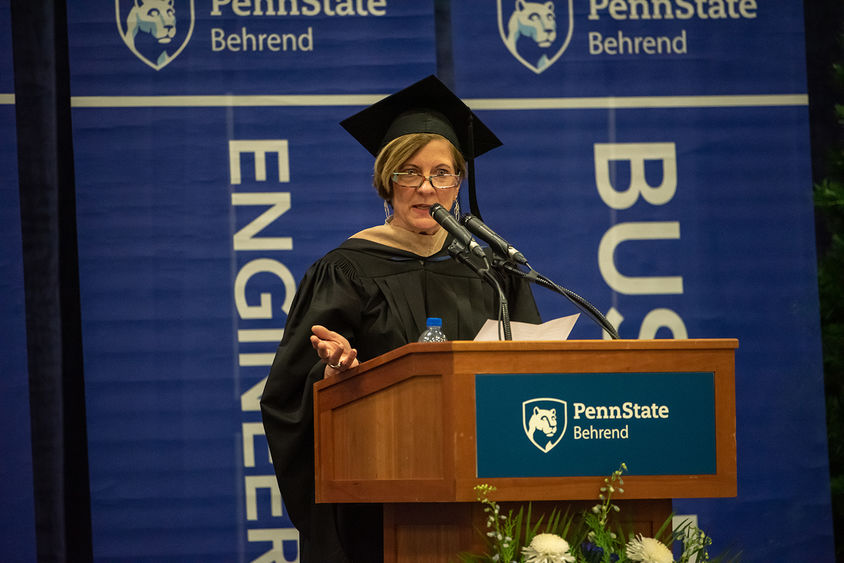 ERIE, Pa. — Penn State alumna Ann Karmazon Scott gave the commencement address at Penn State Behrend's fall commencement, held Friday, Dec. 14, in the campus' Junker Center. The college awarded 202 undergraduate degrees and 33 master's degrees at the ceremony.
Scott is community outreach manager for Erie Insurance, a Fortune 500 regional property and casualty insurer headquartered in Erie. She manages a philanthropic budget of nearly $5 million and leads charitable giving and community outreach efforts through the Erie Insurance Giving Network.
Scott earned two degrees at Penn State Behrend, a bachelor of arts degree in communication and a master of business administration. She is vice chair of the Penn State Behrend Council of Fellows and a current executive-in-residence in the college's Black School of Business.
The full text of Scott's address, titled "Four Steps to Saving the World," can be found below.
---
Hello and thank you for that wonderful introduction. Congratulations to all the new graduates on your well-deserved success! Congratulations to the faculty and staff for your wisdom, advice, standards and humor in getting this group to this day! Congratulations to the parents and families for your love, support, strong shoulders, and, in many cases, your checkbooks! You all deserve to celebrate.
Students, faculty, families, Dr. Ford, and honored guests: Penn State Behrend holds a special place in my heart. I have very fond memories of being at Behrend during both my undergraduate days as well as when I was pursuing my MBA. In many ways I feel like Behrend is my second home. My husband is a Penn State grad. Our daughter graduated from University Park four years ago and our son is a senior here at Behrend. So as you can imagine, it means a lot to me to be asked to speak to you here at this university that has been such a part of my life and my family's life.
For me, my life has been an intertwining of home, school, work and community all the way through. And by work I mean Erie Insurance, where this year I'm celebrating 36 years with the company, something I never would have predicted when I started back in 1982 as an intern. I don't know anyone who plans to work at any company that long. When I was first hired, I thought it would be three to five years. I'd get some experience and move on. But every five years or so, when I was ready for a new challenge, the company presented a new opportunity and before you know it 36 years have flown by.
I would like to share with you today some of my insights around the topic of civic engagement. This is a topic that is important to me because I've been working in the field of corporate social responsibility for the past eight years and civic engagement is critical to this work. Civic engagement means promoting quality of life in a community and includes political activism, environmentalism, and community and national service.
You've probably heard the saying, "Bloom where you are planted." It means it's not OK to just complain about the things we don't like. Recognizing that something isn't the way we want it to be is only the first step. After that, we need to make it better. Every one of us has an obligation to be actively involved in our community. And that means whatever community you're in, whether it's here in Erie or some other town. Wherever you are, don't wait. Get involved. You're there, it's your town, do your part.
Companies also practice civic engagement, but when they do it it's called corporate social responsibility. So let me explain that. Civic engagement is what you should be doing personally to connect to the greater good. It's what we all are expected to do as citizens. Corporate social responsibility is doing good on a corporate level. It's what companies do to take responsibility for the social and environmental impact their businesses create and leave behind. Companies practice corporate social responsibility because it's in their best interest to do it, and you should practice civic engagement because it's in your best interest, too.
So stay with me on this. I'm going to explain some of the approaches to corporate social responsibility used by companies with examples from my work at Erie Insurance to help illustrate, and then I'll explain how this applies to you and how, together, we can save the world.
When a company does something good in the community or for its customers — whether it's financial, environmental or social — that's corporate social responsibility. And that's the kind of company you want to work for.
Why? Because these are the companies that are aware of the problems in the world and are working to solve them. It's has been confirmed by many studies that people want to work for companies that do good and give back to the community. People want to be connected to a higher purpose in their work, to have meaning, and to contribute to something bigger than themselves.
At Erie Insurance we see this every day when we interview candidates for jobs. The No. 1 question we get asked by millennials entering the workforce is about our community involvement. Young people want to know if we give back to the community, if we offer opportunities to volunteer, and if we have a matching gifts program as part of our benefits. I'm proud to say that the answer to all of these questions is yes. We have three focus areas for our giving: safety, community building and environmental responsibility. We look for a connection to at least one of these focus areas in all of our charitable work, including philanthropic giving, volunteering and sponsorships.
You can do this, too. Think about your values. Think about the experiences you've had in your life and you'll be able to determine your focus areas. Do you have a favorite teacher who you really look up to who has influenced you in your life? Maybe you'd like to volunteer to help children. Do you really value the time spent with your grandparents? Maybe you'd like to help senior citizens. Do you like being outdoors enjoying nature? Maybe an environmental cause is important to you.
Socially responsible companies do the same thing. They get involved with causes that align with their values and experiences. Safety makes sense for us because we're an insurance company; we're all about lowering risk. That's why we partner with the American Red Cross. Their mission of disaster relief and preparedness is closely aligned with our mission of helping people in times of disaster and helping people prevent disasters like home fires.
Under community building, Erie Insurance is a strong supporter of education. That's why we partner with the United Way's community school initiative through our adopted school, Pfeiffer-Burleigh Elementary. Pfeiffer-Burleigh is an at-risk, urban elementary school in downtown Erie with a 100 percent poverty rate. For over 30 years, teams of Erie Insurance employees have served as classroom readers and tutors for the students and donated school supplies, food and clothing. We also provide field trips, attendance awards, and have helped refurbish the school library by donating thousands of books.
Another example under community building is our recent partnership with Penn State Behrend, which Dr. Ford also mentioned. We created the Excelerate program for first-generation college students to provide scholarships to help them succeed as well as to provide opportunities for internships and special projects with small businesses and nonprofits that can't afford to pay an intern but have innovative and entrepreneurial projects available. This program will help grow our future workforce while simultaneously helping to spur economic growth in the Erie region.
In the area of environmental responsibility, our Erie Service Corps program provides every Erie Insurance employee with seven and one-half hours per year of company-paid time off to volunteer in teams to give back to the community. Teams of employees have donated thousands of hours to nonprofits to plant community gardens; clean up parks and waterways; and build, paint and refurbish homes for veterans, senior citizens, and people with disabilities.
We also have a matching gifts program that provides a 100 percent match, dollar for dollar, for every personal donation that an employee makes to a nonprofit, up to $10,000 per employee per year. This program aligns with all three of our focus areas and social responsibility in general because it lets us support causes that are personally important to our employees.
There other advantages for a company to practice corporate social responsibility aside from attracting and retaining talent.
Strong corporate social responsibility programs are directly tied to an organization's public image, which is directly tied to a company's growth efforts. I know our department of community outreach is not out there selling insurance policies, but our efforts do help make our customers more positively predisposed to want to buy our policies.
At Erie Insurance this is especially important in our branch offices. Our headquarters is located here in Erie, but we operate in 12 states and the District of Columbia, and in those other offices Erie Insurance is far less well known compared to here in Erie. So when our agents in Columbus, Ohio, or Nashville, Tennessee, talk to customers about Erie Insurance, many times the reaction they get is, "Erie who?" That person has never heard of us. Out there our efforts in the community can help promote us as a company in a positive way. Slowly we can change the awareness of the public from not knowing who we are to associating us with good work in the community.
Strong corporate social responsibility also helps improve employee management by increasing employee engagement. Employees want to feel proud of the organization they work for, and an employee who feels positive about a company is more likely to work harder for that company, devoting more time and more discretionary effort toward their work. In addition, companies with strong social responsibility efforts are also more diverse and inclusive, which leads to more creativity and innovation.
A strong corporate social responsibility program can also mean satisfied customers. A recent study published last year by Forbes magazine showed that 87 percent of respondents said they would be willing to buy a product or service based on a company's advocacy concerning a social matter. And 76 percent of respondents said they would not want to do business with a company if its values did not align with theirs.
Finally, corporate social responsibility is directly related to a company's efforts to be a good corporate citizen. We benefit from a strong, thriving community, so it's in our best interest to help the community sustain itself. For example, strong schools mean a strong future workforce for us to hire; a thriving arts and cultural community means quality of life for our employees and an attractive community that employees will want to relocate to; and a growing economy means more people building homes, buying cars, and opening small businesses, all of which makes them potential customers of our insurance products.
I hope by now you can see how intertwined all of this is. Companies should practice corporate social responsibility because it's simply in their best interest to do it. And you should practice civic engagement because it's in your best interest, too.
Here are four ways you can practice civic engagement and the benefits of doing so:
Volunteer. Volunteering plays a valuable role in shaping how you learn to interact with the community and develop the skills, values, and sense of empowerment necessary to become an active citizen. To become a leader. Volunteering also has lots of other benefits. It connects you to others, it can advance your career by helping you make contacts, and it helps build new skills like leadership, communication, problem-solving and decision-making. Volunteering builds diversity awareness and a culture of inclusion. It combats depression, increases self-confidence, and provides a sense of purpose.
Be A Lifelong Learner. Lifelong learning enhances social inclusion, active citizenship, and personal development. It also helps advance your career by making you more competitive in the marketplace. I'm a lifelong learner and so is everyone I know who is in management. I went back to school for my MBA in my 30s, took piano lessons in my 40s, and earned my certificate in Corporate Citizenship Practice in my 50s. As a lifelong learner, you can be on both the student side and the teaching side by being a mentor in your community.
Vote. According to Supreme Court Justice Sonia Sotomayor, voting is a necessity and a responsibility because "whatever happens is because we don't take control and ensure that our voices are heard." Educate yourself about how our government works on the national, state and local level. Learn about our democracy, about our system of government, and about the rights and obligations that you have as a citizen in that system and then actively participate in a civil, thoughtful way. Have more productive arguments. Use the skills you've learned during this past four years to actively listen, reserve judgement and understand effective arguments. Eric Liu, director of the Aspen Institute Citizenship and American Identity Program, wrote, "We don't need fewer arguments today; we need less stupid ones. The point of civic life in this country is not to avoid such tensions. Nor is it for one side to achieve 'final' victory. It is for us all to wrestle perpetually with these differences, to fashion hybrid solutions that work for the times until they don't, then to start again."
Part of strong civil discourse is learning to fact-check ourselves as well as others. Another part is resisting the urge to forward and share pithy internet provocations that do nothing but antagonize each other. Fight fake news — it's the battle cry of the modern age. Voting is the most fundamental democratic input we have as citizens. It's not the easiest resolution to make, but it can be one of the most rewarding, and our country needs you to do your part if we going to solve anything at all.
And finally, Pay It Forward. All of us are privileged. We have been given the privilege of education. According to a recent Harvard study, only 6.7 percent of the world's population has a college degree. Today you join this elite group. To have the privilege of an education, the privilege of knowledge, means we have an obligation to pass it on, to pay it forward. Consider paying if forward by donating to help individuals receive scholarships, by mentoring young people, or by coming back to Behrend to speak to students.
Well, I started out saying that I believe in the power of corporate social responsibility and personal civic engagement to help save the world. I believe that when companies and individuals get involved in doing good in the world, it's a catalyst for change that focuses resources directly on the problems we all want to solve to impact the future for ourselves and our children — problems like hunger, poverty and racism. The modern world is so full of problems that it sometimes feels overwhelming. It feels silly to think we can do anything to fix it at all or even minimize the damage.
But I'm an optimist. I think of the words of the great American cultural anthropologist Margaret Mead, "Never doubt that a small group of thoughtful committed citizens can change the world. Indeed, it is the only thing that ever has."
I want to leave you today with a challenge. I challenge you to do these four things: Volunteer, Be A Lifelong Learner, Vote, and Pay It Forward. I promise that if you do them, not only will it change your life, it will shape you into the kind of person that every socially responsible organization wants on their team. When that happens, together we will change the world.
Thank you.