More than 75 exhibitors and 1,000 people attend Penn State Behrend event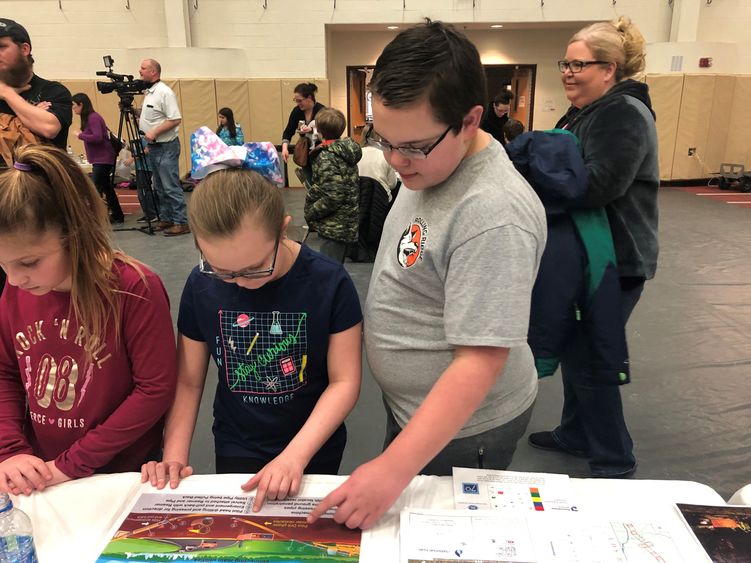 ERIE, Pa. — There's a lot that needs to be taken into account when building a gas pipeline. There are waterways, wetlands, bald-eagle nesting sites and mountainous terrain, and all of that factors into how and where a pipe can be installed.
Gavin Williams understands that now.
The Rolling Ridge Elementary School sixth-grade student traced a pipeline while visiting National Fuel Gas Company's exhibit at Penn State Behrend's fifth-annual STEM Fair on Feb. 18.
"I just like to learn and discover new things," Williams said. "Here, I am seeing how hard it can be to avoid real obstacles when putting in a pipeline."
Held every February in the college's Junker Center, the STEM Fair, which is co-sponsored by GE Transportation, is designed to introduce students and young people to careers in the fields of science, technology, engineering and mathematics. This year's fair was the largest yet with more than 75 clubs, companies and community organizations offering hands-on activities. More than 1,000 people attended.
For National Fuel's activity, participants were tasked with creating the most cost-effective pipeline on a square grid. Each square cost a specific amount to build on, and some, like urban areas, could not be constructed on.
"For me, it's just so important to get kids interested in the science part of it," said Mike Bolla, a senior GIS specialist for National Fuel who helped run their exhibit. "When we get them interested in that at a young age, we can help give them a path for the future."
Melanie Ford, director of the college's Youth Education Outreach Office, which coordinated the fair, agreed.
"This event is a great way to showcase all of the careers that are out there. We want families to start talking about 'how can my child get from here to there? What is that pathway?'" Ford said. "Besides that, it's just a fun way to learn about these companies that we would otherwise just drive by or might see an ad for."
Youth Education Outreach has begun to set the course for future STEM Fairs, and a name change could be in order. To better reflect the many opportunities and careers available for young people, the fair plans to integrate the arts and thus be rebranded as the "STEAM Fair."
The Erie Philharmonic was one of the exhibitors at this year's fair. Attendees were able to use virtual reality goggles to participate in the Philharmonic's "Virtual Orchestra."
Brother and sister LeDanian and Dalayah McCullum, both students at Mother Teresa Academy, were eager to try out the goggles.
"It was fun. It was like you were actually there, and I was seeing the instruments and musicians," Dalayah McCullum said.
Her brother agreed.
"Looking around here, there's so much to do," LeDanian McCullum said. "This is a really good college, and I think that I most likely want to go here, so it's nice to see all of the different things I could do."
Contact
Steve Orbanek
Marketing Communications Coordinator, Penn State Erie, The Behrend College